Sources tell Yellowhammer News former Business Council of Alabama chairman Jeff Coleman is seeking to run against incumbent U.S. Rep. Barry Moore (R-Enterprise) for the Republican nomination in the May 24 primary.
What is in dispute is whether or not qualifying remains open in the wake of a lower federal court decision directing the Alabama Legislature to revise congressional district maps it had drawn during a special session last year. In addition to the order to draw new maps, the court ruled the qualifying deadline for congressional seats would be extended from January 28 until February 11.
However, the U.S. Supreme Court stayed the lower court ruling on the redistricting maps earlier this week. The disagreement seems to be if the high court's ruling also reversed the later qualifying date.
Rumors have been swirling about a possible second run for Coleman, who lost to Moore in a runoff in the 2020 Republican primary by a nearly 20-point margin.
Coleman had attended former President Donald Trump's Cullman rally last year, which signaled to some a return to the political arena.
Last July, a poll commissioned by the Washington, D.C. Club for Growth, an organization supporting Moore in his 2022 reelection bid, showed Moore with a 34-point lead over Coleman.
Earlier this week, Coleman filed with the Federal Election Commission as a candidate for Congress in Alabama's second district.
NEW 2022 FEC F2
Jeff Coleman (REP)#AL02 (R-Barry Moore)https://t.co/ZOspdcZTto pic.twitter.com/8FJxYbBz2T

— CATargetBot (@CATargetBot) February 9, 2022
Neither Coleman nor the Alabama Republican Party responded to Yellowhammer News' queries about the potential congressional bid.
Secretary of State John Merrill responded with a statement issued earlier in the week, which said such decisions about candidate qualification were left up to the parties.
"The question of whether or not the February 11 qualifying cutoff could still be followed is a party decision of which this office has no opinion," the statement said. "The parties will certify their candidates to us on March 9. We will accept what is certified to us by the parties."
Spotted earlier this week was apparently a Coleman Worldwide Moving trailer advertising Coleman's candidacy.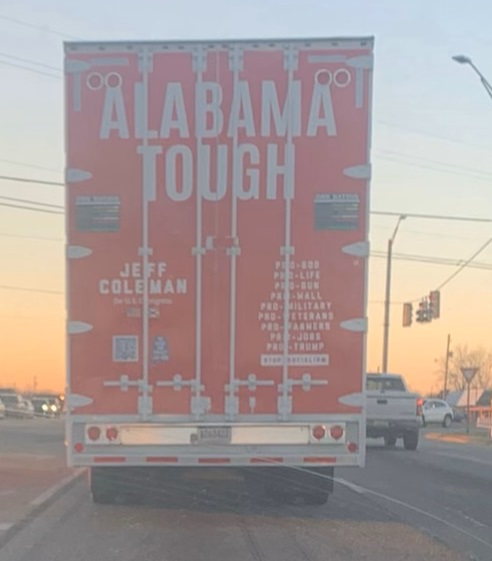 @Jeff_Poor is a graduate of Auburn University and the University of South Alabama, the editor of Breitbart TV, a columnist for Mobile's Lagniappe Weekly, and host of Mobile's "The Jeff Poor Show" from 9 a.m.-12 p.m. on FM Talk 106.5.
Don't miss out!  Subscribe today to have Alabama's leading headlines delivered to your inbox.