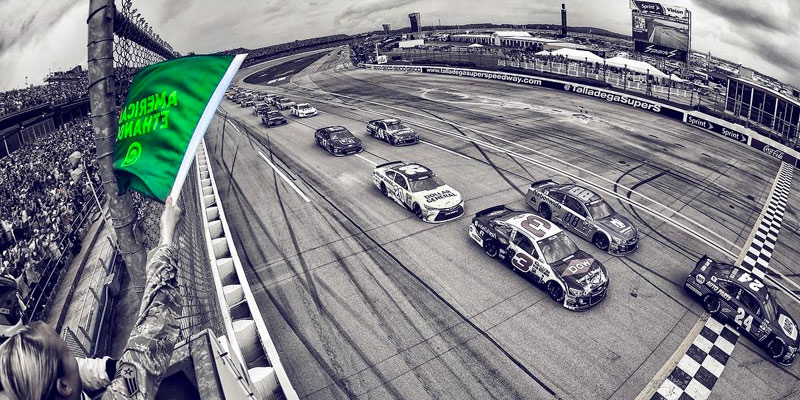 It's that time of year again. Enormous crowds will descend on Talladega Superspeedway this weekend for a host of auto racing events and some other very interesting activities.
Friday includes qualifying and practices throughout the day at the track, and the ARCA Racing Series race, the General Tire 200, at 5pm.
Then at 7pm, it's the 'Big One on the Boulevard.' It's a Talladega-style party. This event starts with a parade featuring some of the big-name drivers proceeding from turn three to the turn-two area of the racetrack. Once the parade concludes, several insane activities take place. There's the 'Gordo 500,' where four contestants race to consume Gordo cheese. There's the 'Stick the Ass,' in which four contestants race blindfolded to stick their number on the "big booty." It's guided by the voice of a NASCAR driver with whom they've been matched. Then there's the 'Hat Dance,' where four teams of two contestants do a hat dance while popping balloons. And there's the 'Stuff the Taco,' where tacos are built with actual people covered in nacho cheese. Needless to say, this is a very wild evening.
On Saturday, there will be more qualifying leading up to the Sparks Energy 300 race, part of the NASCAR XFINITY Series. That will take place at noon. The rest of the day will be devoted to qualifying for the main even, Sunday's Geico 500. On Saturday night, The Charlie Daniels Band is providing a concert in the infield of the racetrack.
The grandstands open at 8am on Sunday. The green flag is scheduled to drop on the big race around 1pm. The entirety of the race is 188 laps around Talladega Superspeedway totaling 500.08 miles. The honorary starter for this year's race is going to be Airman First Class Kellyn S. Connally, a pharmacy technician assigned to the 42nd Medical Support Squadron at Maxwell Air Force Base in Alabama.
Jeff Gordon owns the record for most victories in this race with a total of four. We will see if Brad Keselowski can defend his title from a year ago. It should be a fun weekend at Talladega.
Don't miss out!  Subscribe today to have Alabama's leading headlines delivered to your inbox.