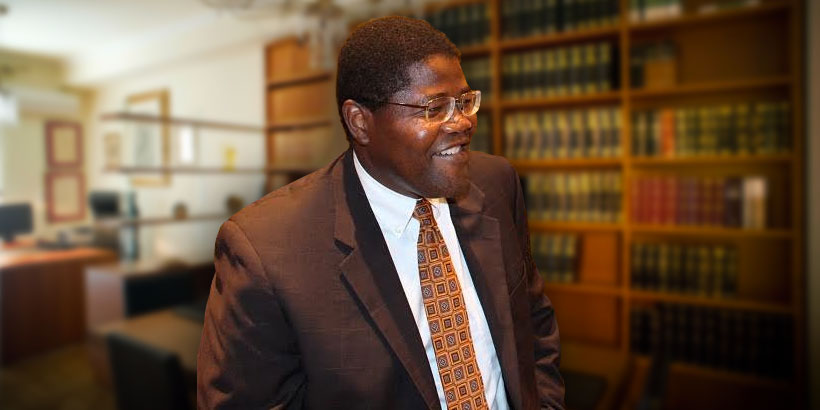 For the past 15 years, a little-known Alabamian has been a secret weapon for some of Congress's most conservative lawmakers. He calls himself a "Happy Warrior," who is a level 15 conservative on scale of 1-10. And he has a famous name, though he's never been confused with a movie star while walking around Capitol Hill.
His name is William Smith. And at first blush, his life probably sounds pretty familiar to many people from the South.
"I center my life around 3 things: faith, family, and football," Smith explained while sitting in Yellowhammer's downtown Birmingham offices.
But a deeper look into his life story reveals a fascinating journey that has taken him from the fields of rural Alabama, to the golden coast of California, to the halls of power in Washington D.C.
After growing up in Ozark, Alabama, Smith attained his undergraduate and law degrees from the University of Alabama. He went on to earn a masters degree in library science from UNC Chapel Hill before moving to the west coast to be a research librarian at the University of Southern California Law School.
It was while he was soaking up the SoCal sun that Smith received a phone call that would change his life.
"About 10 months into the job I received a phone call from a guy named Ed Haden, whom I had worked with at the Alabama Supreme Court," Smith recalled "He said, 'I've got a job and I want you to take it.'"
The job was a staff position on the U.S. Senate Judiciary Committee, which included one of Smith's home-state senators, Jeff Sessions.
Committee staffers are tasked with crafting much of the policy that gets enacted into law. It's often an arduous job that includes long hours, intense research and very little fanfare. It was right up Smith's alley.
"I must have been insane (for taking the job) because at the time I was literally working 35 hour a week and playing a lot of golf," he laughed. "But I said I'd take it."
Smith immersed himself in the work for the next four years (2001-2005), quickly becoming a highly respected policy expert before deciding to return to his home state to practice law. It proved to be a short-lived detour. Just over two years later he returned to D.C. and soon found himself back in familiar surroundings. Sen. Sessions had risen to become the ranking member of the Judiciary Committee and asked Smith to join him once again, this time as his chief counsel. When Sessions became the ranking member of the Budget Committee, Smith joined him once again as chief counsel on the committee tasked with the monumental undertaking of crafting the federal budget.
Although African-Americans have for generations tended to support liberal Democrats, Smith said being a conservative Republican came naturally to him, thanks to the values instilled in him while growing up in rural Alabama.
"Why aren't more (African-Americans) Republicans?" He asked rhetorically. "You could look at some people who are out to make a profit and prey off people, like some of the national leaders, like Al Sharpton. But down in the local area where I grew up the values are more consistent (with conservatism). You would find traditional marriage, pro-life and all of those values that are consistent. I think anyone who thinks their values are inconsistent hasn't really examined the (African-American) community that well."
How to turn the appeal of conservatism into a "30-second sound bite," Smith lamented, is the difficult part.
"The difficult thing is when a liberal says, 'I've got a government solution for you,' it's hard to come back and say, 'Well, I've got a limited government principle.'"
But while Smith may struggle to boil his conservative ideas down into made-for-television soundbites, he has flourished while helping Sen. Sessions and other conservatives craft key reforms, from entitlements to immigration and countless issues in between.
In late 2014, Smith's work caught the attention of a fellow policy wonk, Gary Palmer, the former think tank president whom Alabama's Sixth Congressional District had just elected to represent them in the United States House of Representatives.
Palmer invited Smith to be his chief of staff, the top post in congressional offices. Smith accepted, making him the only black Republican chief of staff in Congress, although it's a distinction he has not spent much time thinking about.
"Most of the interactions I have with people have to do with policy," he explained. "I think most of the people who have interacted positively with me is because they share my philosophy. Most of the people who have interacted negatively with me is because they are not as conservative as I am. If I have received any resistance it has to do with the philosophy that makes me say, 'No, just because we (in government) can do something here doesn't mean we should.' I don't think it has anything to do with race."
So, how does one of the most conservative people on Capitol Hill fill out his staff? A tough interview process that weeds out the unprincipled applicants from the "Happy Warriors."
One of the questions he asks all interviewees, Smith revealed to Yellowhammer, is "On a scale of 1 to 10, with liberal being 1 and conservative being 10, where do you rate yourself and why?"
Where does Smith himself rank?
"I would say on a scale of 1 to 10 I would probably be a 15," he quipped, garnering a chuckle from everyone in the room.
Once those applicants make it through Smith's crucible and onto the team, he runs a different type of office than many veteran staffers may be used to.
"When I say the philosophy is faith, family, and football, that's really what it is," he explained. "So we live out our faith, we care for our families, and we talk about football. If we do all of that we are going to have fun. Nothing is so serious in the office that we need to have a crisis moment. Now, the stuff we are working on is serious. We want to see the debt reduced and religious liberties protected.
"You have to be a 'Happy Warrior,'" he continued. "We have to go in and fight to limit the size and scope of government. When we win, we are going to high five. When we lose, we are still going to high five because we enjoyed the battle. That's kind of the mentality we need to have in the office. We want people who come in, roll up their sleeves and work hard. But you have to have joy, whether you win or lose. Those are the people we try to recruit."
We had to ask Mr. William Smith if he ever got confused with the Hollywood actor of the same name.
"Well, I don't think anyone has ever confused me with being Will Smith the movie star, except for when I first moved to Los Angeles," he laughed. "Anytime you have the name Will Smith and your name goes into the phone directory the young girls begin to call. So when I moved to L.A. I had to disconnect my answering machine because everyday I would receive a number of phone calls from Will Smith fans wanting me to call them back."
Smith's phone is still ringing, even though he's in D.C. But now, Alabamians can rest assured he's advocating for a limited government solution to whatever problem is being thrown at him from the other end of the line.
---
Like this article? Hate it? Follow me and let me know how you feel on Twitter!

— Elizabeth BeShears (@LizEBeesh) January 21, 2015
Don't miss out!  Subscribe today to have Alabama's leading headlines delivered to your inbox.