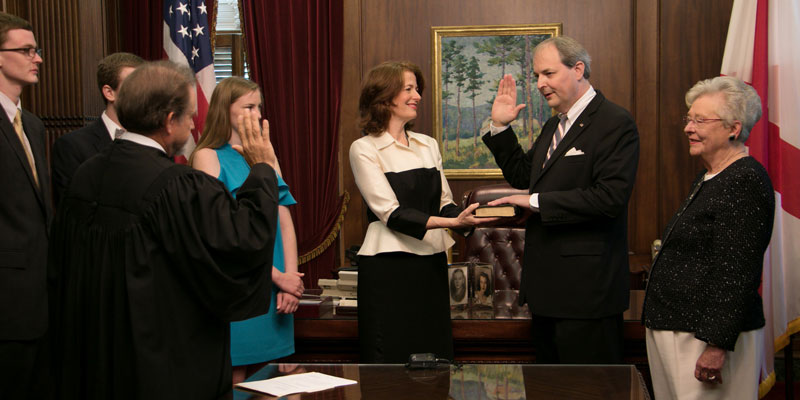 Governor Kay Ivey announced today that she has appointed William Sellers from Montgomery as Associate Justice to the Alabama Supreme Court.
"I am extremely pleased to appoint Will Sellers to the Alabama Supreme Court. I cannot think of an individual who is more qualified, capable and who exemplifies the qualities of a true public servant. His conservative principles and commitment to the rule of law along with his commitment to his family, church, and community are foundations that make him uniquely qualified for the position of Associate Justice," Governor Ivey said.
Prior to today's appointment, Sellers has worked for the Balch & Bingham law firm in Montgomery, where he's a partner.
Governor Ivey's press release noted that Mr. Sellers is active in a number of civic organizations and professional associations including the Rotary Club of Montgomery, the United Way, and the YMCA of Greater Montgomery, to name a few. He's also a member of Trinity Presbyterian Church and serves as the community liaison with the International Officers School at Maxwell Air Force Base.
Mr. Sellers will fill the seat previously held by Chief Justice Lyn Stuart, who is now the high court's Chief Justice, and his appointment is effective immediately. Business Council of Alabama President William Canary applauded the appointment, noting "Justice Sellers is well-positioned to handle the constitutional questions faced by the Alabama Supreme Court…Governor Ivey is building a strong track record of appointing individuals who are ready to serve on day one, and Justice Sellers is no exception."
 A native of Montgomery, Mr. Sellers graduated with high honors from the venerable Hillsdale College—a 170-year old Michigan school renowned for its scholarly instruction of the U.S. Constitution and American history. As the school's website says, Hillsdale promotes "the diffusion of sound learning" as the best means of preserving "the blessings of civil and religious liberty and intellectual piety." He received his Juris Doctorate from the University of Alabama School of Law in 1988 and his LL.M in Taxation from New York University in 1989.
Seller's wife is the former Lee Grant and they have three children: Arthur, age 23, George, age 22, and Caroline, age 18.
Don't miss out!  Subscribe today to have Alabama's leading headlines delivered to your inbox.