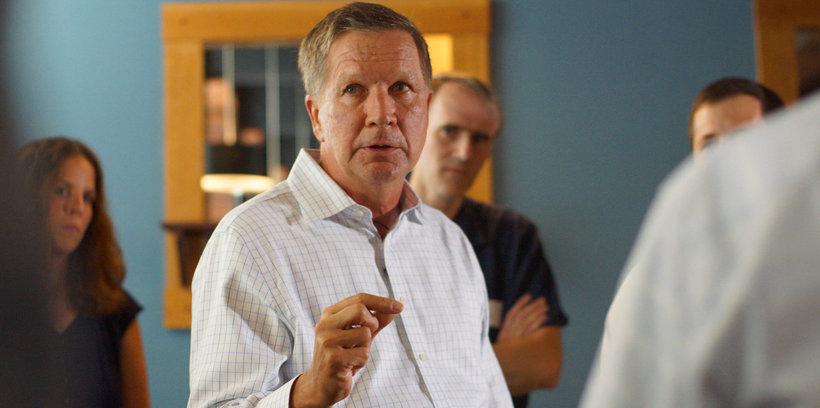 MOBILE, Ala. — Ohio Governor and GOP Presidential Candidate John Kasich will be visiting the Yellowhammer State next week. Kasich is scheduled to visit Wintzell's Oyster House in downtown Mobile on Tuesday, November 3rd.
The announcement came during a city council meeting when Mobile Mayor Sandy Stimpson commented that the Governor would be visiting The Port City.
This will mark Kasich's second visit to the state of Alabama as a GOP Presidential Candidate, the first having been the acceptance of Alabama Governor Robert Bentley's endorsement in August at the Alabama Sports Hall of Fame in downtown Birmingham.
"I'm humbled by Governor Bentley's support," said Kasich. "The endorsement of a fellow governor is special, especially from someone like Governor Bentley who brings so much to his work and who has such an incredible record of service to his state and our country.
What's also significant to me is that Gov. Bentley reached out to our campaign, unsolicited, to offer his support. This is about our shared commitment to putting conservative principles to work to get America back on track. I'm very appreciative of his endorsement and I'm very excited about what we're going to be able to do together to move the campaign forward in Alabama, the South and across the nation."
At the endorsement meet-up the two Governors exchanged footballs that had been signed by UA football coach Nick Saban and Ohio State coach Urban Meyer.
According to WKRG News, Mobile Mayor Stimpson suggested Kasich's visit next week is a product of the endorsement Bentley made back in August. Stimpson points to more visits that will be made by other presidential candidates perhaps signaling the importance the SEC presidential primary will play on March 1, 2016.
"We said when Trump came we felt like others would come we've already been contacted and know there is a third one in the cue, but it'll be later in November, but I'll wait to reveal that, we're delighted Governor Kasich would come to Mobile," said Stimpson.
Kasich has boasted as Governor of Ohio that he has helped guide his state from a budget deficit of $8 billion to a budget surplus of $2 billion. He also said that the state has created an economy that has added 350,000 private sector jobs.
In an interview with FOX10 News, Bob Omainsky, owner of Winzell's Oyster House of Mobile, said after Kasich's campaign contacted him about hosting the event that his immediate response was "yes."
"The founder of the restaurant, Oliver Wintzell, was politically active," said Omainsky. He goes on to say that it's superstition to do kickoff party's at Wintzell's if you want to win an election.
Doors open at 4:30 p.m. on Tuesday night at Wintzell's in downtown Mobile and you can RSVP for the event here.
Also during his time in Alabama, Governor Kasich will be officially filing for the Alabama primary and turning over the petition signatures needed to ALGOP Chairman Terry Lathan.
---
Thanks for reading! Let me know what you think about this story on Twitter.

— John James (@john_james_20) August 19, 2015
Don't miss out!  Subscribe today to have Alabama's leading headlines delivered to your inbox.