For deer hunters in Alabama, the opening day of firearms deer season is one the most anticipated times of year.
And the wait is almost over as the season in zones D and E opens Nov. 4. Firearms deer season for zones A, B and C opens two weeks later – Nov. 18.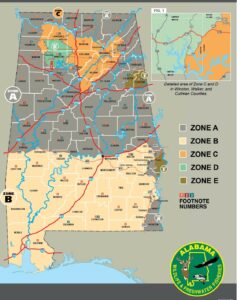 "We are blessed with a wide variety of diverse landscapes and an abundant deer herd," said Chris Blankenship, Commissioner of the Alabama Department of Conservation and Natural Resources (ADCNR). "Our state's natural diversity combined with some of the most liberal seasons and bag limits of any state in the nation makes Alabama's deer season unique.
\"We hope all of our resident and out of state hunters have a safe and successful season this year." 
 Alabama offers more than 1.3 million acres of public hunting land that includes wildlife management areas, special opportunity areas, physically disabled hunting areas, Forever Wild Land Trust tracts, U.S. Forest Service and Army Corps of Engineer lands and the Wheeler National Wildlife Refuge. There are also commercial hunting lodges, guides and outfitters to choose from. With this abundant access to hunting land, hunters can pursue white-tailed deer from Alabama's Gulf Coast to the Appalachian Foothills in the northeast corner of the state.  
 With the exception of specific landowner exemptions, everyone ages 16 to 64 is required to have a valid hunting license when hunting deer in Alabama. In the U.S., hunting licenses help fund wildlife conservation. ADCNR's Wildlife and Freshwater Fisheries Division is primarily funded by money generated through the sale of hunting and fishing licenses. That money is matched on a nearly three-to-one basis by the U.S. Fish and Wildlife Service through funds allocated to Alabama from the Pittman-Robertson Act which levies an excise tax on firearms, ammunition and hunting equipment.
For more information about license requirements in Alabama, visit www.outdooralabama.com/license-information. 
 Season Highlights  
For more information about the upcoming white-tailed deer season in Alabama, visit the hunting section of www.outdooralabama.com. 
Don't miss out!  Subscribe today to have Alabama's leading headlines delivered to your inbox.