FedEx confirmed on Thursday that it will be building a 300,000 square foot distribution center in southwest Birmingham that projects to employ 285 full and part time employees by 2024.
The distribution center is a $40.6 million investment for the FedEx Ground division of the international shipping giant. It will be constructed on a 46 acre plot on Lakeshore Parkway next to the recently finished Dollar General distribution center.
"The jobs and investment are very important to our economy and I want to thank FedEx Ground for choosing this site," said Birmingham Mayor Randall Woodfin in a statement on Thursday.

According to a release from the Birmingham Business Alliance, 94% of the facility will be located within Birmingham's city limits and 6% will be in Bessemer.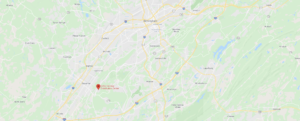 "This project required extraordinary communication due to its multi-city location," remarked Jefferson County Commissioner Steve Ammons.
"This project is an excellent example of regional cooperation as we worked with Bessemer and Jefferson County to bring about an expansion of FedEx Ground in the Birmingham area," Woodfin added.
The plot of land where the center will be built was previously owned by U.S. Steel.
According to The Birmingham Business Journal, a Missouri developer purchased it in recent days for $2.8 million to clear the way for building the FedEx facility. Cooper Construction in Birmingham is said to be the contractor tackling the project.
Work on the building is slated to begin in September of this year, with the goal of completion by June 2021. Full employment at the center is not expected until three years after the construction is completed.
A spokesperson for FedEx Ground told the Birmingham Business Journal that the company needed the facility to "meet growing demand for our services" and chose the Lakeshore site because of its "ease of access to major highways, proximity to customers' distribution centers and a strong local community workforce."
The Birmingham Business Alliance spearheaded the recruitment process for the project.
The City of Birmingham, City of Bessemer, Jefferson County Commission, and Birmingham Industrial Development Board all teamed to create a package of abatements and incentives to help lure FedEx to the area.
"Adding more jobs, especially during this pandemic, is crucial for our local economy," commented Jefferson County Commission President Jimmie Stephens.
He concluded, "Our job as elected officials is to improve the quality of life for our citizens. This is a prime example of what we can accomplish together."
Henry Thornton is a staff writer for Yellowhammer News. You can contact him by email: henry@new-yhn.local or on Twitter @HenryThornton95