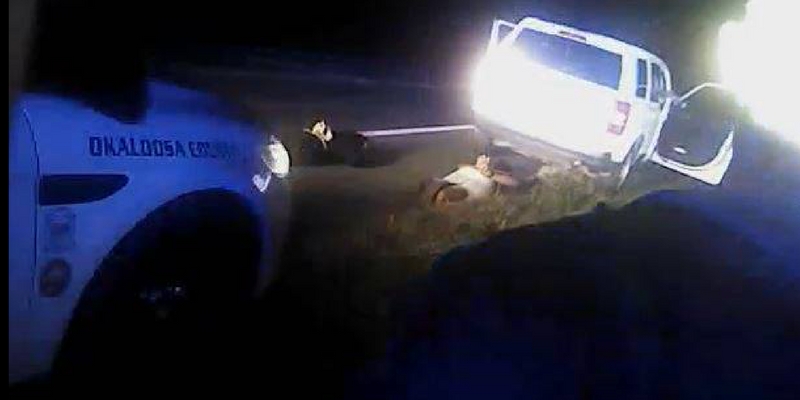 When four intruders blocked the road to his house and tried to break into his home to kidnap his 17 year-old daughter, the teen's 51 year-old father used his gun to save her.
After his dogs started barking and his motion-activated flood lights went on, the man spotted the four intruders trying to break into his garage. He grabbed his gun, fired three shots, and the intruders fled.
After a neighbor identified the getaway vehicle, police arrested the four suspects and charged them with attempted kidnapping and attempted home invasion robbery.
The Okaloosa County, Fla., sheriff's office's account of the event, posted on its Facebook page, is presented below:
Four teens armed with a knife, guns and a roll of tape planned to kidnap and rob members of a Baker family last night, but their plot didn't go as planned and now all four are in custody. Inside their SUV deputies also found latex gloves, facial masks and dark clothing.
The Okaloosa County Sheriff's Office responded around 10:30 p.m. to a call of a possible home invasion robbery in progress at a home on Preservation Path.
The 51-year old homeowner says his 17-year old daughter had called him to tell him that someone had blocked the road to their house with barrels. Instead of getting out of her car she drove around them. A short time later her father heard his dogs barking and saw his front motion-activated flood lights come on. He also heard what sounded like his car door closing and went to get his gun. After spotting some individuals trying to force their way into his garage, he fired three shots and the intruders fled into the woods. He later learned they had unscrewed some of his security lights.
An alert neighbor who saw a suspicious car near her house around the same timeframe quickly called in a description of the vehicle to deputies, who spotted the 2016 White Jeep Liberty on Highway 4 and made a felony traffic stop.
Inside the car they found 19-year old Keilon Johnson, 17-year old Austin French, 16-year old Tyree Johnson, and 15-year old Kamauri Horn, all of Crestview.
The OCSO investigation revealed the teens had concocted a plan to kidnap the teenage daughter. The goal was to first force her out of her car by blocking the road with barrels and garbage cans. (However their intended victim drove around the barrels and kept going.) They then planned to head to her house, confront and subdue her father – who they believed to be wealthy – and rob the home.
Instead all four defendants are now charged with attempted kidnapping and attempted home invasion robbery. 19-year old Keilon Johnson was booked into the Okaloosa County Jail. The other defendants were transferred to a Department of Juvenile Justice facility.
(By Craig Bannister, courtesy CNSNews.com)
Don't miss out!  Subscribe today to have Alabama's leading headlines delivered to your inbox.