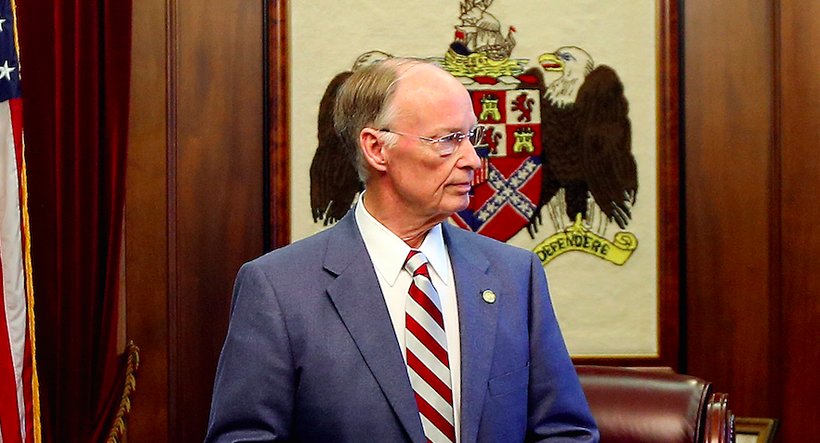 BIRMINGHAM, Ala. — Governor Robert Bentley has become a serious impediment to Alabama's job creation efforts, according to multiple economic development professionals Yellowhammer spoke with on Thursday.
The Bentley administration has been mired in scandal since last week when Yellowhammer exposed the existence of audio recordings that captured sexually charged conversations between Bentley and his then-senior advisor Rebekah Mason. State and federal authorities have also launched criminal investigations into possible wrongdoing that stemmed from their inappropriate relationship.
Since then, Yellowhammer sources — who spoke on condition of anonymity for fear of retribution — say several companies considering expanding their operations into Alabama have backed away.
"We've got all this momentum with aerospace and Airbus suppliers are moving in and Google's coming to the state and fiber broadband is going in and then boom — just like that the momentum is stopped by a scandal that none of us can do anything about," said one local economic developer. "To say it is frustrating would be understating it."
That sentiment was shared by numerous economic developers Yellowhammer spoke with Thursday, from heads of local economic development authorities to executives at large companies engaged in the state's job recruitment and retention efforts.
"If you're (Secretary of Commerce Greg) Canfield, you've got to be over there just throwing your hands up in exasperation," added one Montgomery-based lobbyist. "The guy's literally been all over the world declaring Alabama open for business, meanwhile the boss minding the shop is complaining that he'd rather be shacked up on FaceTime with one of his staffers than running the state. Beats all I've ever seen."
House Minority Leader Craig Ford (D-Gadsden) agreed with the economic development pros, saying Bentley should step down because his impropriety is having a "crippling affect" on the state's "ability to recruit jobs."
"There are business owners and leaders of industry who don't want to sit down with this governor because of the image of corruption that has engulfed the state," he said. "We have lost so much opportunity because of this mess. How in the world can we bring anyone else in? What CEO or other corporate group would want to come down here right now?"
Bentley has insisted he has no intentions of resigning, which has compelled state lawmakers to consider pushing him out.
State Rep. Ed Henry (R-Hartselle) told Yellowhammer he plans to introduce articles of impeachment against Bentley when the legislature returns from spring break next Tuesday.
"Since we don't have recall right now, the only method of dealing with a governor like Bentley is impeachment," said Henry. "Now the question is whether the legislature is willing to do the hard thing — take the hard stance. I think we will. Robert Bentley doesn't care enough about this state to put the people's welfare above his own, so we're just going to have to get rid of him."
---
RELATED:
1. Bentley personally bought 'burner' phones sometimes used to avoid surveillance
2. Bentley expresses frustration with media, says his actions were 'not all that egregious'
3. IMPEACHMENT: Alabama lawmakers angling to remove disgraced governor from office
4. UNCOVERED: Bentley and Mason co-own secret safe deposit box together
5. DEVELOPING: State, Feds launch criminal investigations into Bentley-Mason relationship
6. Governor Bentley isn't going anywhere and here's why
7. EXCLUSIVE: The complete Bentley-Mason affair audio recordings and transcripts
8. These four audio clips suggest Bentley is lying when he denies having a 'physical affair'
9. 'Bentley was framed!' — Rick & Bubba producer performs hilarious original song
10. 'Gender bias' cries from Bentley's alleged mistress are a desperate diversion (opinion)
11. WOW: This is what's engraved on the podium Bentley stood behind to discuss affair
12. CARTOON: Slick Willy backs Bentley
13. SOURCES: Lt. Gov has been preparing for possible Bentley resignation for months
14. Bentley addresses affair allegations: 'I made a mistake'
15. Alabama's former top cop: Bentley mistress was 'de facto Governor'
16. Bentley staffer lashes out, says sources exposing secrets are 'the public's worst enemy'
17. Was Bentley booted out of his church? Here's what really happened.