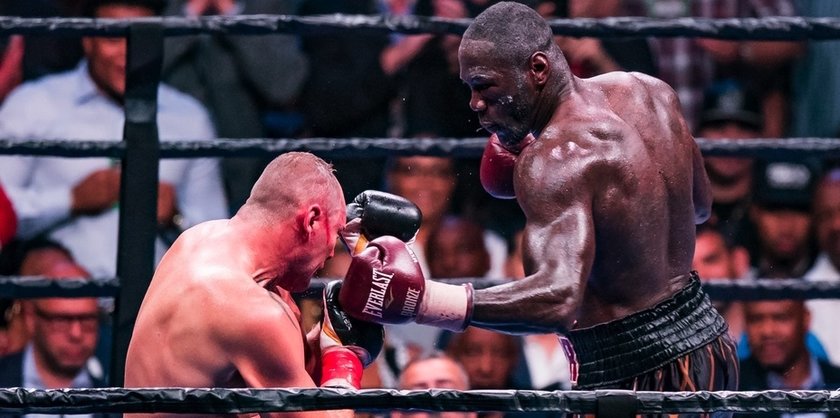 BIRMINGHAM, Ala. — Alabama's celebrated hometown boxer, Deontay Wilder, won another impressive fight Saturday night improving his record to 35-0, 34 KOs. "The Bronze Bomber" battled it out with frenchman Johann Duhaupas, (32-3, 20 KOs), in the ring at Legacy Arena, in Birmingham.
WBC Heavyweight titleholder Wilder delivered a massive beating to Duhaupas going into the 11th round, where in Wilder fashion, the frenchman was driven to the ropes landing a dozen unanswered punches forcing the fight to be called with 55 seconds left in the round.
During the fight, 6-foot-7, 229-pound Wilder unleashed barrage after barrage on 6-foot-5, 236-pound Duhaupas with both earning applause from those in attendance. After the fight had been called, Wilder put his arm around the respected opponent and the two walked the ring together embracing the crowd's cheers.
8,471 roaring fans were in attendance rooting on Tuscaloosa native Wilder as he took it to Duhaupas round after round. By the end of the match Duhaupas' face was black-and-blue from taking the Bronze Bomber's arsenal of punches from Wilder's jabbing left and powerful right.
As the fight was called, Wilder was seen moving with excitement as he addressed the crowd with flair in that unique Bronze Bomber style. During the sixth round, Wilder entertained fans by dancing and shuffling across the ring in the final seconds.
Mood #PBConNBC pic.twitter.com/HZK6ZHCUbF

— NBC Sports (@NBCSports) September 27, 2015
"It's tough fighting at home because you want to entertain the crowd. The people come out and they paid their hard-earned money, so they definitely want to see a show, and didn't you all get a show tonight? Oh, my God," ESPN.com reports Wilder addressing the crowd from the ring after the fight.
Although Wilder is attributed with the KO, Duhaupas was given nothing but respect by the heavyweight title holder. "He [Duhaupas] got a hell of chin. When [you're] fighting for a world title it brings a different kind of beast, a bit different animal out of fighters," Wilder explained. "They come to get it all whether they home or on the road. You got to give him credit. He definitely has my respect. He was very strong and I see why he's never been stopped before. I was prepared to go all 12 rounds."
Wilder didn't escape the Frenchman unscathed, however, earning the first swollen eye of his career, which he says he'll wear with pride.
My first swollen eye….. I'm gonna wear this like a badge of honor. #Aftermath #BombZquad pic.twitter.com/bjY3Avn1l7

— Deontay Wilder (@BronzeBomber) September 28, 2015
The Premier Boxing Champions main event was the first heavyweight title fight on NBC in prime time in 30 years. The Alabama NewsCenter reports that the Greater Birmingham Convention & Visitors Bureau put a $1.5 million initial estimate on the economic impact the fight had on the metro area.
Wilder first defended his title in June, knocking out Texan Eric Molina in the 9th round. Wilder is due to have a mandatory defense against Russian-born Alexander Povetkin (29-1, 21 KOs) which many expect to be Wilder's next fight.
---
Thanks for reading! Let me know what you think about this story on Twitter.

— John James (@john_james_20) August 19, 2015