Matt Young may not have been dreaming about his current situation when he started his first parks job as a lifeguard in his native southern California.
However, Young insists his role as Southwest District superintendent with the Alabama Department of Conservation and Natural Resources' State Parks Division is his dream job.
His new position encompasses overseeing Gulf State Park in Gulf Shores and Meaher State Park on the Battleship Parkway in Spanish Fort.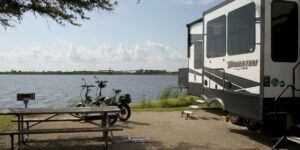 After a stint in the Army, Young earned a bachelor's degree in anthropology from the University of Arizona and a master's degree in recreation and park administration from Eastern Kentucky University. Young had served as assistant director of Recreation and Cultural Affairs for the city of Gulf Shores since 2015.
Sitting behind the desk that was once used by former park Superintendent Hugh Branyon, Young said he didn't get to work with the late, beloved Branyon, but he is very aware of the former superintendent's impact on one of the most popular destinations on the Alabama Gulf Coast. The Hugh S. Branyon Backcountry Trail winds 15 miles through the park.
"Gulf State Park is such a unique place," Young said. "The partnerships with the cities of Gulf Shores and Orange Beach, local governments and local businesses, it's unlike anything I've seen before. It's not that we can unilaterally run this park. We depend on our cities, Baldwin County, local businesses and concessionaires. A lot of moving parts make Gulf State Park work. It's a pleasure to be a part of that. We are able to provide excellent services to our guests because of that.
"When I first got to Gulf Shores, with the state park overlaying both Gulf Shores and Orange Beach, we worked together on just about everything we did, event-wise. A lot of the trail systems in coastal Alabama intersect the state park and the cities. Very early on, I was involved with events and development dealing with the state park."
In the spring, Alabama voters overwhelmingly approved a bond issue to provide $80 million to state parks for a variety of projects, one of which is to expand the campground facilities at GSP.
"The proposal is to add 200 luxury RV sites," Young said. "That would encompass what is our old golf course area. We might have been able to expand in the current campground, but you don't want to take away from the visitor experience. When you come to a state park in an RV, you want to have that green space around you for involvement with nature. We think the golf course area will still have that luxury RV feeling in a beautiful green space."
The current campground with 500 luxury RV sites stays busy almost year-round. Young said the occupancy rate rarely falls below 90 percent.
"When you look at the folks who visit the Alabama Gulf Coast, it's generational," he said. "A lot of these folks have been coming down for multiple generations. You know, when John Mellencamp sings about vacationing down at the Gulf of Mexico, he was talking about coming down here. A lot of the folks from Missouri, Indiana, Wisconsin and Michigan have been coming down for generations.
"That in itself is a draw. Of course, you can't beat the white sands, the southern hospitality and the proximity to the amenities. Most campgrounds have a swimming pool and a tennis court. We also offer that, but we are also in close proximity to the beach and our expansive trail system. That has been a big boon for the RV industry. Now you park your RV and right out the front door you have 27 miles of trail systems to access. You can hop on your bike, or you can rent a Segway. We're on the birding trail, so a lot of folks come down to bird. Wildlife experiences and observations are huge here. As the communities continue to grow around us, it's becoming more of a resource at the park. For the wildlife, it's a sanctuary."
Projects also continue at Lake Shelby, the park's 900-acre freshwater lake within sight of the gulf. A visitors center and bathhouse facilities have been built recently. A pedestrian bridge connects the Lake Shelby area to the lodge at Gulf State Park facilities. A pedestrian bridge has also been erected to allow park visitors to safely reach the beach at the Beach Pavilion from the park's trail system.
"Lake Shelby is that area within Gulf State Park that we envision being able to activate more," Young said. "It's a center for event planning. We host the Ballyhoo Festival with the local arts alliance. It is a cultural event where we partner with the Poarch Creek tribe to bring local artists in. It's a special park within a park. At the visitors center, we have our information and merchandise there, and we have a concessionaire that offers tours of the park on both Segways and kayaks. That same concessionaire also offers parasailing and beach chairs at our beach access areas."
On the north side of Lake Shelby, Hurricane Sally spared the Eagle Cottages for the most part, but the other lakeside cottages were damaged to the point they had to be demolished. The first pilings that will be used to replace those cottages were driven last week.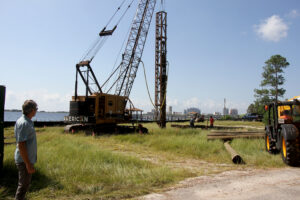 "We have started on 17 new cottages that will be on stilts," Young said. "They will be two-bedroom, two-bath and available year-round. Several of the new cottages will be ADA (Americans with Disabilities Act)-accessible. The new cottages will be even more luxurious and will be on par with the Lodge as far as quality and amenities. They will have all the kitchen appliances, washers and dryers and internet. And then you can walk out on the fishing pier on Lake Shelby."
ADCNR is working with FEMA (Federal Emergency Management Agency) to replace the section of the Gulf State Park Pier that was demolished by Hurricane Sally. Bids to rebuild the missing section of the pier and repair the octagon were expected to be in the $6.5 million range but the one conforming bid came in almost double at $12.6 million.
"We are working with FEMA to get the scope of work and cost estimates approved," Young said. "Once that is done and the permits are all received, we will bid it again. We're hoping that will happen in early 2023. The good news is the fishermen have adapted to coming nearer to the shore. They're catching species they wouldn't catch in deeper water. We adapted the fireworks show, but we still had record crowds.
"Now that I'm here at the state park, I see why it is so important to get that pier rebuilt. Being a community member, the state park is kind of the hood ornament for our coast. Being district superintendent, I see it almost every day, and I want it to be complete for all our visitors and users."
On the north end of Mobile Bay, Young's other responsibility is Meaher State Park, a 1,327-acre park situated on the lower reaches of the Mobile-Tensaw Delta.
"Meaher is unique in that it's one of our smaller parks, but it still generates quite a bit of revenue because of its location," Young said. "And it's becoming more popular. We have the fishing pier and the boardwalk. One of my goals is to activate Meaher State Park. Everybody knows about Gulf State Park. When you ask people about Alabama State Parks, they talk about Gulf, Guntersville or Oak Mountain. Meaher is a hidden gem. Meaher has 60 RV sites, and there's funding through the Alabama RESTORE Council to add 60 more, along with adding six bay cottages to the four we have now. We will also add a new bathhouse, camp store and space for a naturalist and park management with funds from the recent bond initiative.
"This is absolutely my dream job. I actually started my career as a lifeguard with parks in California. So now I've come full circle as district superintendent."
David Rainer is an award-winning writer who has covered Alabama's great outdoors for 25 years. The former outdoors editor at the Mobile Press-Register, he writes for Outdoor Alabama, the website of the Alabama Department of Conservation and Natural Resources.
Don't miss out!  Subscribe today to have Alabama's leading headlines delivered to your inbox.