One of the motivational factors for new hunters discovered by the Alabama Department of Conservation and Natural Resources' (ADCNR) Wildlife and Freshwater Fisheries (WFF) Division is a quest for organic protein.
Individuals who participate in WFF's Adult Mentored Hunting Program hunts often rank providing meals prepared with wild game for them and their families high on the priority list.
That motivation is what prompted David Melton of Huntsville to search for hunting opportunities after transferring from his Lockheed job in California to Alabama.
Although he grew up near Houston, Texas, he had not been introduced to hunting by friends or family.
"I'm from the suburbs," Melton said. "I'm not a country boy, to be honest. My dad was not into hunting."
After graduating from the University of Texas-Austin, he went to work for Lockheed and lived in California for 14 years.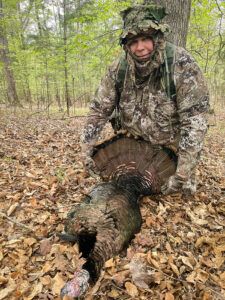 "I transferred to Huntsville two years ago, and I'm quite happy," Melton said. "After living in California, especially the last few years, I realized how unreliable our food supply can be when things disappear from the grocery store shelves.
"I was thinking about that song from Hank Williams Jr., 'A Country Boy Can Survive.' I was thinking, 'There's wisdom in that song.' I did not grow up with these skills, but I'm going to find some country boys to teach me. That was my attitude."
His quest began last year during turkey season with a Google search, and he found that Casey's Hunting Camp in the heart of the Alabama Black Belt had an opening. Although the camp is not associated with the WFF Adult Mentored Hunting Program, Casey's has seen an increase in new hunters. Melton booked the hunt for the last weekend of the 2022 season. Unfortunately, the gobblers weren't cooperative, but it fueled a desire to try again this year.
"I liked the family," Melton said. "They were just great people. I said I'd come back and hunt with them again, and they offered the first weekend of the season this year. The first day of the season, it was hot that day. We were at the top of a ridge, and we could hear the turkeys gobbling at the base of the ridge. We set up three times and called to them. They would gobble at us, but they wouldn't come. They were gobbling like crazy, like machine guns, but they wouldn't come.
"That night as we were strategizing, we knew we had to get down to where they were. Bright and early the next morning, we head down to the bottom of the ridge."
However, a big line of thunderstorms was on the horizon, increasing the urgency to get a gobbler within range as soon as possible. Charles Casey and his brother, Bill, were Melton's guides for the weekend.
"Charles is calling and sitting next to me because I'm the inexperienced one and need guidance," Melton said. "I see the turkey first. It's directly at my 12 o'clock. I'm sitting with my back to the tree and using my left knee to brace the shotgun.
"I got caught by surprise. I was expecting him to show up in full strut. But what I saw was a thin profile. I thought it might be a hen. I whispered to Charles, 'Is that a male?' He said, 'Yes, I can see the beard.' It occurred to me I had made a grave error by looking for a fan."
Then Melton worried that the gobbler might be a jake, a juvenile, but Charles assured him it was a mature gobbler.
"It was still pretty dark, and we were under tree cover," Melton said. "I asked Charles if I should fire, and he said, 'Yes.' I was trying to sight in, and I was amazed at just how small that head looked at 40 yards. It started moving to my right. I don't have enough flexibility to keep that shotgun on my knee, so I raised the shotgun offhand. I've got about one second left before he's going to duck back down the hill. So, I pulled the trigger and nailed him.
"I'm not going to lie, I'm pretty proud of that shot. That's the most difficult shot I've ever made in my life. Thank God for that one. I was praying for one turkey, and he came right to me."
In 2022, Melton purchased a turkey choke for his shotgun designed for the Winchester Longbeard XR shells, and the Caseys had helped him pattern the gun on a turkey target before the hunting began.
As with most successful turkey hunts, Melton has no recall of any recoil from the shotgun.
"In that moment when I pulled the trigger on the turkey, I didn't feel anything," he said. "I only barely heard it, even. I was completely focused on that shot. It wasn't like some people have told. I wasn't really nervous or shaking. It was more like, oh, I hope I don't miss this shot.
"The single biggest thing that almost threw me off was I had gone in with the assumption that the turkey would be in strut. I almost missed my chance because I was looking for the wrong thing. I was looking for a fan and not the beard. I was glad I had someone like Charles sitting right next to me so I didn't miss that opportunity."
From a perspective of a veteran turkey hunter and guide, Charles said the gobblers were active that second morning, and they could hear five or six gobbling in their classic turkey woods setting.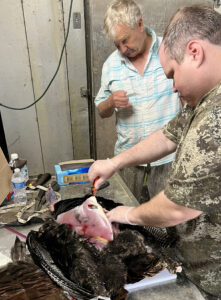 "We got set up on an old roadbed, which gave us a shooting lane," Casey said. "It was all oaks and hardwoods, and we had a stream right in front of us. I purred and clucked at the turkeys, and three of them gobbled. I waited about 15 minutes for the turkeys to fly down. The turkey gobbled once when he hit the ground. I purred at him. He gobbled. In three or four minutes, a turkey walked up. It was almost still dark.
"David thought turkeys came up gobbling and strutting, but this turkey just walked up and topped the hill. Once I saw his head, I could tell he was a gobbling turkey because he was all flamed up."
The turkey took another step up the hill, and Casey spotted his beard. He whispered to Melton that it was a longbeard and to take the shot whenever possible.
"He shot, and the turkey didn't even flop," Casey said. "I had my brother behind us if the turkeys had circled us. The other turkeys kept gobbling. We sat there another 30 minutes, but the other gobblers were out there breeding hens. I went and got David's turkey and we high-fived and thought we were heroes. We had a good time."
Although this was his first turkey harvest, Melton had been able to harvest ducks this past January and took a whitetail buck in February.
"I hunted last year but didn't get anything," he said. "I bought out the rack at Cabela's to have the camo I needed. Now that I've gotten a few kills, I actually feel like I'm a hunter instead of just a wannabe.
"I can definitely see me doing this for a long time. I'll be 42 in July, and I'm well aware that I'm kind of late getting started. I'm learning skills that most people have already had for years. I'm just glad that I've gotten such a positive reception. When I go with the Caseys, I'm stepping out of a culture I'm familiar with and into one I'm not. They have always received me warmly and are happy to teach. I'm grateful to Charles, his son Jackson, and Bill."
After the successful hunt, Melton hauled the 18.5-pound gobbler back up the ridge, and the hunting party headed to the camp.
"They offered to clean him for me, but I told them I didn't want them to do that," he said. "I wanted to learn. I cut him open and breasted him out and cut off the legs. Charles cut the beard and tail fan off for me."
Casey said quite a few of their clients these days are new or inexperienced hunters.
"It's pretty intense," he said. "You have to coach them at camp. We sight their guns in and remind them they have to aim down the barrel. A lot of people will just kind of point the gun at the turkey, thinking they're going to kill it. But David was real good at it. He's rebooked for next year.
"He said it's quite the experience. I told him I'd been doing it for 40 years, and it's still quite the experience."
Casey said the hunting camp is on 6,700 acres of family land in Dallas County. He purchased his grandparents' house that was built in 1840, and started taking clients hunting in the early 1980s, when he was 23 years old.
"I'm the last one here," Charles said. "My mom and dad died a couple of years ago. Between the Casey and Yates families, there used to be 20 people here two generations ago. Now I'm by myself."
For those who are considering hunting in Alabama, visit www.outdooralabama.com/hunting/adult-mentored-hunting-program to sign up for a session.
David Rainer is an award-winning writer who has covered Alabama's great outdoors for 25 years. The former outdoors editor at the Mobile Press-Register, he writes for Outdoor Alabama, the website of the Alabama Department of Conservation and Natural Resources.
Don't miss out!  Subscribe today to have Alabama's leading headlines delivered to your inbox.