Many anglers who venture into the Gulf of Mexico do it just for the wonder of experiencing the open sea, with the probability of hooking some of the many fish species available off the Alabama Gulf Coast. Others also are looking for that adventure but enjoy seeing the fish box loaded with species that make outstanding table fare.
If you fall into the latter category, August will be the time to book one of Alabama's charter vessels to catch Alabama's premier reef fish species – red snapper, greater amberjack and gray triggerfish. Private recreational anglers will have to wait to see if any red snapper quota remains in August, but they can definitely enjoy the amberjack and triggerfish fishing.
Unlike last year, when the season ended on Oct. 31, anglers will only have a short window to take advantage of the greater amberjack fishing this year. NOAA Fisheries recently announced a significantly reduced amberjack season for 2023 of Aug. 1-24. The recreational amberjack quota is 335,320 pounds with a daily limit of one per angler and a 34-inch minimum fork length.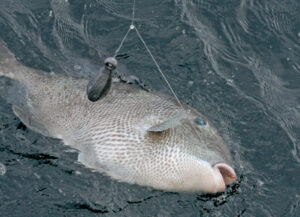 "As the announcement mentioned, greater amberjack is considered to be 'overfished,' which means too many fish have been harvested and the stock is too low, and it is experiencing 'overfishing,' which means too many are being caught," said Scott Bannon, Director of the Alabama Department of Conservation and Natural Resources' (ADCNR) Marine Resources Division (MRD). "NOAA Fisheries has an obligation to protect the species. The Gulf of Mexico Fishery Management Council (Gulf Council) is involved in that. Previous efforts weren't helping, so stricter catch limits were instituted. To keep the harvest in check, it required modification to the commercial and recreational quota. If the quota is not met during the August time period, it will reopen in May 2024."
The August season for amberjack applies to both federally permitted for-hire vessels (charter boats) and private recreational anglers because the species is not regulated under sector separation like red snapper, which has separate quotas for for-hire vessels and private recreational anglers.
Bannon hopes the private recreational anglers, who are allowed to fish for snapper on Friday-through-Monday weekends, will be able to enjoy the bottom-fishing trifecta of amberjack, red snapper and triggerfish in August, but the private recreation angler snapper season is determined by the projection of when its quota of 591,185 pounds will be met. As of July 17, recreational anglers had landed 443,027 pounds of red snapper.
"During most of the month of August, you can definitely catch snapper, AJs and triggerfish on for-hire boats," he said. "For the private anglers, we're averaging about 72,000 pounds of snapper a weekend. Traditionally this time of year, the snapper catch drops. The fish seem to be harder to catch in July, so it will be interesting to see if any recreational snapper quota remains after the rodeo (Alabama Deep Sea Fishing Rodeo at Dauphin Island July 21-23).
"For all the recreational anglers, whether for-hire or private angler, it's always a challenge to realize the benefits of season dates across the Gulf."
Bannon said some anglers are reporting catching smaller red snapper than recent years, but that doesn't apply to all bottom fishermen.
"Our staff surveyed a 40-pound red snapper during one of our dock checks," he said. "That is a hoss. When they get that big, they don't look real and can be 40 to 50 years old. But our staff also checked several snapper in the 20s."
Bannon said in addition to the monster snapper, a couple of unusual species have been reeled in from the deeper waters of the Gulf. When one application for a state record was submitted, it was thought the species was a splendid alfonsino. With a weight of 10 pounds, 12.32 ounces, it was a potential world record. The MRD marine biologists wanted to make sure of the species before they proceeded.
"We don't see alfonsinos in Alabama very often," Bannon said. "Some folks in Florida had more experience and we sent it down there. There were still some conflicting opinions on identification. Because it could have potentially been a world record, we sent it to Texas to be DNA tested. The lab at Texas A&M identified it as an alfonsino and not a splendid alfonsino. It is a state record but not a world record."
Bannon said modern technology and faster boats are allowing anglers to probe deeper waters, which results in rarely seen species being landed.
"We're starting to see a lot more deep-water species," he said. "People are fishing deep-drops more often. Between the electronics and safety equipment and speed and range of the boats, people are more comfortable fishing farther offshore."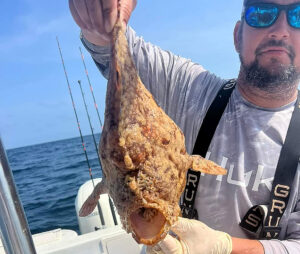 Another unusual species landed recently was the oscillated frogfish. However, this fish was deemed ineligible for record status because of the fishing tackle, a bandit rig, that was used. A bandit rig is a short-armed device mounted to the boat with a large reel that can be turned by hand, electric motor or hydraulics.
"To be eligible for a state record, the fish has to be reeled in by a traditional rod and reel by a single angler," Bannon said.
Bannon said the inshore species of speckled trout (spotted seatrout) and flounder seem to be in good shape after recreational creel limits were changed a couple of years ago. The speckled trout limit is six per angler per day with a slot limit of 15 to 22 inches with an allowance for one fish larger than 22 inches per day. The flounder limit is five per person per day with a 14-inch total length minimum.
"The public has been very supportive of the changes we made in the speckled trout and flounder regulations," he said. "I have not heard one complaint. Those were very positive changes. We're doing an assessment for southern flounder and spotted seatrout with the University of South Alabama this year. Hopefully by next summer we'll have the results.
"I currently don't see any needs for additional regulations. The trout population seems to be healthy, and flounder are recovering. We're excited about that, but I want to see what the science tells me. Social media and the phone calls are giving me feedback that the flounder are doing well. "
In other news, on Aug. 11, Dr. Anthony Overton, Chair and Professor for Samford University's Department of Biological and Environmental Sciences, will become Alabama's newest member of the Gulf of Mexico Fishery Management Council. Overton is a life-long recreational angler and is also Graduate Director for Masters in Environmental Health, Policy and Management for Howard College of Arts and Sciences. Overton previously served as a member of the Atlantic States Marine Fisheries Commission and as a member of the International Committee for the Conservation of Atlantic Tunas.
David Rainer is an award-winning writer who has covered Alabama's great outdoors for 25 years. The former outdoors editor at the Mobile Press-Register, he writes for Outdoor Alabama, the website of the Alabama Department of Conservation and Natural Resources.
Don't miss out!  Subscribe today to have Alabama's leading headlines delivered to your inbox.