The Alabama Wildlife Federation confirmed the arrival Wednesday of limestone at Cedar Point Beach in Heron Bay to craft an oyster cultch for a major restoration project for the Gulf Coast.
The limestone was donated by Vulcan Materials Co. and was transported from from Tuscumbia in northwest Alabama to the Gulf Coast via the Tennessee, Tombigbee, and Mobile rivers by Cooper Marine.
"This project, funded in its entirety by private dollars, will help restore Alabama's oyster populations for generations to come," AWF Executive Director Tim Gothard said. "It was amazing to see material from the very far north corner of our state travel through our state's beautiful waterways to provide a major boost to the saltwater resources so many Alabamians love and enjoy.
RELATED: AWF, Cooper Marine, Vulcan team up for oyster restoration effort
"Conservation of Alabama's world-class outdoors and wildlife takes a team."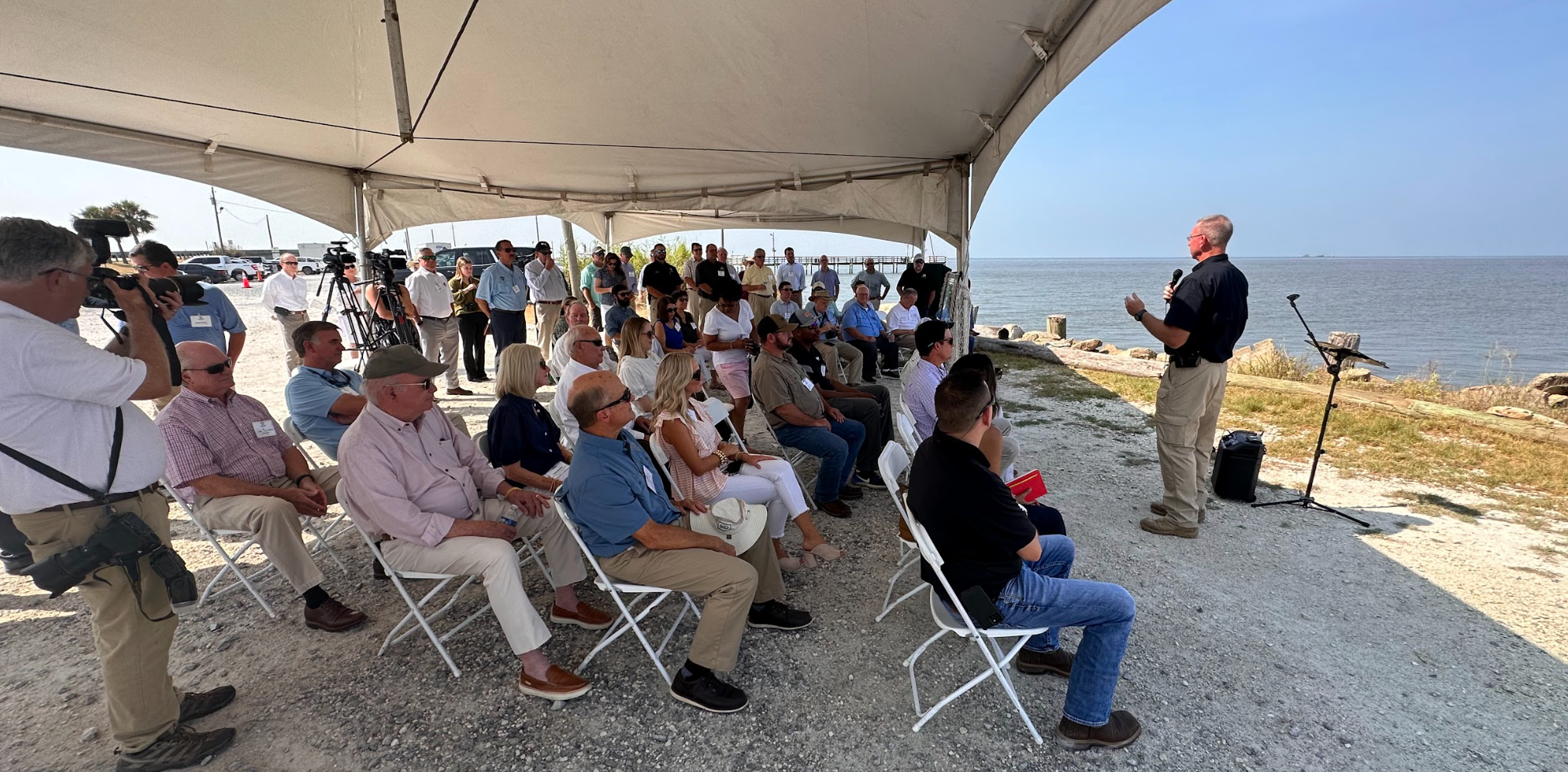 The goal of the environmental restoration project is to reinvigorate oyster reefs at Cedar Point Beach. The Cedar Point Beach Oyster Restoration Project is 77 acres of water bottom just west of Dauphin Island Parkway in Heron Bay. The site is a historic oyster reef area next to some of the most productive oyster reefs in Alabama waters.
Vulcan Materials donated 6,500 tons of limestone cultch material; Cooper Marine provided more than $150,000 of in-kind transportation; AWF donated $100,000 for the deployment of the oyster cultch; and the Coastal Land Trust, the Jernigan Foundation, J.L. Bedsole Foundation and PowerSouth all donated equal amounts to match AWF dollar for dollar on cultch deployment. 
RELATED: 6 places to enjoy oysters on the Alabama coast for National Oyster Day
"The state of Alabama is blessed with tremendous natural resources," said Scott Bannon, Director of the Alabama Department of Conservation and Natural Resources' (DCNR) Marine Resources Division (MRD).
"DCNR is responsible for maintaining and developing those resources for current and future generations, but we do not do this alone. We are fortunate to have many partners who use their resources to help fill the gaps. This project would have cost our division nearly a half-million dollars," Bannon said.
The oyster cultch material provides points of attachment for recently settled oysters, or "spat," for the restoration project.
"With limited resources at our disposal, we are thankful for AWF's leadership in providing funding, securing additional investors, and managing the contracts to make the project happen," Bannon said.
RELATED: National Catfish Month: Alabama 'vital' for nationwide industry
"Environmental stewardship is one of our top priorities, and we are proud to support this important environmental restoration effort for the Alabama Gulf Coast," said Mitesh Shah, president of Vulcan Materials Southern and Gulf Coast Division. 
"Through our partnership with the Alabama Wildlife Federation, Cooper Marine, and others, the limestone from our Pride Quarry in north Alabama has now made its way down our state's river systems and into this historic oyster reef area. We look forward to seeing the impact that this oyster clutch will have on our state's native oyster populations."
"It was a privilege to use our resources to support an important project for environmental upkeep on Alabama's coast," said Angus Cooper III, president of the Cooper Group.
"We thank the various partners who came together to make this possible and are looking forward to seeing the impact it will have on Alabama's native oyster populations."
The AWF kept enthusiasts updated on the limestone's journey from North Alabama to the Gulf Coast via its Facebook page.
Grayson Everett is a staff writer for Yellowhammer News. You can follow him on Twitter @Grayson270
Don't miss out!  Subscribe today to have Alabama's leading headlines delivered to your inbox.