HUNTSVILLE — The days of residents driving around the Madison County courthouse square looking for a parking spot to conduct personal business with the County are no more. The time and energy wasted standing in lines at overcrowded offices — no more.
Beginning March 1, getting licenses, automobile plates, seeing the tax assessor or paying property taxes are expected to be more accommodating and less frustrating, according to Madison County Commission Chairman Dale Strong.
Chairman Strong held a media briefing recently to show off the new 60,000-square-foot Madison County Services Center located at the southeast corner of Memorial Parkway and Oakwood Avenue.
"Convenience for citizens in Huntsville and Madison County was the driving force behind this new services center," Strong said. "With input from the county departments and employees we believe we have established a facility that will provide services in a more effective and comfortable way."
Strong pointed out that it starts when residents drive onto the site. They will see free, ground-level parking spaces for more than 350 cars. The site is also a bus stop for public transportation.
The next improvement is upon entry to the building. After residents make it through security, there are several kiosks to register for the county's services. They will be afforded comfortable seats as they wait to be called.
Waiting time will also be minimized. Residents will find 23 service windows at the license department, three cameras for driver's license photos and 175 employees to keep things moving along.
One other feature of the two-story building pertains to its COVID-19 protocols, which will be built-in for future possible outbreaks as well. Numerous glass panels have been installed in addition to durable materials and surfaces easy to clean.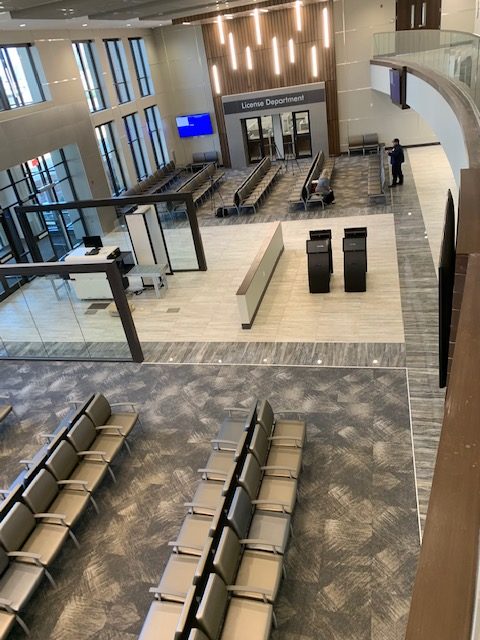 The six departments that will be located in the building are: Board of Registrars, License Department, Probate Judge, Sales Tax Department, as well as the tax assessor and tax collector.
It should be noted that the cost of the land, facility and equipment was covered without debt to taxpayers, Strong said. The dollars used to make the facility possible resulted from savings generated by several cost-cutting measures put into place by Strong and members of the county commission in recent years.
The facility also came in under-cost and ahead of schedule. The construction budget was $13.8 million, and the final construction cost totaled $11,597,298. Strong said April 1 was the target for opening and the opening is going to be March 1.
Chapman Sisson was the architect on the project and Lee Builders Inc. served as the building contractor.
Strong underlined yet another advantage of the new services center. The departments that have moved from the courthouse to the new center will create new space in the 1960s-era building on Courthouse Square. He advised plans are being developed for an interior and exterior renovation to that building.
Ray Garner is a contributing writer to Yellowhammer News.