The number of patients in Alabama hospitals with a case of COVID-19 continued to decrease sharply in the last week, while new cases of the virus stayed fairly steady.
As of Thursday afternoon, there were 2,052 individuals in Alabama hospitals with a case of the coronavirus, down from 2,370 one week ago and down nearly 33% since the peak of 3,084 on January 11, according to BamaTracker.
Over the last week, Alabama averaged around 2,000 new confirmed cases of the coronavirus each day. That average rose slightly in the last few days of the week, but remains well below the peak average of 3,080 on January 11.
Both hospitalizations and new cases remain well above the figures experienced over the summer that brought about the state's mask mandate.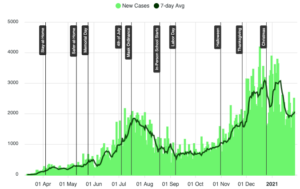 Yellowhammer refers to new cases as those confirmed by a chemical test with a laboratory result. When including rapid test results and other methods of detection the average rises to 2,885 per day over the last week.
State Health Officer Dr. Scott Harris has advised in past briefings that about 10% of those who contract a case of COVID-19 end up needing treatment in the hospital.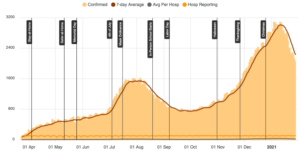 Over the last two weeks, 16.4% of the coronavirus tests performed in Alabam have come back positive, a praiseworthy decline from 24% experienced in early January, but still well above the 5% threshold that experts say means the virus is under control.
For the first time in months, none of Alabama's counties have been classified by ADPH as "high risk" for coronavirus transmission.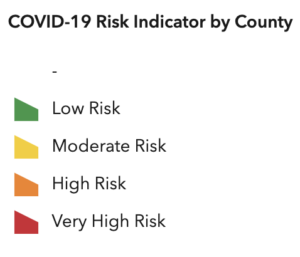 While the lowered risk indicators represent good signs of progress, COVID-19 is still widespread in the state. Of the state's 67 counties, 65 reported a new coronavirus case on Thursday.
Alabama's death toll from the virus is now estimated to 7,340. ADPH investigators have officially confirmed 5,928 of those; the other 1,412 of those are listed as "probable."
Over the course of the pandemic, only a handful of cases listed as "probable" COVID-19 deaths have been determined to have died of something other than the virus.
Health experts continue to ask the public to wear masks, social distance, and wash their hands until enough of the population can receive their vaccine.
Harris has announced a press briefing on Friday morning that will have more information on how the state's vaccination process is coming along.
RELATED: Three cases of more contagious U.K.-originated coronavirus strain confirmed in Alabama
Henry Thornton is a staff writer for Yellowhammer News. You can contact him by email: henry@new-yhn.local or on Twitter @HenryThornton95.
Don't miss out!  Subscribe today to have Alabama's leading headlines delivered to your inbox.