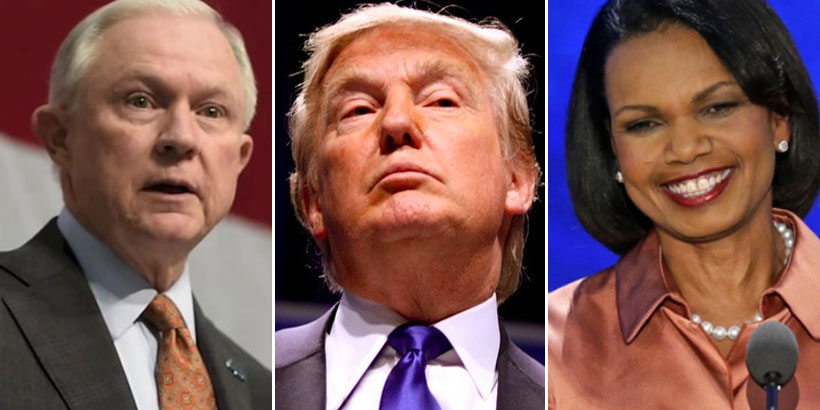 As Jeff Sessions wraps up day one of a contentious Senate confirmation hearing, more key leaders continue to pour in endorsements that affirm the Alabama Senator's qualification for a post with the nation's top law enforcement agency. The latest voice of support comes from former Secretary of State Condoleeza Rice.
CNN first reported that Rice, who is an Alabama native, wrote a letter to U.S. Senator Chuck Grassley, calling Sessions someone she admires "greatly."
"He is a man who is committed to justice and knows that law and order are necessary to guarantee freedom and liberty," she wrote.
As the left has swirled debunked allegations of racism against Sessions, Rice said that the Senator had worked hard in the Yellowhammer State to right the wrongs that were created by "prejudice and injustice against the descendents of slaves." She added that Sessions led efforts to honor Rosa Parks, who Rice identified as a "personal hero."
"I know that Sen. Sessions will uphold the laws of our great country and will work to ensure that every person here in the United States is given the voice that is deserved," she wrote.
Born in Birmingham, Ala., Rice served as President George W. Bush's National Security Advisor before being promoted to Secretary of State. She held the post from 2005 until the end of the administration, and was the first African-American woman to lead the State Department.
Other notable leaders like South Carolina Senator Tim Scott have also made their support of Sessions known.
"I have gotten to know Jeff over my four years in the Senate, and have found him to be a consistently fair person," Scott said. "I will continue working for what I believe is in the best interest of my state and my nation, such as criminal justice reform and stopping illegal immigration."
Don't miss out!  Subscribe today to have Alabama's leading headlines delivered to your inbox.