The college football season officially kicked off for two of the three power conferences which have maintained their schedules. The first Saturday brought a few surprises and some of what was expected. In other words, it looked a lot like any other opening weekend on the field, even if appearing a little odd off of it.
We are just glad college football is back.
With SEC teams now less than two weeks away from beginning their march to the playoff, our panel of college football experts have cast their votes and the result is this week's Yellowhammer Power Rankings.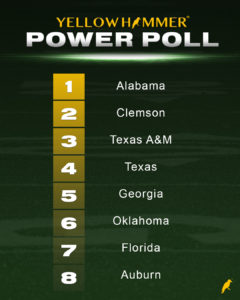 Paul Shashy
1. Alabama: Last year was unusual because the playoff did not include Alabama. This year will be different. Alabama is reloaded and ready to roll. Linebacker Dylan Moses returning is huge, and Alabama's defense will be back to their standard. Mac Jones, Najee Harris, Brian Robinson, and Jalen Waddle will lead the offense.
2. Clemson: Clemson will have college football's most explosive duo in running back Travis Etienne and quarterback Trevor Lawrence. Clemson has the two best players in the ACC and one of the country's easiest schedules; they'll be in the playoff.
3. Texas A&M: Texas A&M brings back nearly everyone from last year. I believe this is the year Jimbo Fischer gets his shot. They go to Auburn and Alabama, which is rough, but I think they'll win one of the two.
4. Notre Dame: Notre Dame is one of the more experienced teams in college football this year; that's why they hold the number four spot. As usual, they have a much easier schedule than most other teams in my top 8. Notre Dame vs. Clemson in November will be one of the great games of the year.
5. Texas: Texas brings back much of their talent, and I think it's time for Tom Herman to finally get Texas back to what they once were as a powerhouse in college football.
6. Auburn: Bo Nix is returning and should be much improved, especially considering the depth and speed he has at wide receiver. They should be a popular dark horse choice for the college football playoff.
7. Oklahoma: Since they were stomped in the playoff last year, Oklahoma's defense is returning eight starters. Because of this, they'll be much improved. Oklahoma vs. Texas in October will be one of the biggest games of the year.
8. Florida: Kyle Trask will be of the best quarterbacks in the SEC this year; therefore, Dan Mullen's offense will be tough to stop. Once again, Florida-Georgia will define the SEC East.
Zack Shaw
1. Clemson: Clemson has the best quarterback and defensive coordinator in the country. They also have arguably the best head coach and running back. That is a good place to start for a great team.
2. Alabama: Year in and year out Nick Saban has an extremely talented team that is well coached. I expect nothing different in 2020.
3. Oklahoma: Lincoln Riley has become something of a quarterback whisperer. The Sooners always put up lots of points and this year looks like more of the same.
4. Texas: Veteran QB Sam Ehlinger threw five first half TDs against an overmatched opponent this weekend. The experience at quarterback and talent on defense give the Longhorns a chance to have a stellar season.
5. Georgia: Kirby Smart has stockpiled players in Athens. Developing a quarterback will determine the ceiling for the Bulldogs.
6. Florida: Dan Mullen has a proven track record of getting the most out of his QB. Kyle Trask and the Gators look to build on the 2019 campaign.
7. Auburn: A returning starter at quarterback, a perennial top 15 defense and a rumored to be revamped passing attack have the Tigers ready for 2020.
8. LSU: Honestly, this is just respect from 2019 and a lack of great performances this weekend. I have no idea what to expect from last year's champs after the unbelievable attrition from last year's squad.
Tim Howe
1. Alabama: Things are going to get weird this year, and no single coach in America will be better prepared than Nick Saban. Plus, the Crimson Tide have the most talented roster in the country.
2. Georgia: This ranking is predicated on the Bulldogs being the D'Wan Mathis version of the team. He may be the most intriguing quarterback in the SEC. Georgia's defensive talent is filthy.
3. Texas A&M: During this disrupted season, you cannot discount the value in having a head coach and quarterback combo that has been together a while. Jimbo Fisher and Kellen Mond fit that bill.
4. Clemson: Dabo Swinney's Tigers have big plans and big holes. But the flashy backfield seems to have everyone's attention.
5. Florida: This is a Dan Mullen ranking as much as anything else. Quarterback Kyle Trask is…steady?
6. Texas: Every year either Notre Dame or Texas lures the college football world in. It's Texas's turn in 2020.
7. Auburn: Offensive coordinator and quarterback miracle-worker Chad Morris is the reason the Tigers may climb these rankings in coming weeks.
8. North Carolina: Playing a hunch here. Sam Howell was the most productive quarterback in the ACC last year.