Even Gary Danielson sounded good yesterday. That is how badly college football fans were craving a return to the field.
The next several days will be about assessing what happened. We start with this week's power rankings, which are determined by the combined votes of our experts. Their individual votes can be seen with an explanation of their rankings.
Here is where we are after week one of SEC play:

Zack Shaw
1. Clemson: Clemson had a week off. After seeing all of the SEC play, it looks like only Alabama is in their neighborhood right now.
2. Alabama: The Crimson Tide jumped out to an early lead and never looked back. The final score doesn't tell you how much better Alabama was than Missouri. The Tide has a few things to clean up before playing Texas A&M, and I expect that they will.
3. Ohio State: Arguably the most talented team in the country, the Buckeyes will be a handful once their season kicks off. We are just going to have to wait a few weeks until that happens.
4. Florida: The Gators put together a performance in Oxford that had to make Steve Spurrier smile. QB Kyle Trask threw for over 400 yards and 6 TDs en route to 51 points. Florida did give up quite a few yards and points, but still managed to win by multiple scores.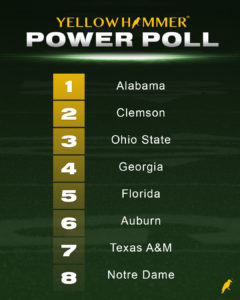 5. Miami: Through three games the Hurricanes have rolled over their opponents. Miami has a talented, disruptive defensive line and an explosive offense. D'eriq King and his teammates have a week off before a huge test versus Clemson in two weeks.
6. Georgia: It was a brutal start for the Bulldogs in Fayetteville. Most things that could go wrong did go wrong in the first half for Georgia. A quarterback change for the Bulldogs, and an awakening by the defense, eventually led to a very comfortable victory over Arkansas.
7. Auburn: It was a tale of two halves. In the first 30 minutes Kentucky dominated play even though they trailed by one point after throwing an interception on the Auburn one yard line. In the second half, AU held Kentucky to only about 120 yards and managed to outscore the Wildcats 21-6 in order to pull away in the fourth quarter.
8. Notre Dame: The Fighting Irish did not have a game this week, but they did look impressive in their first two victories of 2020. Notre Dame will have plenty of opportunities to move up in the rankings over the course of the season.
Paul Shashy
1. Alabama: Alabama performed well against a horrible Missouri team. Najee, Waddle and company had a great game, and Mac Jones' arm looked good as he delivered a solid performance. I'm keeping Alabama at no. 1.
2. Clemson: Even though they had an off week, it's clear that Clemon's offense will be a force to be reckoned with. Their quarterback (Trevor Lawrence) and running back (Travis Etienne) will lead the nation in yards passing and rushing.
3. Ohio State: Bumping them down a spot because they do not play until October. I believe they'll still have a place in the playoff.
4. Georgia: They struggled at first but QB Stetson Bennett saved the day. They rocketed up my rankings to the number 4 spot. Florida vs. Georgia will decide the East winner.
5. Texas A&M: Barely beating cupcake Vandy gives me pause for concern. Therefore, they get bumped down. I still believe this is the year Jimbo Fisher gets his shot. They go to Auburn and Alabama, which is rough, but I think they'll win one of the two.
6. Notre Dame: Notre Dame is one of the more experienced teams in college football this year; that's why they hold the sixth spot. As usual, they have a much easier schedule than most other teams in my top 8. Notre Dame vs. Clemson in November will be one of the great games of the year.
7. Auburn: Honestly, Auburn looked pretty good against a stingy Kentucky team. Bo Nix threw for over 280 yards on an above-average SEC defense. He'll be a key to Auburn's success.
8. Florida: The Gators handled themselves well versus Lane Kiffin's high-powered offense. But, their defense is going to need improvement.
Tim Howe
1. Alabama: Most talented roster. No weaknesses. The only things standing between Bama and another SEC championship are two-and-a-half months worth of COVID tests.
2. Ohio State: After this glorious Saturday in college football, can you imagine if the Big Ten was still sitting out the season?
3. Clemson: Dabo's Tigers get back in action this week against Virginia.
4. Florida: Such a well-coached team. They are going to be fun to watch this year.
5. Georgia: Kirby's Dawgs have been a top-5 team without an explosive offense before – or pretty much ever – so they settle in here, for now.
6. Auburn: Chad Morris has already proven to be the welcome addition everyone thought he would be. The feel of next week's game against Georgia will be so much different than usual, with both teams still trying to make early season improvements.
7. Texas A&M: The Aggies get a bit of a pass this week because it is likely they have been spending the last three weeks doing Bama prep. Look for a more tuned-up version of Jimbo Fisher's team this week against the Tide.
8. Texas: If Texas can play a little defense, the Big 12 is there for the taking.