The slow-motion reveal of a college football season is well underway. It has been more than six weeks since some teams have taken the field, and we have learned a little more about those teams with the passing of each Saturday.
It has become obvious which players took their offseason development seriously (see: Mac Jones) and which teams appear to have bypassed offseason workouts (see: LSU).
This week sees the most variance among the rankings of our experts as they vote on the cumulative Yellowhammer Power Poll.
Here is where things stand:

Zack Shaw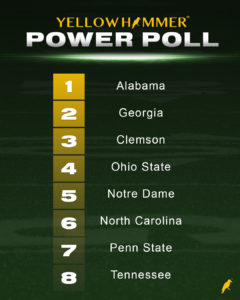 1. Clemson
2. Georgia
3. Alabama
4. Ohio State
5. Notre Dame
6. Penn State
7. Texas A&M
8. BYU
The lowdown: Defense appears to be in short supply early in the 2020 season. Clemson and Georgia rise to the top of the rankings because of their ability to slow down opponents in addition to putting up points themselves.
Paul Shashy
1. Alabama
2. Georgia
3. Clemson
4. Notre Dame
5. Ohio State
6. North Carolina
7. Penn State
8. Oklahoma State
The lowdown: Hurricane Delta made yesterday's games a little more interesting with time changes and soaked fields. Clemson looked incredibly strong in their win over a Top 25 Miami. The week's most exciting storyline was Saban vs. Kiffin, which was an unusually close game until the fourth quarter when Alabama pulled away. Once again, quarterback Mac Jones continues an outside quest for a Heisman with over 400 yards passing.
Tim Howe
1. Alabama
2. Georgia
3. Ohio State
4. Clemson
5. North Carolina
6. Tennessee
7. Notre Dame
8. Auburn
The lowdown: Saturday was Lane Kiffin's Super Bowl. The Crimson Tide survived and can now focus fully on Georgia. Be careful drawing any conclusions from that game. North Carolina ran for 399 yards on the ground. That is a winning formula in any conference.
Yellowhammer's power rankings are determined by the combined votes of our experts. Their individual votes are noted above.