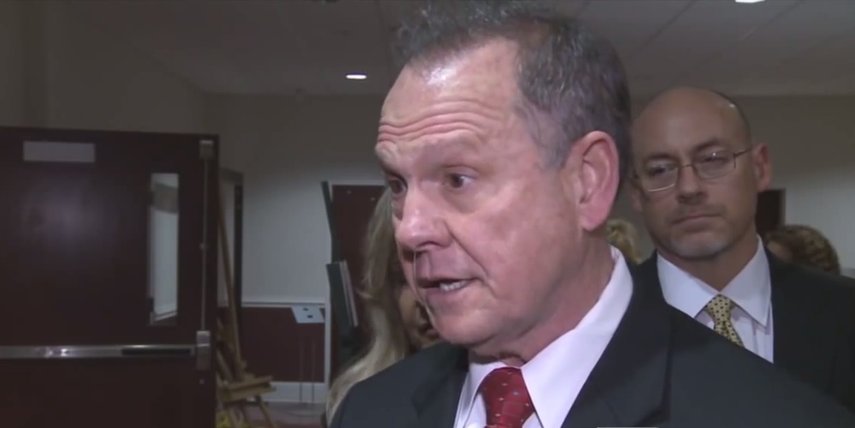 MONTGOMERY, Ala. — Alabama Supreme Court Chief Justice Roy Moore is for the second time facing the possibility of being removed from office after the Judicial Inquiry Commission suspended him for "flagrantly disregard(ing) and abus(ing) his authority" with respect to the issue of same sex marriage.
After a federal court struck down Alabama's gay marriage ban, Moore instructed probate judges around the state to ignore the court's order and continue upholding the Alabama Constitution, which affirms the traditional definition of marriage. Most probate judges around the state are now issuing same sex marriage licenses, while a handful have opted to stop issuing marriage licenses all together, rather than violate their conscience.
Moore shot back that the commission has "chosen to listen to people like Ambrosia Starling, a professed transvestite, and other gay, lesbian and bisexual individuals, as well as organizations which support their agenda."
Among the organizations at the forefront of the effort to remove Moore from the state's high court is the Southern Poverty Law Center (SPLC), a far left group whose president says Moore "has disgraced his office for far too long" and "should be kicked out of office for the good of the state."
The SPLC was also heavily involved in pushing for Moore to be removed from the Court nine years ago when he defied a federal court order and refused to remove a statue of the Ten Commandments from the state judicial building.
Moore's attorney, Mathew Staver, said their position is that the United States Supreme Court is the only body that can decide the issue at hand, not the Judicial Inquiry Commission, an appointed oversight panel of judges and lawyers.
"The Judicial Inquiry Commission has no jurisdiction to resolve legal disputes," he said, "and the complaint is solely focused on a legal dispute between federal and state courts."
Moore also contends that his order to the probate judges did not run afoul of the federal court order, because Alabama was not one of the states involved in that case.
"This is about legalism," he said. "There is nothing in writing that you will find that I told anybody to disobey a federal court order."
Moore's latest dustup comes as the culture wars are reaching a fevered pitch nationally.
The years-long debate over same-sex marriage, which culminated in the U.S. Supreme Court striking down state-level bans, has devolved into a growing argument over gender identity.
North Carolina and Mississippi recently passed laws that require individuals to only use public restrooms that corresponds with their sex at birth, as opposed to their gender identity. The laws have drawn the ire of the LGBTQ community, with many activists claiming their civil rights are being violated.
The United States Justice Department also said last week that such laws violate Title IX of the Civil Rights Act.
Vanita Gupta, principal deputy assistant for Attorney General Loretta Lynch said the North Carolina law "is facially discriminatory against transgender employees on the basis of sex because it treats transgender employees, whose gender identity does not match their biological sex… differently from similarly situated non transgender employees."
Several large companies have taken a public stance that individuals are allowed to use any bathroom they prefer within their stores.
Both presumptive Republican presidential nominee Donald J. Trump and likely Democratic nominee Hillary Clinton have stated they believe transgender individuals should be able to use whichever bathroom corresponds with their gender identity, but Trump has said it is an issue best left to the states.
(h/t NYT