BY ONE VOTE: Alabama House passes lottery bill after marathon debate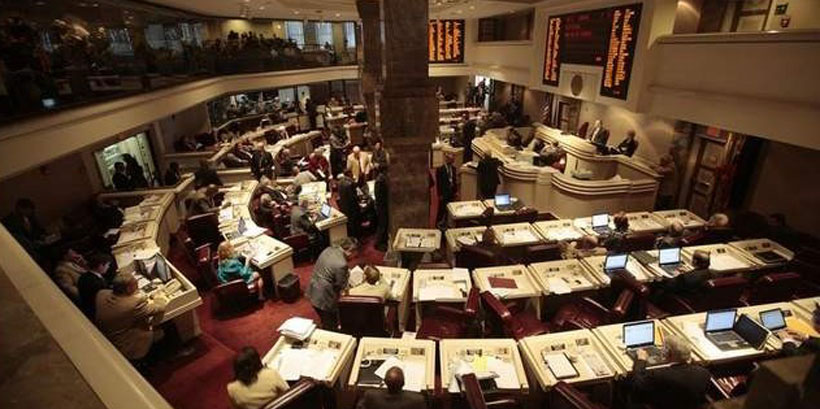 MONTGOMERY, Ala. — After spending roughly eleven hours debating Gov. Robert Bentley's lottery proposal and working late into the night on Thursday, pro-lottery House members finally rallied enough support for the legislation to pass.
The bill will send the first $100 million of lottery revenue to Medicaid, followed by a 90-10 split of the remaining revenue between the General Fund Budget and Education Budget. Additionally, 1 percent of the 90 percent General Fund allocation will be earmarked for rural fire departments.
The bill now moves back to the Senate, which must approve of the changes before it goes to a statewide vote.
Lawmakers spent much of the day trying to amend the lottery bill for a multitude of reasons, sparking familiar criticism from conservative lawmakers who have characterized the lottery as little more than a way to grow the size of state government.
Around 10:30 p.m., the first House vote on the lottery actually fell two votes shy of the three-fifths support needed for the bill to pass.
Some procedural maneuvering revived the bill as pro-lottery lawmakers worked to round up more votes and wrangle colleagues who had left the chamber early.
In an example of how contentious the eleven-hour debate was at certain points, Democratic Rep. Mary Moore (D-Birmingham) took to the mic on the House floor at one point to declare, "I question the intelligence of those who voted 'no.'"
A second vote finally took place around 11:30 p.m. and the bill was approved 64-35. It needed 63 votes to pass.
Secretary of State John Merrill reiterated Thursday that the lottery will not appear on the November General Election ballot because lawmakers missed the Wednesday deadline. Many pro-lottery lawmakers are still convinced the deadline is arbitrary and may be tossed aside. Otherwise the state will spend between $6 million and $8 million to organize a special lottery vote.
The Medicaid funding shortfall — which was the stated reason Gov. Bentley called a Special Session in the first place — will also be a focus in the coming days.
The House earlier this week passed a bill that would allocate money from the state's BP oil spill settlement to pay down debt, cover the shortfall in Medicaid, and fund infrastructure projects on the gulf coast.
The bill, sponsored by General Fund Budget Chairman Steve Clouse (R-Ozark), would use BP money to pay back $448.5 million in state debt, free up about $35 million for Medicaid, and send the rest of the money — about $191 million — to the coast for road projects.
Governor Bentley is currently sitting on $35 million from BP's Fiscal Year 2016 payment to the state, so combining that with Clouse's bill would ultimately make about $70 million available for Medicaid.
The Senate has been waiting to consider the bill while the lottery debate played out in the House.