WASHINGTON — Build Up Birmingham is the winner of the 2023 Housing Affordability Breakthrough Challenge.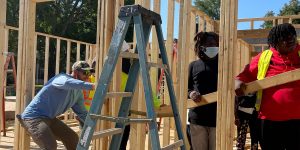 The unique workforce development high school combines academics with paid construction and real estate internships with opportunities for students to become homeowners and build generational wealth.
Build Up Birmingham competed in the Housing Affordability Breakthrough Challenge, sponsored by The Wells Fargo Foundation and Enterprise Community Partners. The Challenge is a $20 million nationwide competition to find and seed innovative housing solutions.
The Birmingham organization was among six winning organizations and will receive between $2 million and $3 million in grants and support from peers and industry experts to scale new strategies aimed at making homes more accessible and affordable.
"Winning this challenge puts us into a pool of like-minded people who are doing great work – people we can continue to grow with and lean on for support," said Build Up Executive Director James Sutton. "It also means we can see more of our students become homeowners and literally change the trajectory of their lives."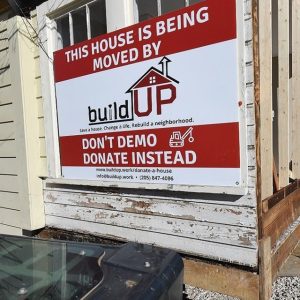 The program relocates donated homes to underinvested neighborhoods where students renovate the homes and eventually have the opportunity to live in and buy them, creating a pathway to homeownership and wealth creation.
As part of the Breakthrough Challenge, Build Up plans to enroll more than 120 students, renovate and relocate more than 40 homes, and facilitate 200 paid construction internships.
The winning solutions included a workforce training program that prepares students for homeownership; a new way of financing housing in rural communities such as the Mississippi Delta; and a construction technology that reduces the carbon footprint of multifamily buildings.
"There is incredible demand across all types of communities for affordable housing solutions that are tailored to local needs and have the potential to scale," said Jacqueline Waggoner, president of the Solutions Division at Enterprise Community Partners. "The Housing Affordability Breakthrough Challenge enables leaders on the ground to multiply their impact nationwide. We are so excited to work with this second cohort of winners to bring their ideas to the next level."
The competition drew more than 400 applications from a wide range of innovative nonprofit and mission-driven for-profit organizations stretching from Florida to Alaska in three categories: Access and Resident Support, Construction, and Financing. After two application rounds, 16 finalists were invited to present their innovations in a 10-minute pitch to a panel of judges composed of national affordable housing and community development experts, including leaders from Wells Fargo and Enterprise.
"Creating true equity in the nation's housing system requires a focus on transformative ideas that challenge current housing practices and processes," said Stacy Spann, head of Housing Access and Affordability Philanthropy at the Wells Fargo Foundation. "Through the Housing Affordability Breakthrough Challenge, we are intentionally lifting up solutions to serve communities that have experienced disinvestment and marginalization for far too long. And the winning group of entrepreneurs and social innovators truly combine expertise with the lived experiences of the communities we aim to serve."
The 2023 winners will take part in a multiyear peer learning network to share ideas and cultivate their innovations into solutions that can be applied to communities across the U.S. The cohort will gain access to a network of leaders from across the housing sector, including experts from Enterprise and past winners of the competition.
Don't miss out!  Subscribe today to have Alabama's leading headlines delivered to your inbox.