The nation's largest small business advocacy group gave its endorsement to Republican U.S. Senate nominee Katie Britt.
The National Federation of Independent Business announced the endorsement Friday at Tang's Alterations in Montgomery.
In a statement, NFIB Alabama State Director Rosemary Elebash sang Britt's praises for her support of the state's small business community during the candidate's tenure as CEO of the Business Council of Alabama (BCA).
"Katie Britt has shown a strong commitment to small business, especially during the COVID-19 lockdown," said Elebash. "NFIB worked closely with Katie when she represented the Business Council of Alabama."
Elebash touched on Britt's efforts to ensure Alabama small businesses were unimpeded by government-instituted COVID-19 pandemic restrictions.
"We were partners on multiple issues with the Governor's office, including implementing Alabama Small Business Grants, replenishing the Alabama Unemployment Trust Fund to avoid a 500% tax increase, passing COVID-19 liability protection for businesses, and serving together on the Lt. Governor's Small Business Emergency Task Force Committee to 'Reopen Alabama Responsibly,'" she said.
"During the campaign, Katie has visited with small business owners in all 67 counties and heard their concerns about government overreach with taxes, mandates, rules, and regulations. She will work closely with NFIB to promote policies to assist small businesses when she is elected to the U.S. Senate"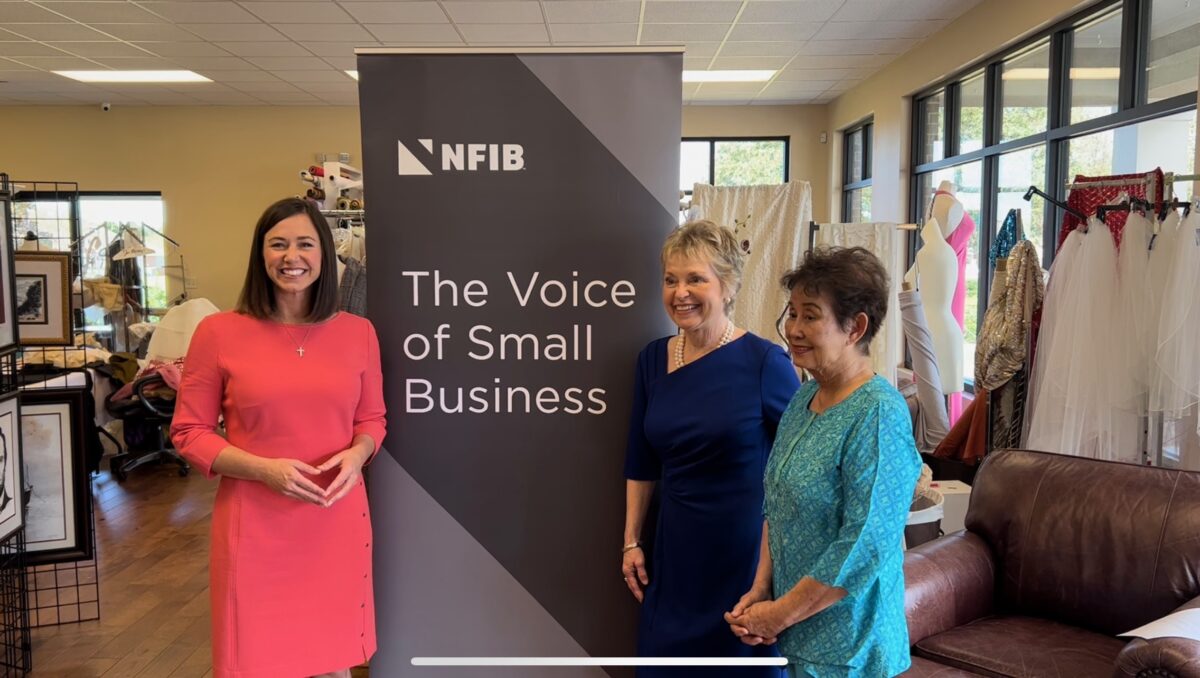 In accepting the NFIB's endorsement, Britt touched on her family's experiences as small-business owners in southeastern Alabama.
"I'm honored to have the endorsement of NFIB and Alabama's incredible small businesses," said Britt. "Growing up as the daughter of two small-business owners in the Wiregrass, I saw firsthand the challenges my parents faced and the sacrifices they made for our family and their team members — just as small-business owners across Alabama do every day.
"In the U.S. Senate, I'm going to be a champion for small businesses in every corner of our great state, and I'll fight to ensure Main Streets are able to grow and thrive."
According to NFIB Senior National Political Director Sharon Sussin, Britt understands the issues facing the nation's small businesses.
"We are confident that Katie Britt will be a voice for small business owners in Congress," said Sussin. "She has proven to be a consistent small business supporter and understands the challenges small business owners face.
"We are pleased to endorse her today."
Britt will face Democrat Will Boyd in the Nov. 8 general election for the seat held by retiring U.S. Sen. Richard Shelby (R-Tuscaloosa).
Dylan Smith is the editor of Yellowhammer News. You can follow him on Twitter @DylanSmithAL
Don't miss out!  Subscribe today to have Alabama's leading headlines delivered to your inbox.