Unless students of Birmingham-Southern College are vaccinated against COVID-19, those who attend the private liberal arts school will be forced to pay a $500 fee "to offset continual weekly antigen testing and quarantining."
In an email sent to students, the college announced its pandemic protocols for those returning to campus for the fall semester. In what appears to be an effort to encourage students to receive the vaccine, BSC told students it will levy a monetary charge against those who are unvaccinated. The school cited the need for funding to be applied toward COVID-related mitigation measures as a reason for the charge.
The email reads in part, "Due to the lack of federal funds for pandemic precautions this term, all students will initially be charged $500 for the fall term to offset continual weekly antigen testing and quarantining. Students who are fully vaccinated prior to the beginning of fall term will receive an immediate $500 rebate."
The college announced in the email that it has also set separate move-in dates for vaccinated and unvaccinated students.
The College Republican Federation of Alabama (CRFA) has condemned the move as discriminatory against students who have chosen not to receive the vaccine.
Please see our statement regarding Birmingham-Southern College's COVID-19 protocols. pic.twitter.com/dcERcqdC3u

— College Republican Federation of Alabama (@CRFAlabama) July 29, 2021
"The College Republican Federation of Alabama condemns this obvious attack on students who are not vaccinated," says CRFA chairman Clint Reid. "While vaccines are an important tool in the fight against COVID-19 we are still a free society where one should not be held at ransom to the tune of $500 if they do not feel the vaccine is the best course of action for them. We call on Birmingham-Southern College to drop this outrageous fee."
The college's email goes on to direct students who have been immunized against the virus to complete a "Vaccination Report Form." BSC stated that the school's goal is to achieve an 85% vaccination rate among students, faculty and staff.
Portion of the email sent to BSC students as follows obtained by Yellowhammer News: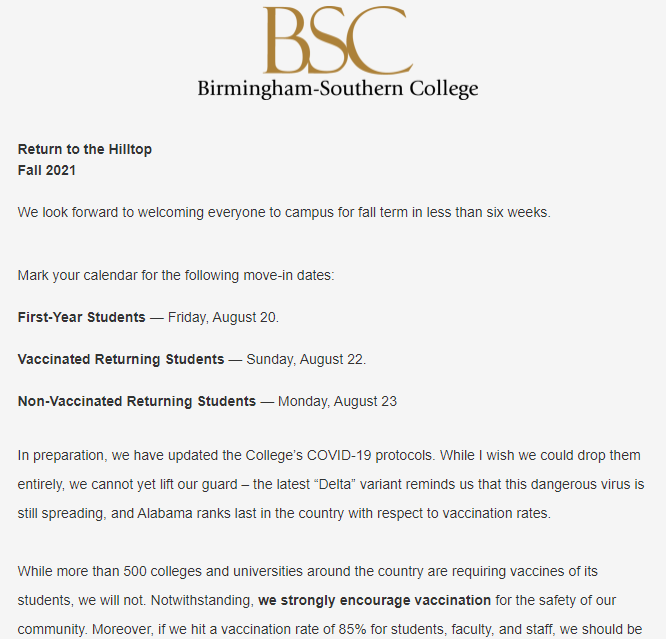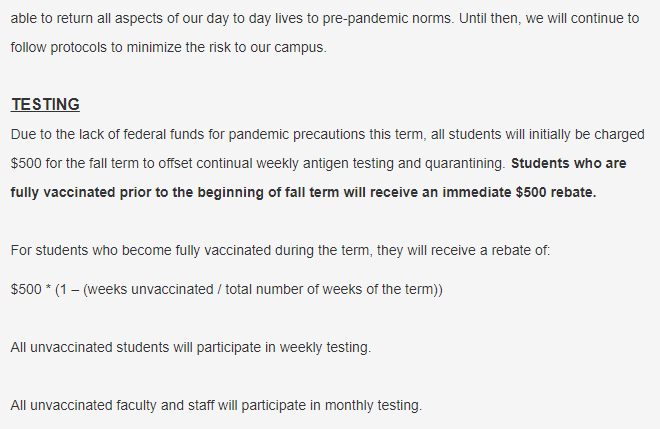 Birmingham-Southern College did not respond to a request for comment. Yellowhammer News has inquired with the Attorney General's Office regarding the legality of BSC's guidelines and will provide updates accordingly.
Dylan Smith is a staff writer for Yellowhammer News. You can follow him on Twitter @DylanSmithAL