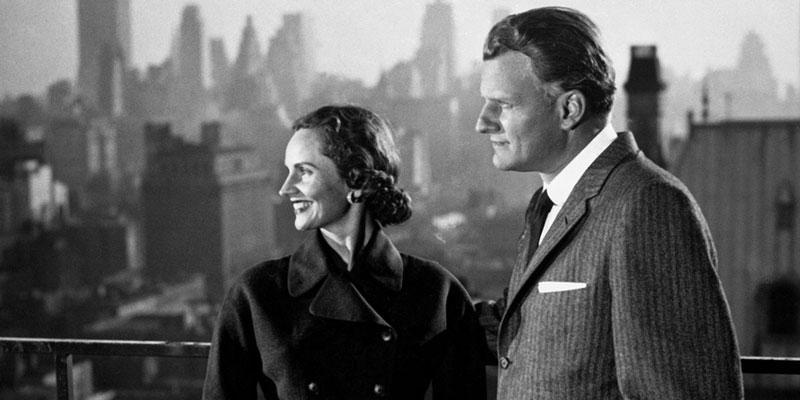 Listen to the 10 min audio
Read the transcript:
BILLY GRAHAM DIES AT AGE 99
TOM LAMPRECHT:  Harry, last Wednesday at 7:46 a.m., Billy Frank Graham went to see his Savior face to face.
DR. REEDER: Tom, as a Gospel minister, this has great significance to me, but it also does personally because our families were entwined in the Charlotte area. Billy Frank, as he was called growing up, was a "rebellious teenager" who came to Christ as a result of some revival meetings that were being held in Charlotte in 1934 under an evangelist by the name of Mordecai Ham. He and some of his buddies — Grady Wilson was one, T.W. Wilson was another — were brought to Christ and Billy began to be a testimony for Christ as a young man. He later goes off to college, really grappled with his call to the ministry and he ends up in Youth for Christ — he actually became president of Youth for Christ for a while — but sensed the Lord's call to evangelism.
It has to be said that Billy is the most singular figure in evangelical Christianity in the 20th century. His parents were very much involved in church. For those of you that might be familiar with Charlotte, there's an extraordinary growth area called South Park and that's really where the Graham dairy farm was. There — and my family was actually involved in this — were prayer meetings that were being held for a revival. In fact, the prayer request in that dairy farm living room was, "God, would you please do another revival in Charlotte?" Then they went on to add, "Would you do something in Charlotte that would touch the world?"
Well, the son of Franklin Graham, who hosted that prayer meeting, Billy Frank, was playing in the next room as a little boy. These same men would be involved in calling this evangelist, Mordecai Ham, and his preaching all these young men would come to Christ. Twenty-seven notables — I won't name them all — were converted in Charlotte that later went on to extraordinary ministry in missions, in college, in churches, pastors, etc. Billy, and T.W. Wilson, and Grady Wilson came to Christ and were called to ministry.
Late 1940s, Billy was absolutely convinced that God had called him to be an evangelist and his preaching was extraordinary. One guy said, "It is a gust of words that were understandable and overwhelming when he preached." He always kept his message Biblical and simple. He came back to Charlotte and, in the church that had begun out of the Mordecai Ham revival, he was invited back and he held an evangelistic meeting in 1948 and a newlywed 18-year-old couple went forward and gave their life to Christ holding their baby. Their baby was me and that was my dad and mom. They had moved from my grandfather's involvement in this to now my father and mother being blessed by it and me, "being carried along" as it were.
LOS ANGELES CRUSADES AND BEYOND
My grandfather, who was a scout for the Washington Senators, became involved in 1948 with the Billy Graham Evangelistic Association that was initiated and Billy went to Los Angeles to do the great Los Angeles crusades that really launched him. Granddaddy was part of the team that went around and visited churches to get their support and Randolph Hearst, the great publisher that owned all the newspapers, was so impressed by what happened, he sent a message to his publisher "Huff Graham," meaning, "Give him immediate attention." And then seven notable conversions took place — a Hollywood actor, Louis Zamperini — and it became noteworthy by their testimonies and the meetings just kept expanding there in 1948 and into '49 in Los Angeles.
He goes on to hold meetings in New York, other cities invited him, and then his mass crusade evangelism was birthed. Out of that came other ministries. He went on to start the magazine Christianity Today, The Billy Graham Evangelistic Center at Wheaton College, and we could go on and on of the various things that he did.
CIVIL RIGHTS ADVOCATE
He was most notable — and rightly so — for two things. One, his singular commitment to the Gospel of Jesus Christ. The Gospel should be preached to everyone everywhere and, therefore, he on the basis of a theological commitment to the Gospel, became an instrument to undo segregation. He actually came down off the platform, removed the ropes at the Chattanooga Crusade, and then stood there when they tried to put them back up and said, "If you put them back up, the crusades will end tonight," and also brought integrated crusades to Birmingham. He was asked by a columnist named Drew Pearson, to come and hold a crusade in what at the moment was the most volatile racial division in the United States and that was Clinton, Tennessee, this small town.
Billy, who was going to much bigger cities, went there because of that, insisted on integrated seating and the president of the Alliance of White Citizens came the first night and was converted and his life totally changed. I hear people talking about the social justice issue, the social Gospel issue and I think of Billy who just kept preaching the Gospel, but he impacted social issues because he was always consistently focused on the fact that whatever we do must be framed from the Word of God and our lives must reflect the Gospel and honor the Gospel throughout all of our life and be an instrument and a platform to proclaim the Gospel.
GRAHAM STANDS UP FOR GOD'S WORD 
In Youth for Christ, he was No. 2. — No. 1 was a man by the name of Charles Templeton, who went to Princeton Theological Seminary and began to embrace liberalism and question the Bible. And they had a big debate and Billy said to him, "I must be faithful to God's Word. I just know it's God's Word. I may not be able to answer all of your questions, but I rest everything on the integrity of God's Word." And that's when the phrase "the Bible says" began to penetrate all of Billy's preaching.
Chuck Templeton went on to become the evangelist for the World Council of Churches and the National Council of Churches, which were theologically liberal. He eventually not only questioned the faith, but denied the faith and he died a very broken man and Billy never took him off of his prayer list and kept writing him notes the rest of his life.
You're hearing a lot of virulent tweets against Billy. I can tell you what Billy would do — as you said, Tom, when we were talking, he would put his arm around them to tell them about the love of God in Christ for them and the more virulent they would become, the more gracious and sweet would he become in his Gospel communication.
PERSONAL MEMORIES OF BILLY
In 1958, Billy came back and we had an integrated crusade in Charlotte at the Charlotte Coliseum. My dad was part of that. He actually allowed me to go with him to be an usher. I can still remember the offerings with the big buckets, and the big choir, and Cliff Farrows there at the Charlotte Coliseum and then, in 1996, I received a really sweet letter from him, sharing with me how much my grandfather had meant to him in the early years, the great memories of my grandfather's service. He wrote a nice note in Granddaddy's Bible that I inherited when my grandfather went to be with the Lord. And then, finally, I was able to be a part of the committee where we brought him back for what we thought might be his last crusade in 1998, there in the Carolina Panthers stadium.
END OF HIS CAREER AND LASTING RELATIONSHIPS
Billy went on to preach until 2005 with amazing crowds in New York, where he ended up, which is, in a sense, where he began in the late 1940s. He was a friend to presidents and he was a counselor to presidents. He most notably had a marvelous relationship with Queen Elizabeth that began when he went over in the 1950s for the crusades in England.
But what might be most notable is the glorious truth that he finished strong — not physically, he was very weakened at the end — but he finished strong spiritually. When I think of Billy Graham, I think of Paul's words to the Philippians: "It is my earnest desire and expectation that I will not put Christ to shame in anything but, by all means, I might honor him in my body, whether by life or by death." Billy finished the way he lived: with a singular focus upon the Gospel of Christ.
HOW BILLY DESIRED TO BE REMEMBERED
When it was asked, "How do you want to be remembered?" he said, "That I was faithful to my Savior, to my wife, to my family and to my calling to preach the Gospel." I can't imagine what would have happened in our country without the effective ministry of Billy Graham, but I do know that much more needs to happen in our country and may God bring another revival to our land that would not only transform the landscape of our culture, but also touch all the nations of the world.
Billy reframed the quote from D.L. Moody: "You are going to read in the paper that I have died. Don't believe it. The day you read that, I will never be more alive with my Savior."
Praise the Lord for all that he enjoys in the presence of the Lord and now may we take up that same banner of the Gospel of Christ, lift high the cross of Christ and may the Savior do a great and glorious work with the Gospel throughout our nation and build upon this marvelous legacy of this man who was a sinner saved by grace and a preacher of the Gospel that saved him.
Dr. Harry L. Reeder III is the Senior Pastor of Briarwood Presbyterian Church in Birmingham.
This podcast was transcribed by Jessica Havin, editorial assistant for Yellowhammer News. Jessica has transcribed some of the top podcasts in the country and her work has been featured in a New York Times Bestseller.
Podcast: Play in new window | Download
Subscribe: Google Podcasts | RSS