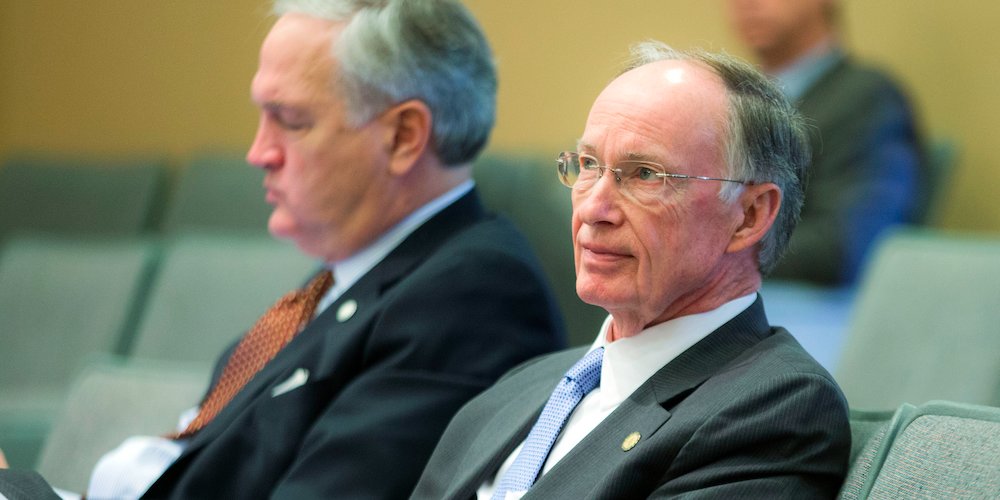 MONTGOMERY, Ala. — Alabama Governor Robert Bentley (R) on Thursday signed an executive order stripping the state attorney general's office of the authority to enforce gambling laws, paving the way for gambling to take place in local areas under the supervision of sheriffs and district attorneys.
Alabama's gambling laws are, in short, a complete mess.
Alabama's Constitution contains amendments declaring gambling illegal statewide, but also includes other county-specific amendments legalizing certain types of gambling — most notably "bingo" and dog racing — in a handful of counties, while they remain verboten in others.
Gov. Bob Riley issued executive orders empowering the attorney general's office to enforce Alabama's gambling laws during his term, but later rescinded the authority, establishing instead the Governor's Task Force on Illegal Gambling. Gov. Bentley renewed the AG's authority in his first official act as governor in 2011.
But last month, Circuit Judge William Shashy ruled these order unconstitutional because he said they led to unequal enforcement of the laws in different areas of the state.
The rub revolved around Victoryland Casino, which had been repeatedly shut down by state authorities, while other similar casinos in Greene and Lowndes Counties remained open.
"The State did not deny the existence of these casinos or the electronic bingo machines," Shashy wrote in his ruling. "Thus, the Court reiterates its ruling that the State of Alabama is cherry picking which facilities should remain open or closed, and this Court will not be used as an instrument to perpetuate this unfair treatment."
In his latest executive order issued Thursday, Gov. Bentley cites Judge Shashy's ruling and his desire to save state funds as the reasoning behind the move.
"(T)he State of Alabama has expended immense resources for the enforcement of Alabama's anti-gambling laws, to date, more than nine million dollars," he wrote. "(R)ecent judicial rulings have raised concern with the unequal enforcement of Alabama's criminal laws, including gambling laws, against individuals and businesses."
Yellowhammer reached out to the attorney general's office for comment, but had not received a reply by publishing time.
For the Alabama Policy Institute, Bentley's move is simply part of a larger trend.
"Today's action by the governor merely formalizes the breaking of a promise that began shortly after his reelection," an API spokesperson told Yellowhammer. "Since that time, without an electorate to face in the future, the governor has busied himself breaking promises he made to the people of Alabama. He pledged 'no new taxes,' and then fought for historic tax increases. He vowed to reject Medicaid expansion, yet now seems set to embrace it. He repeatedly affirmed his opposition to gambling, but today has decided to actively encourage it by rescinding and repealing the very first executive order he made as governor."
This story may be updated.
The entire text of the executive order, only the 13th of Bentley's tenure, can be read below.
WHEREAS, on January 18, 2011, I issued Executive Order Number 1 to revoke, repeal and rescind Executive Order 44, dated December 30, 2008, as amended by Amendment Number 1, which were both issued by Governor Bob Riley during his term of office;

WHEREAS, the effect of revoking, repealing and rescinding Executive Order 44, as amended, was to disband the Governor's Task Force on Illegal Gambling and to revoke the appointment of the Special Prosecutor;

WHEREAS, the State of Alabama has expended immense resources for the enforcement of Alabama's anti-gambling laws, to date, more than nine million dollars;

WHEREAS, recent judicial rulings have raised concern with the unequal enforcement of Alabama's criminal laws, including gambling laws, against individuals and businesses;

WHEREAS, the responsibility for enforcement of Alabama's criminal laws most properly lies with the elected sheriffs and district attorneys of each County and is to be guided by their respective interpretation of the laws of the State of Alabama in their capacity as constitutional officers and officers of the courts;

WHEREAS, on January 13, 2015, I suggested to the Attorney General that he direct primary enforcement of the State's gambling laws to local law enforcement, which holds the primary duty to investigate and enforce the State's criminal laws;

WHEREAS, as Chief Magistrate of the State of Alabama, it is my desire both to limit additional State spending on enforcement of the State's anti-gambling laws and to direct that the enforcement of these laws should continue to be led by local law enforcement officials, who bear the primary duty to investigate and enforce Alabama's criminal laws;

NOW THEREFORE, I, Robert Bentley, Governor of the State of Alabama, by virtue of the authority vested in me by the Constitution and laws of the State of Alabama, and for other good and valid reasons, do hereby revoke, repeal and rescind Executive Order Number 1 issued January 18, 2011.

BE IT FURTHER ORDERED that the primary responsibility for enforcement of Alabama's criminal laws shall remain with the sheriffs and district attorneys of each County as guided by their careful interpretation of the laws of the State of Alabama in their capacity as constitutional officers and officers of the courts.

IT FURTHER ORDERED that this Executive Order shall become effective immediately upon the Governor's signature and shall remain in effect until amended or modified by the Governor.

DONE AND ORDERED, this 5th day of November, 2015.

Robert Bentley
Governor

Attest:
John H. Merrill
Secretary of State
---
In short, Alabama's gambling laws are an absolute mess. https://t.co/PWmSWEzpk2

— Elizabeth BeShears (@LizTBeShears) November 5, 2015