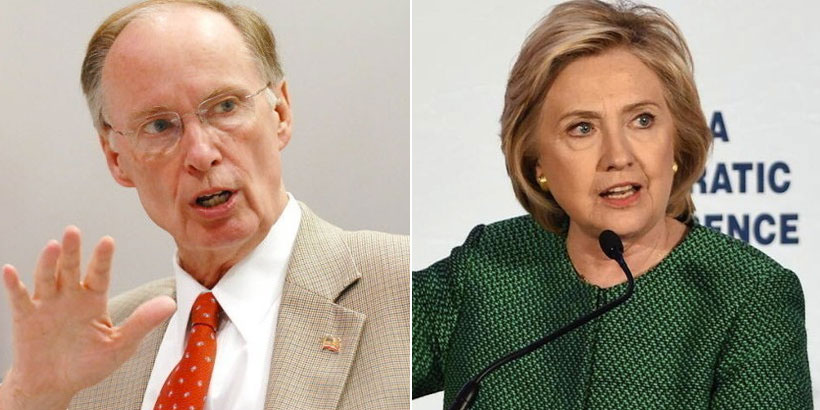 HOOVER, Ala. — Speaking to the predominantly black Alabama Democratic Conference on Friday, Hillary Clinton slammed Alabama Republicans for requiring proof of citizenship to vote and for shuttering driver's license offices in the wake of state budget cuts. The Democratic presidential frontrunner insisted that both issues were examples of Republicans trying to return Alabama to its "Jim Crow past."
"This is wrong," Clinton said. "Fifty years after Rosa Parks sat and Dr. Martin Luther King Jr. marched and John Lewis bled, it is hard to believe we are back having this same debate about whether or not every American gets a chance to vote and exercise his rights.
"We have to defend the most fundamental right in our democracy, the right to vote," she continued. "No one in this state, no one, should ever forget the history that enabled generations of people left out and left behind to finally be able to vote."
Alabama Gov. Robert Bentley pushed back against Clinton's claims, suggesting the former secretary of state is promoting a false racial narrative in an effort to advance her personal political agenda.
"It seems Mrs. Clinton isn't as well versed in Alabama's budgeting process as she is in exploiting a situation for her personal political gain," Bentley said. "If she were, she would know the closure of 31 Alabama Driver's License offices is based on a shortfall in funds appropriated by the state Legislature to the Alabama Law Enforcement Agency. To claim this decision is based on race is absolutely not true. Suggesting otherwise should be considered an effort to promote a political agenda, an area where Mrs. Clinton has often clearly demonstrated her expertise."
Alabama's photo voter ID law, which requires voters to present any one of fifteen forms of valid identification, went into effect in 2014.
Alabama Secretary of State John Merrill has assured voters his office will work tirelessly to provide free voter IDs across the state, with a special focus on those counties now without a satellite license office.
"The closure of 31 DMV offices will not leave citizens without a place to receive the required I.D. card to vote," said Secretary Merrill. "All 67 counties in Alabama have a Board of Registrars that issue photo voter I.D. cards. If for some reason those citizens are not able to make it to the Board of Registrars, we'll bring our mobile I.D. van and crew to that county. By October 31 our office will have brought the mobile I.D. van to every county in Alabama at least once."
The state government's efforts have not, however, stopped Democrats both inside and outside of Alabama from seizing the opportunity to make a political statement.
U.S. Rep. Terri Sewell, Alabama's lone Democratic congressional representative, even called on the U.S. Department of Justice to investigate the Bentley administration's decision to shutter rural DMVs.
"My office sent a letter to Attorney General Loretta Lynch calling for a full, and thorough investigation into the decision to close 31 driver's license offices across Alabama," Sewell said last week. "This ill-conceived decision left 8 out of the 14 counties in my district – which is the only majority minority district in the state – without a Department of Motor Vehicles (DMV) to issue an Alabama driver's license. The real issue here is about access. Closing these license offices will severely limit access to the most popular form of photo identification used in voting – a state issued driver's license."
Jesse Jackson also flew into the state and called Alabama "disgraceful."
Gov. Bentley dismissed the criticism and said Mrs. Clinton in particular should focus on issues she would actually have to deal with if she became President.
"Alabama will continue to work toward solutions to solve our budget shortfalls," he said. "Meanwhile Mrs. Clinton can work to solve our country's $18 Trillion deficit, in the unfortunate event she is elected President."