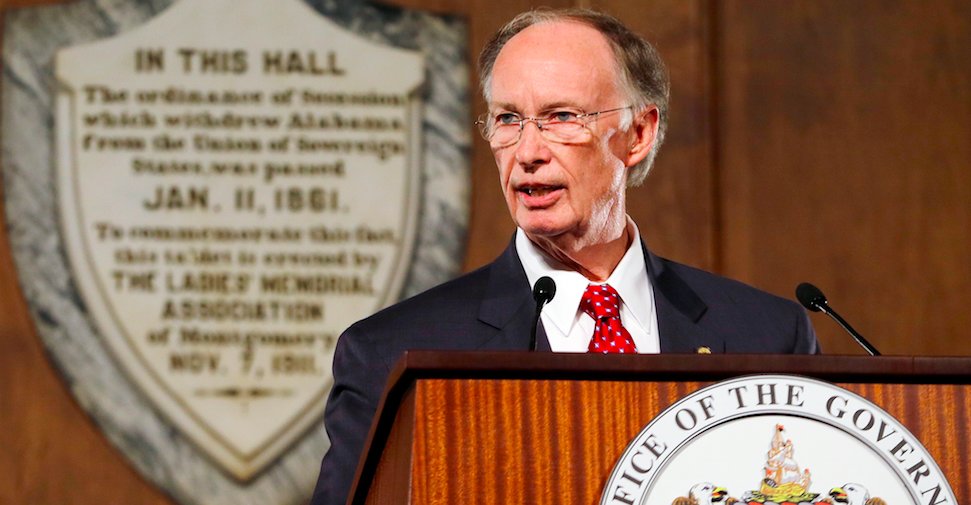 MONTGOMERY, Ala. — Alabama Governor Robert Bentley on Wednesday apologized for having an inappropriate relationship with his senior advisor Rebekah Mason, but denied that the affair had been physical.
"I made a mistake," Bentley said. "Two years ago I made a mistake. I have rectified that and I have moved on."
Yellowhammer was given exclusive access to the content of audio recordings captured by Dianne Bentley, Governor Bentley's ex-wife, during which Governor Bentley makes sexual advances on and recalls sexual encounters with Mrs. Mason.
One of the recordings was captured while Governor and Mrs. Bentley were visiting their beach house.
Mrs. Bentley, who had suspected the affair, went for a walk on the beach, but left her cell phone behind recording the audio of what took place in her absence.
During that time period, Governor Bentley can be heard making a phone call to "Rebekah" that includes sexual references to their time together. The Governor also expressed a desire to "FaceTime" so they could see each other.
A second recording appears to have been made at the Governor's residence.
In the recordings, the Governor calls Mrs. Mason "baby" and discusses how much he enjoys standing behind her and touching her breasts. He also references a past encounter and says if they are going to do "that" again, they will need to start locking the door and also consider moving "Wanda's" desk further away, presumably referencing executive assistant Wanda Kelly, whose Capitol office is just outside of the Governor's.
"I've been told about the possibility of tapes for two years," Bentley said. "It was [from] a period of time in my life that I made inappropriate comments… It was a period of time. I really can't say the length of time."
When asked if Mrs. Mason had asked him to stop his advances, Governor Bentley said, "no."
"What I'm saying is there was no sexual activity," he insisted.
Asked if he is in love with Mrs. Mason, the Governor replied, "I love many members of my staff, in fact, all the members of my staff. Do I love some more than others, absolutely."
Bentley's statements followed a press conference held by Spencer Collier, the former head of the Alabama Law Enforcement Agency (ALEA). Collier said he had warned Bentley in 2014 that it would be a crime if he had used state or campaign resources to facilitate the affair.
Bentley denies any illegality took place.
When asked if he had considered stepping down, the Governor flatly said, "No, I have not."
RELATED:
1. EXCLUSIVE: Bentley had illicit affair with staffer in Governor's office, audio recordings reveal
2. Alabama's former top cop: Bentley mistress was 'de facto Governor'
Don't miss out!  Subscribe today to have Alabama's leading headlines delivered to your inbox.