Auburn Basketball Coach Charged With Fraud And Corruption
As reported by CBS Sports, the United States Attorney's Office for the Southern District of New York has charged four collegiate basketball coaches with fraud and corruption. Those charged are Arizona's Emanual "Book" Richardson, Auburn's Chuck Person, Oklahoma States's Lamont Evans, and USC's Tony Bland.
Arrested on Monday, the core of Person's legal trouble revolves around whether or not he accepted payments from a sports agent. Prosecutors claim that a sports agent paid Person for access to Auburn player, Austin Wiley. This alleged "pay to play" scheme essentially allowed Person to act as a broker between any agent wishing to cultivate a business relationship with a student-athlete before he left the confines of the NCAA. If convicted, Person could face serious prison time.
Aside from coaches, business figures have also been caught up in the scandal. Jim Gatto, director of global sports marketing for Adidas, has been arrested for allegedly bribing high school basketball players. In the report, officials claim that Gatto spent over $100,000 in an attempt to steer top prospects to Adidas sponsored schools.
In a statement by the United States Attorney's Office, they said,
"Since 2015, the FBI and USAO have been investigating the criminal influence of money on coaches and student-athletes who participate in intercollegiate basketball governed by the NCAA. As relevant here, the investigation has revealed numerous instances of bribes paid by athletic advisors, including financial advisors and business managers, among others, to assistant and associate basketball coaches employed by NCAA Division I universities as facilitated by the coaches, in exchange for those coaches exerting influence over student-athletes under their control to retain the services of the bribe-payers once the athletes enter the National Basketball Association.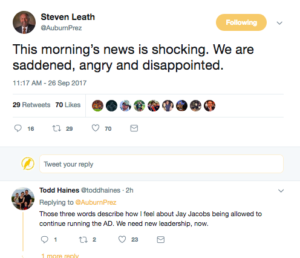 Auburn president Steven Leath Tweeted: "This morning's news is shocking. We are saddened, angry and disappointed," and later added, "In the meantime, Auburn is working closely with law enforcement, and we will help them in their investigation in any way we can." Following the news of Auburn's softball team in recent weeks, Twitter followers are responding to Leath's posts with calls to fire Auburn AD Jay Jacobs.
Coach Person was hired by head coach Bruce Pearl in 2015 and was promoted to Auburn's associate head coach the following year.