AUBURN – A Michigan-based biomedical device company has created a novel imaging tool that better detects cancer in women with dense breast tissue, and an Auburn University Harbert College of Business graduate is leading the charge to deploy the imaging technology nationwide.
Developed by Delphinus Medical Technologies, the FDA-approved SoftVue system uses a water-based scanning technique and proprietary ultrasound technology to create a 3D image of the whole breast to detect the presence of cancer in its earliest stages — all without exposing the patient to radiation or uncomfortable compression.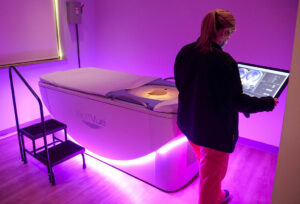 "As an adjunct to screening mammography, SoftVue finds 20% more cancer compared to mammography alone," said Mark Forchette, the Delphinus president and CEO, who earned an Auburn degree in marketing in 1981. "It's a new approach, and the radiologists who have used this system have found that it gives better insight to the tissue that they're looking at."
One of those radiologists is Dr. Cynthia Lorino, a breast imaging specialist at the Breast Health Center in Auburn and only the second U.S. location offering this screening technology.
According to Lorino, mammograms remain the best screening tool, but they aren't perfect, particularly for the nearly 50% of women over age 40 who have dense breast tissue and face a higher incidence of cancer.
Conventional mammography uses X-rays to image breast tissue, and the scans are created in black and white. However, dense breast tissue also appears white in a mammogram, making it difficult for radiologists to see small tumors that appear as white.
"SoftVue gives us additional information to help us find small cancers not seen on mammogram," said Lorino, noting that the SoftVue images are different from those generated from mammography scans or other ultrasound methods. "SoftVue also decreases the risk of finding (non-cancerous) lesions, which may look suspicious on 2D ultrasound."
This specificity means SoftVue will produce fewer false-positive test results, so fewer patients will have to undergo unnecessary and invasive biopsy procedures.
Next step: Going nationwide
With two SoftVue Systems now operating, the first was installed in Detroit, Forchette has an ambitious plan to deploy more nationwide.
"Our objective as a company is to put a system in the top population centers of the United States as quickly as possible," said Forchette. "In a couple of years, we'd like to be in enough markets so every patient in the United States would be within a two-hour drive of a SoftVue system."
Lisa Petersen, the manager at Auburn's Breast Health Center, said about 200 local patients each month will benefit from the SoftVue imaging system. So far, Petersen said she has heard all positive reviews from the patients who have undergone a SoftVue scan, which she said is covered by health insurance.
"Feedback from our patients has been great," she said. "The patients say the exam is not uncomfortable and they are reassured by the additional testing for dense tissue."
Throughout the technology development and regulatory approval process, Forchette said one of his priorities has been to break down technological barriers to produce the disruptive technology that will save lives.
"We had to tap the talent of a bunch of brilliant young people and inspire them to believe that no wall, no matter how daunting, is going to stand between us and our goal," he said, referring to the Delphinus engineers and scientists.
According to Forchette, the Triple Acoustic Detection technology in SoftVue provides a whole new level of tissue characterization, but it also creates a massive amount of data that requires huge amounts of computational processing power to create an image.
"We had to wrestle the computational laws of physics to the ground and make it into a process and workflow that could fit into a busy breast clinic today," said Forchette, who then oversaw the team that completed the FDA approval process, which included a series of studies over three years that produced the clinical data required for a rigorous regulatory review.
Earning the FDA's stringent Premarket Approval was a daunting task, Forchette said, but it's immensely rewarding and a tremendous proof source that our technology accomplishes what we say it does.
"What we offer is an alternative that lets sites do what they've long wanted to but there hasn't been the technology to do it," he said.
Petersen is delighted with the SoftVue rollout.
"The SoftVue [system] is an important addition to our breast center and will allow us to provide the highest quality care to our patients," she said. "We are incredibly appreciative both to Delphinus and our leadership at East Alabama Medical Center for investing in the women of Lee and surrounding counties."
Don't miss out!  Subscribe today to have Alabama's leading headlines delivered to your inbox.