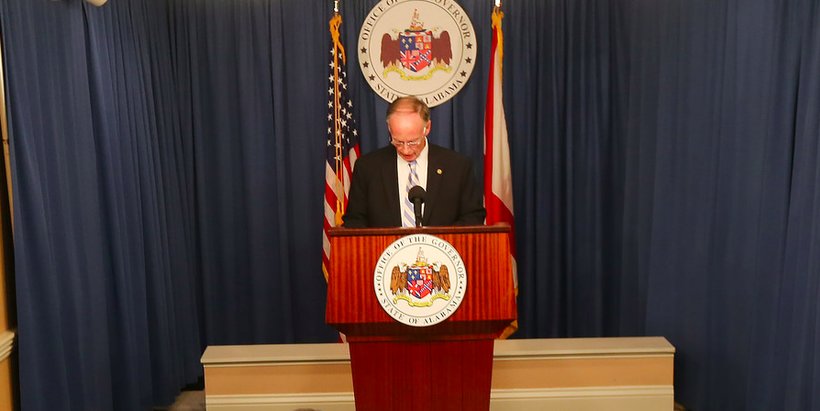 MONTGOMERY, Ala. — On Tuesday, State Rep. Ed Henry (R-Harselle) announced in a press conference with several colleagues that the House of Representatives will pursue articles of impeachment against Gov. Robert Bentley (R-Ala.).
Now that the articles have been released to the public in-full, here's what you need to know about the claims that could put the sitting governor on trial before the state senate.
Altogether, there are four articles (think "charges") brought against the governor. They are as follows.
Article I: Willful Neglect of Duty
This article alleges the governor willfully neglected to faithfully execute the laws of the state and "has consistently acted in violation of the law to promote his own personal agenda."
Statements made in a Tuesday press conference by Reps. Henry and Craig Ford (D-Gadsden) seem to indicate particular interest in whether Bentley obstructed justice in the state's case against House Speaker Mike Hubbard.
Former Alabama Law Enforcement Agency head Spencer Collier claims Bentley told him not to cooperate with investigations brought forth by the Alabama Attorney General's office.
Article II: Corruption in Office
Here, the authors of the resolution insist there is "credible evidence" the governor unlawfully used state property to cover up his inappropriate relationship with senior political advisor Rebekah Mason. It also alleges Bentley made important political decisions purely based on the furtherance of his relationship with Mason.
Mason gained a reputation over the last several years of being the governor's most trusted adviser, and was even referred to as the "de facto governor" in some instances.
"From 2014 to the present it has come apparent to me that Mrs. Mason wields a level of influence over state government that I have never seen before," Alabama's former top cop Spencer Collier said. "I have received complaints from law enforcement, other government officials and members of Governor Bentley's family.
"He made it clear to me that anyone that questioned Rebekah Mason's influence would be terminated," Collier emphasized after being fired.
RELATED: Alabama's former top cop: Bentley mistress was 'de facto Governor'
The resolution also questions the lack of transparency behind Mrs. Mason's compensation and declares the entire scenario to be a "betrayal of the public trust."
Article III: Incompetency
This section declares that Gov. Bentley's recent actions have proven him to be dishonest, unprincipled, immoral, and incompetent. It also states that the governor has exercised "poor judgement" and made decisions "detrimental to the people of the state."
While the relationship with Mrs. Mason seems to be the impetus for this article, the Republican Representatives – particularly Henry – insinuated that Bentley's duplicity on the issue of taxes also played a role.
After securing reelection in November of 2014 on a George H.W. Bush-like platform of "no new taxes", the governor instantly pursued a budget that called for numerous tax increases. Henry implied that Bentley's dishonesty on taxes laid the groundwork for a pattern of betraying the public trust that only continued with his inappropriate relationship.
Economic developers have also said several companies considering expanding their operations into Alabama have backed away.
"We've got all this momentum with aerospace and Airbus suppliers are moving in and Google's coming to the state and fiber broadband is going in and then boom — just like that the momentum is stopped by a scandal that none of us can do anything about," said one local economic developer. "To say it is frustrating would be understating it."
RELATED: Economic developers frustrated as Bentley scandal chases away companies, jobs
That sentiment was shared by numerous economic developers Yellowhammer spoke with last week, from heads of local economic development authorities to executives at large companies engaged in the state's job recruitment and retention efforts.
House Minority Leader Craig Ford (D-Gadsden) agreed with the economic development pros, saying Bentley should step down because his impropriety is having a "crippling affect" on the state's "ability to recruit jobs."
Article IV: Offenses of Moral Terpitude
Here, the resolution cites the Alabama Supreme Court's definition of "moral terpitude" which defines an act as "immoral in and of itself, regardless of the fact that it is punishable by law…". The article contends that Bentley's admitted extramarital relationship with Mrs. Mason qualifies as such an act and renders him ineligible to continue serving as governor.
Bentley has, in varying degrees, admitted to having some sort of relationship with his then-senior political advisor, but the full extent has not been revealed by either of them.
However, Yellowhammer News received audio of conversations between Bentley and Mason that appear to confirm some type of physical relationship existed.
"You know what?" Bentley can be heard saying to Mason on the phone. "When I stand behind you and I put my arms around you, and I put my hands on your breasts, and I put my hands on you and pull you in real close. Hey, I love that, too."
RELATED: The complete Bentley-Mason affair audio recordings and transcripts
At this point it is a matter of degree, not one of existence.