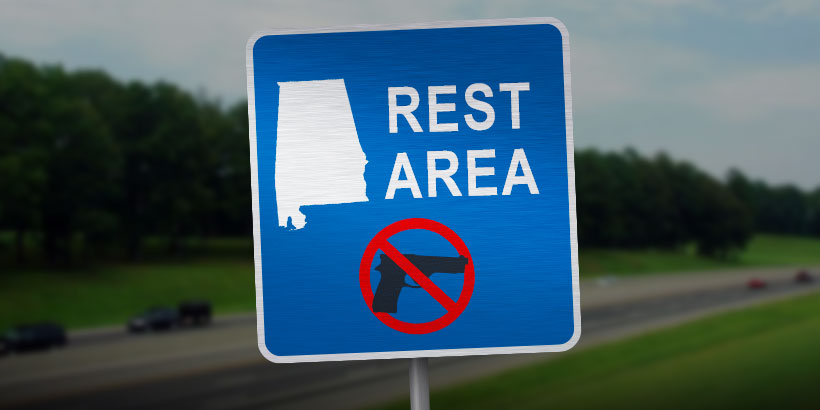 MONTGOMERY, Ala. — Yellowhammer News on Monday brought to light the Alabama Department of Transportation's rule making the state's rest areas "Gun Free Zones," preventing Alabamians from possessing firearms at those locations.
After multiple requests for comment were ignored, Yellowhammer was contacted Wednesday by ALDOT spokesperson Tony Harris, who said readdressing the policy is not currently a priority for the agency, although he acknowledged they had received some public opposition to the gun free zones.
"We don't want this to be a distraction for us," said Harris. "You can probably imagine we have a lot of issues we deal with day in and day out."
In a followup conversation Thursday, Harris said the agency is waiting for the attorney general's office to weigh in on whether ALDOT has the authority to implement the gun ban without legislative authorization.
A spokesperson from the attorney general's office told Yellowhammer they are currently reviewing the matter after receiving complaints from the public.
ALDOT cites a provision of the Alabama Code that gives the agency the power to "prescribe any reasonable rules and regulations so as to prevent unnecessary trespassing upon or injury to any of the public roads, bridges, or highways of the state upon which state money may be expended or appropriated or upon any part of the right-of-way of any of the public roads or highways in the state upon which state money may be expended or appropriated."
In their own administrative rule, ALDOT created a regulation which reads, "No person other than a duly authorized law enforcement officer shall enter any Alabama Department of Transportation building with a firearm… without the written permission of the Director."
This ALDOT enactment seems to contradict state law, which gives "the Legislature complete control over regulation and policy pertaining to firearms, ammunition, and firearm accessories in order to ensure that such regulation and policy is applied uniformly throughout this state to each person subject to the state's jurisdiction and to ensure protection of the right to keep and bear arms recognized by the Constitutions of the State of Alabama and the United States."
State Representative Barry Moore (R-Enterprise) told Yellowhammer he believes the ALDOT has clearly overreached its authority.
"I think that's certainly an overstep," he said. "The Second Amendment is pretty clear: [government] shall not infringe. It seems like more and more, government tends to infringe on our right to bear arms. If anything I think we need to be getting rid of gun-free zones, not creating more of them."
Don't miss out!  Subscribe today to have Alabama's leading headlines delivered to your inbox.