Sierra Nevada Corporation (SNC) on Wednesday announced that they have selected Alabama rocket maker United Launch Alliance (ULA) as the launch vehicle provider for the Dream Chaser spacecraft's six NASA missions to the International Space Station.
The Dream Chaser will launch aboard ULA's Vulcan Centaur rockets for its cargo resupply and return services to the space station, starting in 2021.
"Dream Chaser can launch from any conventional rocket so we had great options," SNC CEO Fatih Ozmen explained in a statement.
"SNC selected ULA because of our strong collaboration on the Dream Chaser program, their proven safety record and on-time performance," he said. "This is bringing America's spaceplane and America's rocket together for best-of-breed innovation and exploration."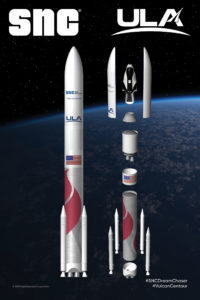 Under NASA's Commercial Resupply Services 2 (CRS-2) contract, the Dream Chaser will deliver more than 12,000 pounds of pressurized and unpressurized cargo to the space station and remain attached for up to 75 days as an orbiting laboratory. Once the mated mission is complete, the Dream Chaser disposes about 7,000 pounds of space station trash and returns to earth large quantities of critical science, accessible within minutes after a gentle runway landing.
SNC's Louisville, Colorado-based space systems division is proudly partnering with ULA, which assembles rockets at its world-class Decatur, Alabama production facility.
"In this very competitive launch vehicle market, we feel privileged that SNC chose to launch this block of six missions to the ISS with ULA," Tory Bruno, ULA president and CEO, commented.
Congratulations to @ulalaunch for being selected as launch provider for 6 @sierranevcorp cargo resupply missions to the International Space Station! Looking forward #SNCDreamChaser launching atop the Decatur-built #VulcanCentaur rocket! #MadeinAL https://t.co/R2bhDCIndd

— Mo Brooks (@RepMoBrooks) August 14, 2019
"This is one of the first contracts for our new Vulcan Centaur rocket, and the first of the six missions will serve as the rocket's second certification flight," Bruno advised. "We are excited to bring our more than 120 years of combined launch experience with our Atlas and Delta rockets, which build on a progressive history of technology development and advancement, to Vulcan Centaur."
Animation of new collaboration between @ulalaunch and @SierraNevCorp pic.twitter.com/txAl2Pw5qV

— Sean Ross (@sean_yhn) August 14, 2019
RELATED: ULA submits proposal for Air Force launch competition; Vulcan Centaur rocket on schedule for 2021
Sean Ross is the editor of Yellowhammer News. You can follow him on Twitter @sean_yhn