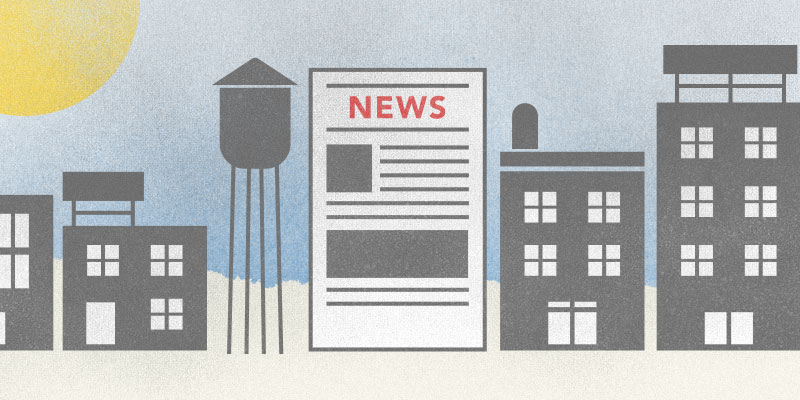 Nature abhors a vacuum, or as the case might have been in some parts of Alabama, a vacant news rack.
The fact is, three of the state's major newspapers (all under the AL.com umbrella) have simply become dead-tree versions of BuzzFeed, with an Alabama twist. Without a traditional news source, residents of small-to-medium-sized communities outside of the immediate Huntsville, Birmingham and Mobile markets have been left to fend for themselves to keep up with the news.
Alabama's big city newspapers have put a premium on telling readers how they think the state should be instead of how it is. While dedicating time and effort to offering a vision of how Homewood can be more like Manhattan's Upper West Side, the papers have abandoned areas just beyond the designated metropolitan areas.
The regions' big newspapers no longer have beat reporters covering places like Brewton, Jasper, Sylacauga or Eufaula.
Meanwhile, small town newspapers have taken up the slack, where AL.com has failed.  People still want to know what the mayors and city councils are up to, any crime in the area or maybe just the local high school sports scores.
Two of case studies for this phenomenon sit at opposite corners of Alabama: Scottsboro and Monroeville. The towns very different historically and demographically. But they're similar in that they primarily function independently of the nearby big cities, from where their local TV affiliates broadcast.
Scottsboro, nestled in Alabama's Tennessee River Valley, is a 45-minute drive up U.S. Highway 72 from Huntsville. It's a place where cable subscribers get Huntsville and Chattanooga, Tenn. TV stations, but are far enough away not to be a part of either of those cities' ecosystems.
The paper in Scottsboro is the Jackson County Sentinel, and it is the primary source of news for Jackson County, Ala.'s 52,000 resident. Brandon Cox became editor and publisher of the Sentinel earlier this year. According to Cox, what other newspapers are doing does not factor into how he operates the Sentinel.
"What I will tell you is that our team works with the mindset that our role in the community is to produce the very best newspaper that we can, regardless of what others in the area are doing," Cox said to Yellowhammer News. "Our responsibility is to the reader and the community, and that doesn't change based on what another newspaper may or may not be doing."
Cox added that the Sentinel aims to build a community and they "do it by fostering the community identity, setting the agenda for local dialogue, encouraging personal and economic growth, and recording the history of our time. If we keep that commitment, then everything will work out just fine."
The Sentinel is a three-day-a-week publication. Cox says its circulation fluctuates between 4,500 and 5,000 units. He explained that an advantage the Sentinel has over any potential outside competitors is that the reporters and editors are more plugged in locally.
"For us, it's about being a part of the community," he said. "We live here. The editor and reporters are your neighbors. You see them at the grocery, dropping their kids off at school, picking up medicine at the pharmacy. The large regional outlets don't have that same network in the community, at least not like they used to. We've all had to find our niche to remain successful and to ensure we're going to be around for a long time. For many of us in this business, that niche is being hyperlocal."
Two-hundred-and-sixty miles southwest of Scottsboro is another one of Alabama's marquee small towns, Monroeville. When people mention Monroeville, most think of Harper Lee and "To Kill a Mockingbird."
Geographically, it's somewhat isolated – roughly 90 miles from downtown Mobile. Thirty-five of those miles require a trek along a two-lane state highway and give it separation from Mobile.
Mike Qualls, the managing editor of The Monroe Journal, told Yellowhammer News that his publication's business model has not changed, but that business has been on the upswing, coming out the last decade's recession.
"Very little has changed in our coverage of local events, government affairs, crime, etc.," Qualls said. "What has changed is ad sales, which has been improving since the 2008 recessions, but it's not back to pre-recession numbers and may never get there again. Businesses continue to operate on slim profit margins."
The Journal is a weekly that serves Monroe County's 21,000 residents with a circulation of about 8,000, Qualls says. The newspaper's editorial side has downsized. However, Qualls attributes the overall business' sustainability to its in-house printing press.
"We've been able to survive by downsizing the news staff to a managing editor, me, and a staff reporter, with the publisher helping out here and there," he told Yellowhammer. "Thankfully, we also operate a commercial print shop that's done quite well in recent years, and we have our own newspaper press, which along with printing The Journal, prints 12 other weeklies in southwest Alabama and southeast Mississippi."
In a world where the newsgathering space seems to be expanding — not only with the Internet but with the emergence of talk radio, a limitless roster of cable channels and social media – the economic feasibility of running a newspaper has taken hit. These local paper's content is the key distinguishing feature. That is, making money newsgathering on a local level hasn't been practical in other, newer formats.
As long as Alabama's "prominent" newspapers are willing to cede that turf and only look inward at their shiny, cosmopolitan aspirations for Alabama's cities, combined small-town newspapers will remain an influential force in the state's politics.
Jeff Poor is a graduate of Auburn University and works as the editor of Breitbart TV.
(Don't miss another article from Yellowhammer News. Sign up for our daily newsletter here).
Don't miss out!  Subscribe today to have Alabama's leading headlines delivered to your inbox.