Alabama's lone Democrat joins Republicans, bucks Obama on Syrian refugee program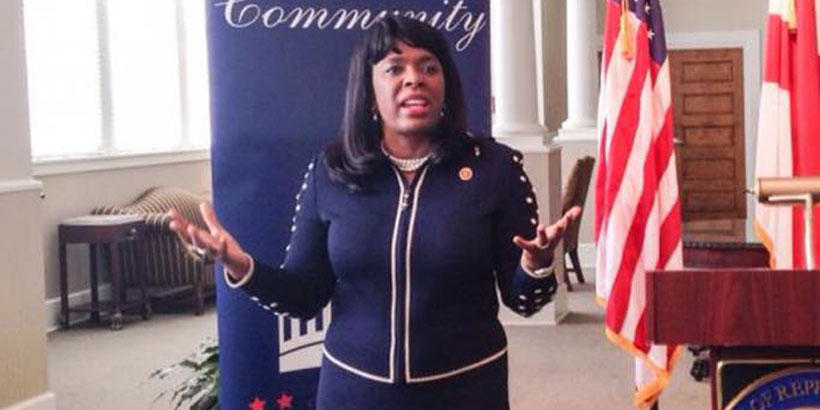 Defying a veto threat by President Barack Obama, Alabama's congressional delegation unanimously backed legislation to halt the influx of Syrian refugees and intensify the security screenings of refugees going forward. The bill was approved by a vote of 289 to 137, with 47 Democrats including Alabama Congressman Terri Sewell (D-AL7), joining Republicans in creating a veto-proof supermajority.
The American SAFE Act would not allow refugees from Iraq or Syria to enter the United States until multiple U.S. national security and intelligence officials verify they do not pose a terrorist threat. House Homeland Security Committee Chairman Michael McCaul (R-Tx.) said the bill creates "the most robust national security screening process in American history for any refugee population." The measure now proceeds to the Senate.
The White House maintains that the bill would create "unnecessary and impractical requirements" on persecuted families seeking refuge in the U.S. while adding no additional security to Americans.
Yellowhammer sources in Washington say the White House made a direct appeal to Rep. Sewell, who sits on the House Intelligence Committee, urging her to stand by the president. Sewell said she supports the refugee program as a whole, but could not vote against the security of the American people.
"I am convinced that we must be more vigilant in our refugee screening and vetting processes," she said. "The bill seeks to strengthen the screening process by prohibiting refugees from Syria and Iraq from being admitted into the United States without a more comprehensive background check and by adding government certification to our already robust security screening protocol."
The office of Alabama Sen. Jeff Sessions (R-Ala.), however, characterized the bill is not the central focus of their efforts, saying Congress should use the power of the purse to defund the Refugee Resettlement Program altogether.
The current funding proposal before Congress would not only authorize the President's plan to bring in 85,000 refugees on top of the current, historical annual immigration flow, but would also allow for an unlimited amount of money to be spent on lifetime welfare and benefits for refugees.
100 refugees are currently slated to be housed in Alabama by Catholic Social Services. The date of their arrival is uncertain.
Senator Sessions and Senator Richard Shelby (R-Ala.) have taken the lead on the defund effort in the Senate.
The two conservative Alabama senators released the following joint statement Tuesday afternoon:
As Chairmen of Subcommittees on both the Appropriations and Judiciary Committees, we believe it is essential that any government funding bill cancel the President's blank check for refugee resettlement. Long before the barbaric attacks in Paris, government officials and investigators have stated that we do not have the capacity to effectively screen Syrian refugees. The bloody assaults on the streets of France add new urgency to an already dangerous situation. Right now, our refugee program – like all of our visa programs – runs on autopilot. Each year, millions of visas go out the door without any input or action from Congress. We would not accept this policy for the federal budget, and we should not accept it for immigration. We therefore urge the inclusion of a provision in any omnibus spending bill that makes it absolutely clear that no refugee resettlement will take place without a separate, affirmative Congressional vote to authorize any resettlement and offset its huge costs.
---
MORE ABOUT THE SYRIAN REFUGEE DEBATE:
1.
White House refuses Bentley's request for classified info on Syrian refugees coming to Alabama
2.
Byrne introduces bill to 'eliminate all funding' for Syrian refugee resettlement
3.
More than 100 Syrian refugees could soon be in Mobile, given Medicaid and food stamps
4.
Bentley to Obama: Evil exists, Alabama cannot risk accepting Syrian refugees
5.
Shelby, Sessions tag-team Obama's Syrian refugee program, move to revoke its funding
6.
Bentley: Use 'all lawful means necessary' to keep Syrian refugees out of Alabama
7.
Legal experts disagree on whether Alabama has a right to refuse Syrian refugees
8.
Map shows Alabama has already received hundreds of Middle East refugees in recent years
9.
Sessions moves to revoke funding for Syrian refugee resettlement
10.
Condoleezza Rice sums up why allowing Syrian refugees into Alabama is a bad idea