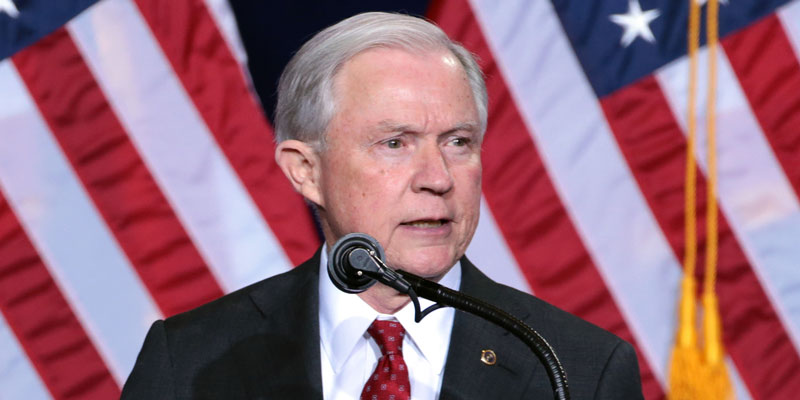 Attorney General Jeff Sessions propped up civil asset forfeiture last week, claiming the program is a "key tool" that allows law enforcement officers to effectively fight the drug war.
"Civil asset forfeiture is a key tool that helps law enforcement defund organized crime, take back ill-gotten gains, and prevent new crimes from being committed. It weakens the criminals and the cartels," Sessions said in a speech to the National Sheriffs' Association. "Civil asset forfeiture takes the material support of the criminals and makes it the material support of law enforcement."
Sessions has been a staunch advocate for civil forfeiture throughout his tenure, issuing new policy guidelines in July encouraging law enforcement officers to make more forfeitures. The practice allows agents to take and keep property thought to be connected to a crime, even if its owner hasn't been convicted or even charged with a crime.
Federal authorities took more than $4 billion through forfeiture in 2015, and most states allow departments to keep the vast majority – if not all – of the proceeds from the forfeitures they make, creating a worrying incentive. North Dakota and Massachusetts are tied for the worst states in the U.S. on civil forfeiture, according to a study from the Institute for Justice (IJ). Both received an "F" from the group on the issue, but the rest of the country isn't much better — a full 21 states are tied at "D-."
The study sorted states based on their legal standards required to justify forfeiture, how much of the forfeited revenue goes toward law enforcement officers' own budgets and whether the burden of proof is on the defendant to establish innocence.
"The highest standard is 'beyond reasonable doubt,' which is about 95 percent certainty of guilt," IJ Senior Legislative Counsel Lee McGrath told The Daily Caller News Foundation. "The lowest standard is 'probable cause,' which is about 35 percent certainty."
(Content created by The Daily Caller News Foundation is available without charge to any eligible news publisher that can provide a large audience. For licensing opportunities of our original content, please contact licensing@dailycallernewsfoundation.org.)
Don't miss out!  Subscribe today to have Alabama's leading headlines delivered to your inbox.