Alabama recorded its largest yet number of COVID-19 patients in the hospital on Monday as the state's coronavirus statistics continue to reach alarming levels.
There were 1,717 individuals in the hospital with COVID in Alabama on Monday, eclipsing the previous record of 1,613 set on August 6.
UAB Hospital, the state's biggest and most prominent medical facility, is currently treating 125 coronavirus patients, a new high for the facility.
"125 patients means 125 patients receiving in-hospital, bed-specific care. These are patients who are either very sick, unable to get better, or potentially unable to survive without medical attention and care," UAB explained about their hospitalized patients in a press release.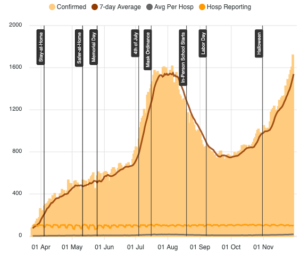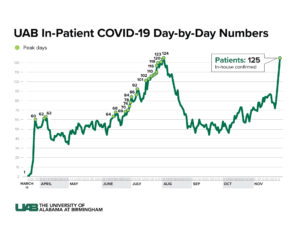 UAB's numbers include any patient admitted to the hospital with a diagnosed case of COVID-19.
The hospital's numbers appear to indicate a worrying spike in the Birmingham metropolitan area. UAB was treating just 79 coronavirus patients on Thursday.
Overall, Alabama's count of new coronavirus cases remains about as high as it has ever been. On average, 1,733 new cases have been added each day over the last week.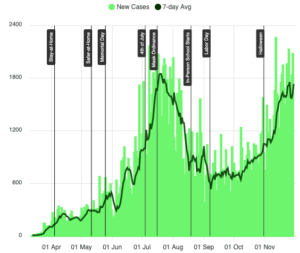 Yellowhammer News is using statewide coronavirus numbers from BamaTracker in this piece. BamaTracker is a website that collects and displays coronavirus data published by the Alabama Department of Public Health.
Additionally, Yellowhammer is counting new cases as those confirmed by a chemical test performed in a laboratory. When adding results from rapid tests and other methods classified by ADPH as "probable" positives, Alabama's seven-day average rises to 2,206.
Past trends in coronavirus data show that a spike in hospitalizations follows a spike in new cases by 2-3 weeks. A corresponding increase in deaths follows the increase in hospitalizations by around one month.
All but three of Alabama's 67 counties reported a new COVID-19 case on Monday, indicating continued widespread transmission across the state.
Of all COVID-19 tests administered in Alabama over the last 14 days, 26.1% came back positive, the highest rate the state has suffered during the pandemic.
In recent days, for every eight tests administered, one was positive, per BamaTracker's calculations.
Approximately 13 coronavirus deaths were reported in Alabama each day over the last week. The state's death toll now stands at 3,246, with another 332 listed as "probable" but not yet confirmed by ADPH.
Doctors continue to recommend wearing face masks, staying at least six feet apart from others, and washing hands frequently as the best ways to slow the spread of the virus.
Henry Thornton is a staff writer for Yellowhammer News. You can contact him by email: henry@new-yhn.local or on Twitter @HenryThornton95.