MONTGOMERY, Ala. — A survey taken of recipients of the state's first school choice program shows parents are overwhelmingly satisfied with their child's new school and academic progress.
2013's Alabama Accountability Act provided children in habitually failing schools an opportunity to apply for a scholarship to a participating non-failing public or private school. Though the program was slow to start, it picked up steam during the 2014-2015 school year, providing nearly 6,000 scholarships through several non-profit Scholarship Granting Organizations.
One such organization, the Alabama Opportunity Scholarship Fund (AOSF), partnered with the Alabama Federation for Children to survey participating parents and gauge their satisfaction with the program.
Here are the results: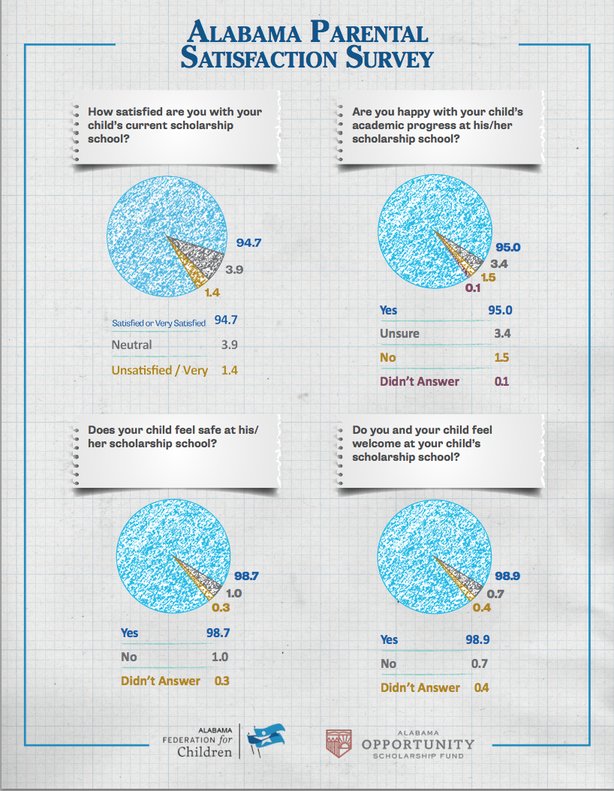 According to Alabama Federation for Children chairman Chad Mathis, these results show the program is working.
"We have always believed incredible educational achievement can happen when you give parents options and allow them to decide what school works best for their child," Mathis said in a press release Friday morning. "The results of this survey reinforce the fact that educational choice is working in Alabama."
Andrea Floto, a parent whose child attends the private school Montgomery Catholic with the help of the Alabama Scholarship Program, says the program has changed their lives.
"I know my son is receiving a good education and I am truly grateful for that. If it wasn't for this scholarship, he wouldn't have had a choice but to attend a public school that is failing and one I did not feel safe sending him to. This really has changed our lives and has been such a blessing to our family."
Though the program gives first priority to families with children in one of Alabama's 56 failing schools, after a certain date scholarship organizations are allowed to grant scholarships to low-income families in non-failing schools as well.
According to their annual filing required by the state, 98 percent of AOSF's scholarships went to Alabama students who qualified for free and reduced lunches.
"Parents want choices and are very happy with the options they are finding," said AOSF Executive Director Lesley Searcy. "For the first time, lower income families now have control over their child's k-12 education. We can't help but be inspired by our parents who have gone from being trapped and helpless to empowered and hopeful."
Alabama native and former US Secretary of State Condoleezza Rice made waves in January when she said she considers school choice "biggest civil rights issue" the country faces today.
"Poor black kids trapped in failing neighborhoods schools, that's the biggest race problem of today," she said. "That's the biggest civil rights issue of today. Anybody who isn't in favor of school choice, anybody who isn't in favor of educational reform, anybody who defends the status quo in the educational system — that's racist to me."
---
Like this article? Hate it? Follow me and let me know how you feel on Twitter!

— Elizabeth BeShears (@LizEBeesh) January 21, 2015
Don't miss out!  Subscribe today to have Alabama's leading headlines delivered to your inbox.