A nationwide survey by the U.S. Census Bureau indicates that Alabama fared better economically than its neighboring states during the first seven months of the pandemic.
A new experimental bureau survey and interactive U.S. map reveal the monthly and state-by-state amount of taxes collected for general sales, lodging, alcoholic beverages, motor fuel and tobacco products. Although some states – such as Alabama for alcohol sales – don't publicly post all tax revenues, the bureau site provides percentages in all available categories as well as links to state tax collection details.
The color-coded U.S. map affirms data released Jan. 4 by the Alabama Department of Revenue, showing that after underperforming in March and April 2020, Alabama's tax collections from May through September soared above previous years in general sales and motor fuels. However, lodging receipts were significantly down nationwide and Alabama was no different.
Alabama has been a national leader in motor fuel tax revenue increases during the pandemic, ranking fourth in March and April, fifth in May, third in June, second in July and first in August, when receipts were 26% higher than 2019. The motor fuel tax is distinct from the state gasoline tax. The state raised the gasoline tax rate in September 2019 and again in October of last year. Another increase in the gasoline tax is slated for October of this year.
The census survey shows that Alabama led neighboring states in general sales tax revenue percentage increases over 2019 in four of the first seven months of the pandemic. Alabama's -1.8% sales in March was the second-best rate nationally, behind Virginia's -0.4%. That month, no state surpassed revenues collected the previous year.
Alabama tax revenues began rebounding following Gov. Kay Ivey's May 22 order to reopen retail stores, restaurants and bars with limited capacity and social-distancing restrictions. Alabama led its neighboring states in general sales increases in May, July (Top 8 nationally) and September.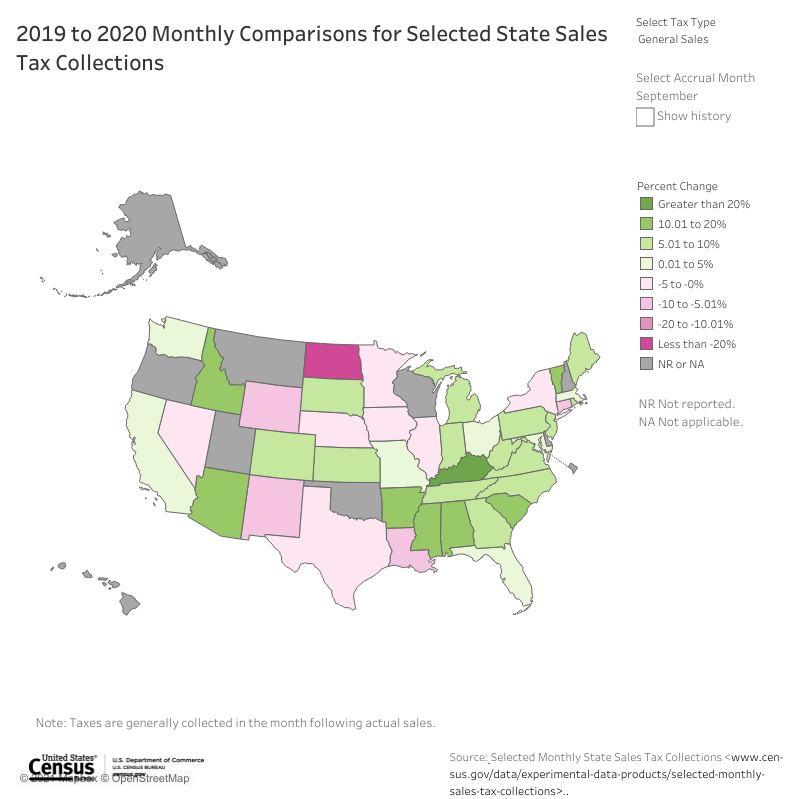 Alabama started the pandemic faring the worst in lodging tax revenues among Georgia and Mississippi (Tennessee and Florida don't report), dropping to -69% in April versus the prior year. While things only got worse in much of the nation regarding lodgings, Alabama began improving and by July had for three continuous months the least difference in receipts versus 2019 when matched against neighbor states. In September, Alabama was 17% below the previous year receipts, which was the fourth-best percentage nationwide (Illinois was first with an 80% increase over 2019).
As overall tax revenues in Alabama fell from April through June 2020, receipts rose dramatically the remainder of the year, beginning in July with a 70% increase over the previous year. By year-end, the state had received a record $12.2 billion in combined tax receipts.
Tobacco sales tax revenue was the other underperforming area for Alabama in 2020, a shift after the state in March was one of five in the U.S. with a greater than 20% increase over 2019. By April, Alabama tobacco sales had fallen to the third-worst year-over-year rate nationally.
While Alabama doesn't publicize month-to-month alcohol tax receipts, bar and restaurant closings reduced on-premise sales nationwide and in two neighboring states: Tennessee saw drastic revenue drops every month of the census survey, while Florida saw a roller coaster effect as bars opened and closed, going from -40% in July to 40% in September. In Georgia, alcohol tax revenue exceeded every month versus 2019, and some states saw huge gains, such as Connecticut at 359% in May, Delaware 266% in March and New Jersey 234% in July.
(Courtesy of Alabama NewsCenter)