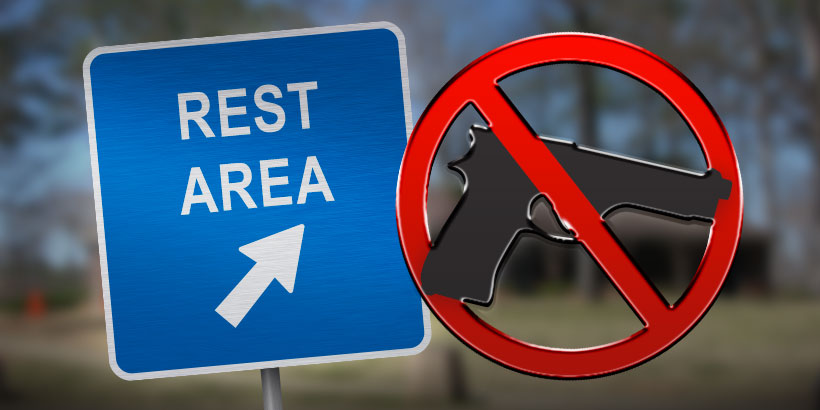 MONTGOMERY, Ala. — The Alabama Department of Transportation (ALDOT) has banned firearms at rest stops along the state's highways and many are questioning its legal authority to do so. Despite being an open-carry and concealed-carry state, Alabama now has signs at every rest station that read "no weapons beyond this point".
ALDOT cites Section 25-1-59(c) of the Alabama Code that gives it them power to "prescribe any reasonable rules and regulations so as to prevent unnecessary trespassing upon or injury to any of the public roads, bridges, or highways of the state upon which state money may be expended or appropriated or upon any part of the right-of-way of any of the public roads or highways in the state upon which state money may be expended or appropriated."
In their own administrative rule 450-3-1-.08(3), ALDOT created a regulation under the authority of Ala. Code 25-1-59 which reads "No person other than a duly authorized law enforcement officer shall enter any Alabama Department of Transportation building with a firearm as defined in Section 13A-8-1(4), Code of Ala. 1975, without the written permission of the Director."
This ALDOT enactment seemingly contradicts state statute. Ala. Code Section 13A-11-61.3, which is specifically titled "Regulation of firearms, ammunition, and firearm accessories", gives "the Legislature complete control over regulation and policy pertaining to firearms, ammunition, and firearm accessories in order to ensure that such regulation and policy is applied uniformly throughout this state to each person subject to the state's jurisdiction and to ensure protection of the right to keep and bear arms recognized by the Constitutions of the State of Alabama and the United States."
The department's interpretation, according to their own legal citations, indicates that it views all gun-owners as trespassers or those would cause "injury to public roads", as it is the only construable way to ban firearms from the public property rest stops.
Yellowhammer reached out to ALDOT multiple times for comment, but had not received a response by press time.
In an interview with Yellowhammer, Rep. Barry Moore (R-Enterprise) said "I think that's certainly an overstep. The Second Amendment is pretty clear: [government] SHALL not infringe. It seems like more and more, government tends to infringe on our right to bear arms. If anything I think we need to be getting rid of gun-free zones, not creating more of them."
In light of the tragic shooting of four Marines and a Navy sailor in a Chattanooga, Tennessee gun-free zone last Thursday, the concept of weapons bans has once again come under public scrutiny.
Senator Bill Holtzclaw (R-Madison) told Yellowhammer after the Chattanooga shooting last week, "I believe that, nationwide, we've created these gun-free zones and cowards that want to be a martyr for their cause are attracted to them because they know that they're going to be more successful in whatever form of terrorism or activism that they are trying to accomplish." He continued, "So when we label a gun-free zone, we actually create a killing field for those people who obviously aren't going to follow a law like that."
Don't miss out!  Subscribe today to have Alabama's leading headlines delivered to your inbox.