Alabama's coronavirus numbers have shown incredible improvement from their dangerous highs in early January, and the state is hitting some important pandemic safety benchmarks for the first time.
The Yellowhammer State has averaged 196 new cases each day for the last week, down 94% from the average of 3,080 new cases per day on the week ending January 11.
Alabama's hospitals had 317 coronavirus patients on Thursday, down roughly 90% from the capacity-threatening peak of 3,084 on January 11.
"Thank the good lord we're in the home stretch," Governor Kay Ivey said of the pandemic on Wednesday.
Alabama's average of new cases and number of hospitalizations are noted as they appear on BamaTracker, a website that collects and graphs the coronavirus data provided by the Alabama Department of Public Health (ADPH).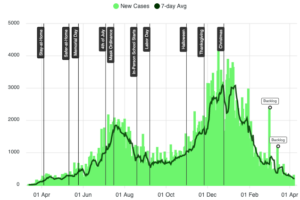 A new coronavirus case is one confirmed in a laboratory setting with a PCR test. New cases ascertained via rapid tests and other methods of detection are listed as "probable" cases by the Alabama Department of Public Health. When including probable cases, Alabama's average of new cases rises to 293 per day over the last week.
Alabama's new case numbers have continued to fall in recent weeks even as a number of states in the Northeast and Sun Belt regions of the country have seen upticks in their case counts.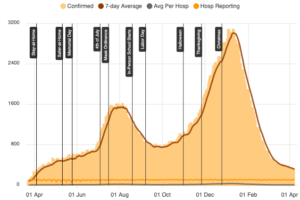 According to Alabama's State Health Officer Dr. Scott Harris, around 10% of new COVID-19 cases end up needing care in the hospital.
RELATED: Ivey follows through on ending mask mandate, issues order keeping some precautions in place
Especially encouraging to experts, including Harris, is that the percentage of coronavirus tests performed in the last two weeks that have come back positive is now below 5%.
Experts believe that for a pandemic to be considered under control, the positivity rate needs to be between 1% and 5%.
This week is the first time Alabama has come in under the 5% test positivity threshold since the pandemic began in the spring of 2020.
Alabama's death toll from the virus now stands at 10,675
The current week marks the first time period when all Alabamians have been eligible to receive the COVID-19 vaccines.
RELATED: How to find your nearest COVID-19 vaccine provider in Alabama
Alabama is approaching two million doses administered of the vaccine products.
As of Thursday afternoon, 1,243,006 Alabamians have received at least one coronavirus vaccine dose in Alabama, equivalent to roughly 25% of the state's population.
While Alabama's overall vaccination numbers still trail behind other states, Harris has relayed that this is because of a slow and messy rollout. Alabama's top doctor informed reporters this week that over the last two months Alabama has been vaccinating citizens at a rate commensurate with its neighbors.
A total of 739,566 people in Alabama are now considered "fully vaccinated," a status conferred two weeks after receiving one's final dose of the vaccine.
You can contact Henry Thornton on Twitter @HenryThornton95.