Alabama's coronavirus caseload continued to increase in the last week, and the number of citizens hospitalized with the virus has gone up as well.
The state has averaged 942 new cases of COVID-19 per day over the last week, a 5% increase from the 848 cases per day the state was averaging on October 22.
From early September to mid-October, Alabama was averaging around 700 cases per day.
Hospitals in the state admitted 114 coronavirus patients per day over the last seven days, up from a 102 per day average a week ago, an 11% increase.
Just over 1,000 Alabamians are currently in the hospital with a case of COVID-19.

Both new cases and hospitalizations remain far below the peaks they hit in July.
The scientific consensus on the coronavirus is that a surge in new cases is followed by a surge in hospitalizations around two weeks later, with a resultant increase in deaths two to four weeks after the uptick in hospitalizations.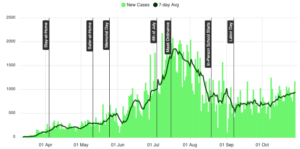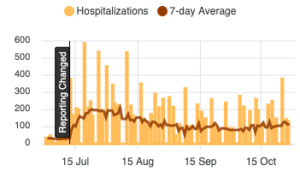 Yellowhammer News used numbers from BamaTracker for the data in this report. BamaTracker collects statistics generated by the Alabama Department of Public Health (ADPH) to provide graphs and information on the coronavirus in Alabama.
In the last 14 days, 21.23% of all coronavirus tests administered in Alabama have come back positive, which infectious disease experts say is incredibly worrying.
According to doctors at Johns Hopkins University, the ideal range rate of positive tests is 1% to 5% for a disease to be considered contained.
Sixty-one of 67 counties in the Yellowhammer State reported a new coronavirus case on Thursday, a lower number than last week, but still a figure that shows the disease is being transmitted in nearly all areas of the state.
Bigger counties like Mobile and Houston have generated especially concerning COVID-19 numbers in recent days, along with smaller counties like Lamar, Washington, Henry and Dekalb.
In more positive news, the seven-day average of deaths due to the coronavirus has gone down in the last week. Alabama is currently averaging eight COVID-19 deaths per day, down from 10 at this time last week.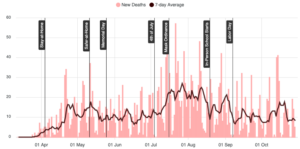 The total number of Alabamians who have died with a confirmed case of the coronavirus is now at 2,718, with another 196 that ADPH thinks are "probable" COVID-19 deaths but have not been officially confirmed.
The slowdown in deaths is likely attributable to an increase in doctors' knowledge of the virus, and the use of therapeutic treatments like remdesivir, which was discovered and tested at UAB hospital.
National Public Radio recently reported on scientific studies that confirm the slowing of COVID-19 death rates across the United States.
One study featured in the article showed the death rate among hospitalized patients dropped from 25.6% at the start of the pandemic to 7.6% currently.
A big date in the minds of Alabamians closely observing COVID-19 numbers is November 8, when the state's mask order is set to expire.
November 8 is also around the time when statistics should begin to indicate whether a surge in new cases has resulted from gatherings on Halloween.
Alabama Governor Kay Ivey has typically called a press conference around 48 hours before the mask order is about to expire, where she announces whether or not she will extend it.
Henry Thornton is a staff writer for Yellowhammer News. You can contact him by email: henry@new-yhn.local or on Twitter @HenryThornton95
Don't miss out!  Subscribe today to have Alabama's leading headlines delivered to your inbox.