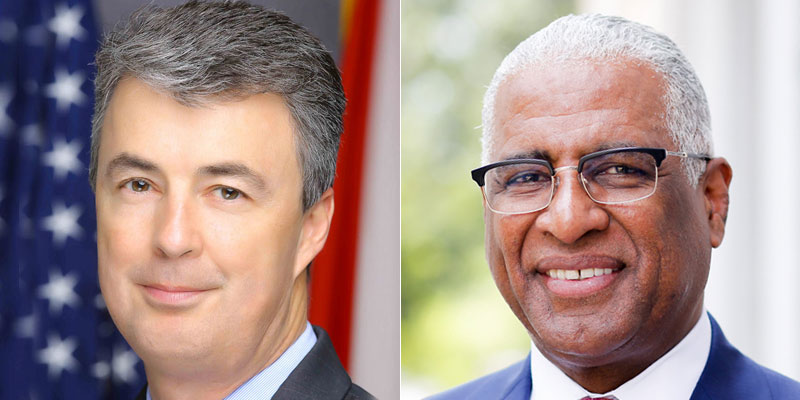 Yesterday, Birmingham Mayor William Bell temporarily covered a Confederate monument across the street from City Hall in Linn Park and plans to build a more permanent cover soon. As we pointed out yesterday, that appears to be a violation of Alabama's state law, which says that no monument over 40 years old can be removed, altered, or renamed.
Today, Alabama Attorney General Steve Marshall wasted no time in responding. Marshall said his office filed suit in Jefferson County Circuit Court against the City of Birmingham and Mayor William Bell "for violating state law by constructing barriers to deliberately obscure a historically significant monument in Linn Park." As Marshall stated,
"In accordance with the law, my office has determined that by affixing tarps and placing plywood around the Linn Park Memorial such that it is hidden from view, the Defendants have 'altered' or 'otherwise disturbed' the memorial in violation of the letter and spirit of the Alabama Memorial Preservation Act. The City of Birmingham does not have the right to violate the law and leaves my office with no choice but to file suit."
Marshall's press release stated that the Alabama Memorial Preservation Act "prohibits the relocation, removal, alteration, renaming, or other disturbance of any architecturally significant building, memorial building, memorial street, or monument located on public property which has been in place for 40 or more years.  The Confederate Soldiers & Sailors Monument in Linn Park, which was dedicated in 1905, is older than the Jefferson Memorial in Washington, DC."
As cultural wars over Confederate monuments heat up across the south, Attorney General Marshall's swift response has made it clear that there will be a zero tolerance policy with the violation of state law in Alabama.
Birmingham Suit 08-16-17 by Yellowhammer News on Scribd
Don't miss out!  Subscribe today to have Alabama's leading headlines delivered to your inbox.