MONTGOMERY — Alabama Department of Agriculture and Industries (ADAI) Commissioner Rick Pate gave an update Monday afternoon on the spate of seed packets from China that people across Alabama have received in recent weeks despite never having ordered anything.
Pate said that after the state seed labs had performed tests on the packets they had collected from individuals across Alabama, and none of them proved to be dangerous.
"Right at 50% of them proved be some kind of weed flower … 41% were vegetables, and 9% were herbs … we found no noxious compounds, no dangerous compounds," said Pate at the event.
However, he warned, "They might send out the first seeds that weren't treated with anything, have a sense of security come about, and then later send something out that could be harmful."

The commissioner further urged members of the public to refrain from planting any unsolicited seeds and continue to report them to the Department.
"At the very least something criminal has gone on here," stated Pate, referencing laws that prevent seeds from being moved across state lines without being inspected by the relevant agencies.
Pate said his department had collected 252 seed samples as of Monday morning.
A total of 385 individuals in all but 11 of Alabama's 67 counties have received one of the packets, according to information relayed at the press conference. State workers will be collecting the remaining samples soon.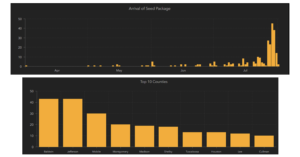 "Because we've got such a good food and drug lab, because we've got such a good seed lab, we knew this was inside of our comfort zone," Pate said of the decision to conduct the seed tests in-house as opposed to shipping them to the federal government.
Andy Tipton, division director of Food Safety and Ag Compliance, said that 25 states had reported similar seed packets showing up at consumers' doorsteps. He added that the ADAI was turning over all relevant info to the FBI, who were monitoring the situation.
Pate further told Yellowhammer News that one of the prevailing theories remained that the cause was an internet seller running a scam to artificially inflate their customer numbers and create opportunities for fake reviews.
He ended his press conference saying, "We have no idea the reason for this happening, but it doesn't mean we can stop being vigilant."
Any Alabamian still receiving one of the packets can report it here.
Henry Thornton is a staff writer for Yellowhammer News. You can contact him by email: henry@new-yhn.local or on Twitter @HenryThornton95
Don't miss out!  Subscribe today to have Alabama's leading headlines delivered to your inbox.