After Obama sent cash to Iran, Alabama rep. pushes bill to 'prohibit future ransom payments'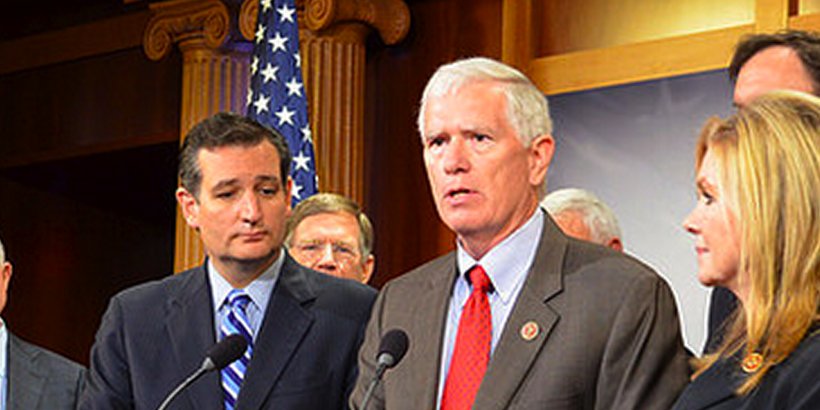 WASHINGTON — Congressman Mo Brooks (R-AL5) this week helped pass the Prohibiting Future Ransom Payments to Iran Act out of the House Foreign Relations Committee in an effort "to ensure there are no future cash payouts to Iran, the world's leading state sponsor of terrorism."
The move comes in the wake of a Wall St. Journal report revealing the administration "secretly organized an airlift of $400 million worth of cash to Iran that coincided with the January release of four Americans detained in Tehran."
"I applaud Chairman Royce for introducing this legislation following the Obama Administration's violation of longstanding U.S. policy against ransom payments," Rep. Brooks said in a statement. "We know that terrorist groups use ransom money to purchase weapons and further recruitment efforts. These payments to Iran only serve to encourage future kidnappings and finance Islamic terrorism the Administration claims it is combatting."
The Obama administration has characterized the payment as settlement of an old debt that predated Iran's 1979 Islamic revolution.
U.S. State Department spokesperson John Kirby said Iran was "going to get this money anyway" because an international court was set to rule that the U.S. must pay it. But the timing of the payment, coinciding with the release of the American prisoners, has raised concerns that the Obama administration has abandoned the long-standing pillar of U.S. foreign policy that the country does not meet terrorists' demands for hostages.
"We've gone from not negotiating with terrorists to paying a ransom to the leading state sponsor of terrorism," Congressman Gary Palmer (R-AL6) tweeted, linking to an Associated Press report that the administration had conceded that the payment "was contingent on American prisoners' release."
RELATED: Palmer: We've gone from not negotiating with terrorists to making cash payments to Iran
Republican presidential nominee Donald J. Trump joined the chorus of critics, saying President Obama "lied" about the nature of the payment and subsequently "put every American traveling overseas, including our military personnel, at greater risk of being kidnapped."
"He denied it was for the hostages, but it was," Trump said. "He said we don't pay ransom, but he did. He lied about the hostages — openly and blatantly — just like he lied about ObamaCare."
The State Department's Mr. Kirby dismissed the criticism and characterized the payment's timing as a savvy and appropriate use of "leverage."
"We deliberately leveraged that moment to finalize these outstanding issues nearly simultaneously," he said. "With concerns that Iran may renege on the prisoner release, given unnecessary delays regarding persons in Iran who could not be located as well as, to be quite honest, mutual mistrust between Iran and the United States, we of course sought to retain maximum leverage until after American citizens were released. That was our top priority."
While the nature of the payment to Iran is a point of debate, Iran's support for terrorism is not.
Iranian-funded insurgents in Iraq have killed thousands of American troops and committed numerous acts of terrorism. Iran does not recognize Israel as a state and has provided support for Hamas, which has launched hundreds of attacks on the Jewish state, killing thousands. For over three decades the Iranians have also provided support for Hezbollah, the militant Islamist group behind dozens of attacks around the globe, including the U.S. Marine barracks bombing in Beirut that killed 241 Americans.
"The Prohibiting Future Ransom Payments to Iran Act requires greater transparency on future settlements to ensure they are not being used to pay ransom in violation of U.S. policy, for any reason," Rep. Brooks concluded. "I'm pleased this legislation was reported favorably out of committee and I urge my colleagues to bring it to the House floor for a vote."