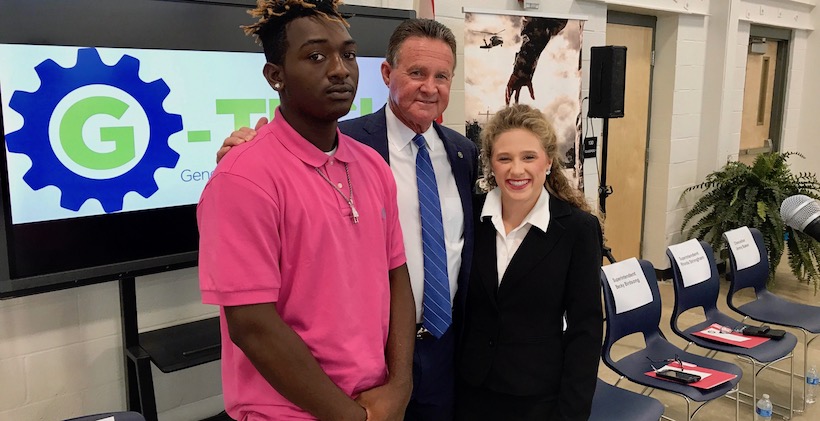 Xavier Terry is a kid who some teachers may have written off. Thankfully, Kenny Hagen wasn't one of them. Kenny is Xavier's welding instructor at the brand-new Geneva, Alabama Regional Career Tech Center, also known as G-Tech. Mr. Hagen recently made Xavier "Foreman of the Week" in his welding class, and the student thrived in the leadership role. What's more, he's receiving college credit for his work.
As G-Tech's Principal, Chris Duke explained, "The Foreman of the Week program is something Kenny came up with to select students capable of being in a supervisory role and getting things done. This is very powerful because it gives young men like Xavier a taste of success right now, and that's so critical to their future because success breeds success."
Alabama State Rep. Donnie Chesteen, who played a critical role in making G-Tech a reality, agreed:
"I don't think anyone had ever given Xavier a chance to lead, but when Kenny Hagen did, he blossomed. Now he realizes, 'I can do something good with my life.' Xavier has proved to himself, to his peers, and to his instructors that he's a capable and competent young man who takes responsibility. He bears his weight and he can lead others. Now Xavier has a vision for his future, and from all indications, a strong sense of purpose and hope."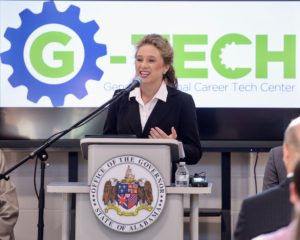 Codi Clemmons is another G-Tech student who, like Xavier, was recently given a big role, and she proved herself in dramatic fashion. Codi's a student at Samson High and is enrolled in G-Tech's aviation program. Principal Duke asked her to give a speech at G-Tech's opening ceremony this week. "She was amazing," Chesteen said, "she never even glanced at her notes…that's better than most legislators I know," he quipped. "Seriously though, that's how smart and good she is, and now Alabama's governor and an entire community are aware of the kind of young people we have here at G-Tech. Who's to say Codi or Xavier won't be Alabama's governor one day?"
G-Tech is critically important because more than half of the students who graduate from high school in Geneva County never attend college. "That's why it is so vital to our community," Rep. Chesteen said. "Now all four of our county's high schools can offer these students a real opportunity to learn a useful skill or trade that leads to a marketable degree."
Like most great things, however, G-Tech was not built in a day. Its funding was made possible by a $50-million bond passed in 2014 that allows the Alabama National Guard to repurpose old armories built in the 1950's through collaborative partnerships. Nevertheless, the road to the making it a reality was not an easy one.
"I was told 'no' so many times I lost count," the State Represenative and former high school football coach explained. "But with each 'no' I would smile because I knew it meant we were one step closer to a yes. God gave me the opportunity to serve the people of this district, and with His help, I was determined not to waste that opportunity. By His grace, people begin to see our vision, and the dream started becoming a reality."
As Chesteen explained, the Alabama National Guard played a tremendous role in making G-Tech a reality.
"Without the National Guard and their incredible support, G-Tech would have never happened, so our community owes them a huge debt of gratitude. Their architects and engineers would come to planning meetings eager to serve and help, asking things like "What do you need to make this work for your classes?" I can never express how appreciative I am for all of those folks in the Guard. They did yeoman's work, and because of it numerous kids are benefitting today."
The Guard's adjutant general, Maj. Gen. Sheryl Gordon embraces the opportunity to be involved in partnerships like the one with G-Tech. As she told Yellowhammer:
"We have worked with Alabama Law Enforcement Association, The Department of Human Resources, state and local school boards, and other state agencies and municipalities.  Without fail, each partnership has saved money, built relationships, and allowed us to do something that no single partner could have done alone.  We believe we are stewards of the public's trust and resources – we don't take this responsibility lightly.  Moving forward, this is how business will be done."
Rep. Chesteen also noted that Geneva County School Superintendent Becky Birdsong was the only person that started the project with him that was still in it when the dream was finally realized. "Becky deserves tons of credit," he said. When asked about the project, Superintendent Birdsong explained why G-Tech is such a vital resource to the County:
"In rural Geneva County, industry and good jobs are hard to come by. Our county has 900 miles of roads, and 500 of those miles are dirt roads. Our students come from hard-working families who want the best for their children. Many of our students go to college, but not all. There's a tremendous need for programs that will give our students a head-start on their careers and futures. G-tech is just that! It's a culmination of three years of hard work and determination to offer new career tech programs for our students. It is a product of adults getting out of the way and doing what is best for students. As a superintendent, that's when I know we have gotten it right!"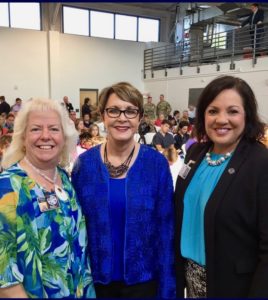 Geneva City Schools Superintendent Rhonda Stringham "wholeheartedly joined the effort as soon as she was hired and also worked tirelessly with us," Chesteen added, "seeing it through to the end." Superintendent Stringham also shared her optimism over G-Tech, telling Yellowhammer:
"We are excited about the career opportunities that will open up for our students that haven't been available here before. Geneva City and Geneva County students deserve to have the same options during high school that other students across Alabama have had for years. I'm very proud of our students and their parents for recognizing the jump-start in life these programs will give them. Many thanks to The Guard, Rep Chesteen, Governor Ivey, and the ACCS for making this dream possible for our kids."
Many others also helped in tremendous ways, Chesteen said. Wiregrass Electric Cooperative's Les Moreland and Brad Kimbro did great work in developing the G-Tech logo and branding it in a way that shows our community how it effectively it serves our kids.
G-Tech opened last month to kick off the new 2017-2018 school year, and its five programs offer juniors and seniors from Geneva County's four high schools college credit for the work they complete. Students from Geneva High, Geneva County High, Samson High, and Slocomb High all come to G-Tech, and are able to do so without limiting their participation in extracurricular activities. In fact, Geneva High's starting varsity quarterback, Mason Coskrey, is also a G-Tech student.
Having students from all four high schools is important, Duke said. "These young people are learning valuable lessons by stepping outside of their immediate circle of friends. They come here and learn to get along with kids from other schools and they begin to see that the world really is a small place when people work together."
G-Tech's five programs are education (training for future teachers), health sciences, auto repair, aviation technology, and welding. George B. Wallace Community College in Dothan provides the instructor for the welding program; Enterprise State Community College provides an instructor for the aviation program, and L. B. Wallace Community College in Andalusia provides an instructor for the automotive program. Again, all of these are dual enrollment programs that allow G-Tech students to earn college credits for their coursework.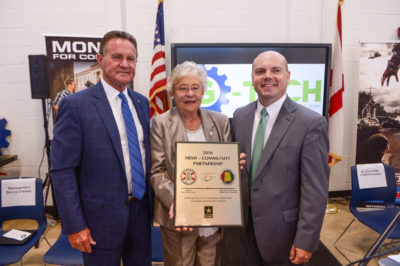 Duke charcterized it well, stating:
"G-Tech represents the epitome of partnership. We have three community colleges, four high schools, the Alabama National Guard, and two boards of education collaborating for a greater purpose, and the kids pick up on that. As I tell them, we want you to LEARN, GROW and GO, meaning take what you've learned here and go make a positive contribution. I've been in education for eighteen years and this is, by far, the best thing I've ever been a part of. I'm thankful that we're able to give them a head-start in their profession because that makes a huge difference in their lives, and in our community. They are the future of the Wiregrass."
Geneva County residents aren't the only ones that see G-Tech's value. At the ribbon-cutting ceremony where Codi wooed the crowd, Governor Kay Ivey was on hand, along with Alabama Power executive Zeke Smith who's also chairman of the Alabama Workforce Council, and Jimmy Baker, chancellor of the Alabama Community College Systems. "Their attendance speaks volumes to the power of what was at one time just a dream that's now become a reality for students in Geneva County," Chesteen said.
Also recognizing the compelling nature of G-Tech's mission is the United States Army. Each year the Army gives five awards across the entire United States to communities who bring about positive change through partnerships with the Guard. Remarkably, G-Tech was one of those five recipients this year. "For a small, rural Alabama county to win this prestigious, national award is an extraordinary achievement," Chesteen said.
"What a tremendous honor," Chris Duke agreed. "It shows that this unified effort among community leaders like Rep. Chesteen, the Alabama National Guard, the County Board of Education, the City Board of Education, and our four community colleges are making a huge difference in the lives of the kids we serve."
As Chesteen concluded:
"Spending many years as a high school football coach helped me realize that kids need more than sports. I'd often ask them what they wanted to do after high school and many of my players would give the standard answer: 'Play football for Auburn or Alabama.' When I tried to lovingly explain how that was a longshot if not an impossibility for many of them, and would press them for something more, their answers would almost always be the same: 'I don't know.' This haunted me for years because many of these kids had no vision, and even worse, they believed they had nothing to offer. The G-Tech career center is changing that for our studens, and that's incredibly encouraging. We owe it to these young people to show them that they do matter, and to help cast a vision of what their lives can be as productive members of a thriving community. G-Tech does that in a tangible way and it's truly helping to change their lives."
Indeed, it is, and hopefully, G-Tech will be a model of what can be done across Alabama when communities unite to improve education. The result is that it inspires kids like Xavier, Codi, and Mason, who just might change the world.
Don't miss out!  Subscribe today to have Alabama's leading headlines delivered to your inbox.