Once again, Yellowhammer Multimedia is publishing its list of Alabama's most powerful and influential political leaders.
Drawn from conversations with political insiders, and the most recent developments in politics and public policy, the list recognizes the top individuals in government and politics who leverage their power and influence for those they represent and the Yellowhammer State.
The ranked list is being released in five segments. Numbers 41-50 are below and the next four installments will be published throughout the week.
Welcome to a peek behind the curtain.

Othni Lathram, Alabama Legislative Services Agency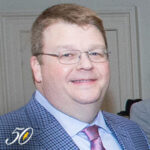 Othni Lathram leads the Alabama Legislative Services Agency (LSA). If the Alabama Legislature is an intricate machine with countless moving parts, then LSA is the hydraulic fluid without which the legislature's movements would grind to a halt. LSA provides legal advice, fiscal analysis and bill drafting services to every member.
A lawyer by trade, Lathram offers a wealth of knowledge to members and staff on both sides of the aisle on a near limitless range of issues. As one insider noted to Yellowhammer News, "Othni has input on literally everything."
Power and influence comes in many forms, and Lathram quietly reaches a peak every legislative session.

Garlan Gudger, Alabama State Senate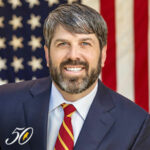 Garlan Gudger probably won't outlast Jabo Waggoner in the Alabama State Senate, but that doesn't mean he can't still hold the title of coolest senator-in-waiting.
Gudger owns one of the nation's top architectural salvage companies, having done work for Garden & Gun, Billy Reid and music festivals in Birmingham and Nashville. He played college football and has starred in Innovate Alabama's signature promotional video.
This year, Gudger hosted the Alabama Economic Forum, the first legislative summit on Alabama's economy. In the state Senate, he chairs the Fiscal Responsibility and Economic Development Committee.
First elected in 2018, Gudger's profile in Alabama politics will continue to increase.

Blaine Galliher, Windom Galliher & Associates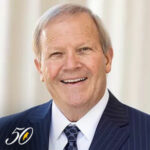 The move from lawmaker to lobbyist is often not easy for those who choose to take their talents to the private sector. However, it has never been a problem for Blaine Galliher.
As chairman of the Rules Committee in the Alabama House of Representatives, Galliher was one of his chamber's most powerful and influential members. Now a member of one of Alabama's A-list lobbying firms, not much has changed for Galliher.
He has been omnipresent in Montgomery since leaving his North Alabama seat. There is no one in Alabama politics who doesn't know Galliher.
Galliher has the kind of institutional knowledge that allows him to offer solutions and advice to current members – and give him an edge in working on behalf of Windom Galliher clients.

Pat Harris, Secretary of the Alabama State Senate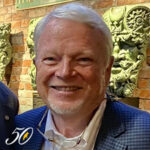 When Pat Harris succeeded the great McDowell Lee in 2011, no one could have imagined he could have the same sustained influence as the legendary Secretary of the Senate.
More than a dozen years later, Harris is now, himself, an institution within Alabama's legislative branch. In addition to serving as the chamber's parliamentarian, Harris supervises the considerable Senate staff and is charged with overseeing operations and maintenance of the Alabama State House.
But make no mistake, it is Harris' knowledge of the rules and his responsibility to assist in the proceedings on the Senate floor which make him so influential. An accurate and fair application of the rules is essential to the process.
Whether it's the lieutenant governor presiding over the chamber or a member of the Senate staking out a position on legislation, when the temperature in the Senate heats up, you better keep Harris close.

Scott Stadthagen, Majority Leader, Alabama House of Representatives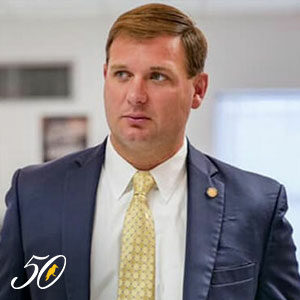 Scott Stadthagen's fast-track production of power has been defined by ingenuity, relationships and a willingness to take risks.
As a second term member of the Alabama House and a first term majority leader, he's balancing the competitive interests of his caucus and making his members look good in the process. This session, he has successfully leveraged his influence in support of Speaker Ledbetter's legislative agenda while continuing to advance ideas of his own.
Much like his company Hagen Homes, his first campaign in 2018, as well as his race for majority leader – Stadthagen's ascent has been a process of construction from the ground up.
While this is his first year on the list, it's unlikely to be his last.

Tom Coker, Tom Coker & Associates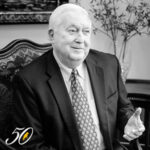 Without the flash or ostentation common among contract lobbyists, Tom Coker has been an enduring force in the Alabama Legislature for decades.
Coker is the first lobbyist to arrive at the State House every morning. He gets his work done in a quiet and highly effective manner, and this style has been embraced by some of his high-profile clients.
The Alabama Education Association (AEA) now approaches their issues the same way as Coker, the group's lead contract lobbyist. AEA continues to flex its muscle on big picture education issues, but adopting Coker's tone has allowed the group to largely avoid controversies common in the past.
Coker is known at home in Lowdnes County as one of the area's most reliable philanthropists. One can also trust that he will remain a force in Montgomery.

Jason Isbell, Regions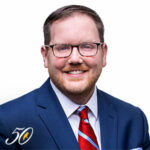 Jason Isbell is powerful, influential and demonstrably loyal to the mission of his company. One would be hard-pressed to find a better match to serve as senior vice president of state government affairs and economic development for Alabama's homegrown banking giant.
He is one of the state's foremost experts on banking law. Yet, his stature as one of the most effective communicators in the Alabama business community sets him apart.
Combine these traits with the heft of the Yellowhammer State's only Fortune 500 company and you get the recipe for significant power and influence. Regions is one of the state's largest employers, and it has a presence in communities throughout Alabama. This provides Isbell with the strong foundation from which he operates.
Based on very recent history, an argument could be made that Isbell deserves higher placement. He pulled off the single-biggest power move of any lobbyist in the 2023 session. And did it so discreetly that few outside of the State House recognized its impact, a true hallmark of power and influence.
 Isbell will remain on this list for a long time.

Jesse Skaggs, Office of the Lt. Governor
It should be no surprise that someone with as much natural ability as Jesse Skaggs has settled into such an important role with one of Alabama's most powerful and influential people.
Skaggs currently serves as chief of staff to Lt. Gov. Will Ainsworth. As chief of staff, Skaggs carries much of the weight of Ainsworth's potential and his ascension to one of the leading conservative voices in Alabama.
The reality is that his boss is a doer, constantly on the move and coming up with new ideas or initiatives that he wants to undertake. The execution of those ideas most often falls on Skaggs, who deftly handles those responsibilities.
He has become a pro at guiding his boss through State House politics and the statewide political environment.
 Skaggs elevates his status year after year.

Dax Swatek, Swatek, Vaughn & Bryan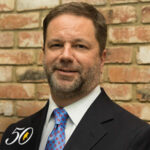 So much is made on lists like these about the strength of relationships with policymakers. And that's important. However, the veterans of the business will tell you the real key to a successful lobbying career lies in getting the clients.
Dax Swatek is a master at that part of the business. Swatek's transformation from campaign consultant to lobbying mainstay is due in large part to his strength in client development and retention.
For the kids at home who want to grow up and be a lobbyist, focus on the clients. Flood them with information and sound strategic advice. That will keep them happy and coming back for your services year after year.
Just ask Swatek, who has positioned himself comfortably on this list for the duration of his career.

Greg Butrus, Balch & Bingham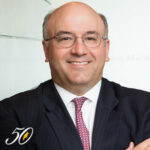 When one of Greg Butrus' high-profile clients comes for an update on their issue or to receive counsel on how to navigate the choppy waters of state government, they better come with a fresh legal pad.
Butrus offers a wealth of superior knowledge on legislative matters, the state's regulatory environment, ethics and campaign finance laws and myriad other topics confronting those active in Alabama's business community.
And he never has a shortage of useful information to share.
A veteran of the office of the late Sen. Howell Heflin, Butrus is now one of the most sought-after lawyers in the state's governmental affairs space. He is one of the rare members of the legal community who not only possesses a substantive grasp of the issues but also an understanding of the political players and their motivations.
 Butrus' advice and counsel are invaluable to his clients.
Don't miss out!  Subscribe today to have Alabama's leading headlines delivered to your inbox.