Senate election could produce rare delegation party split in Alabama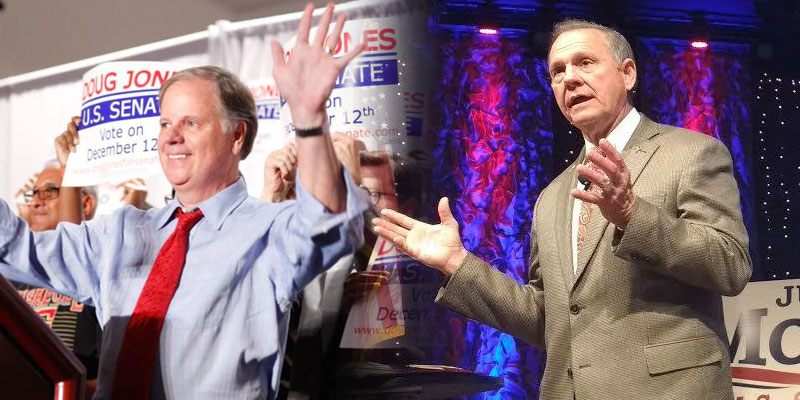 Sexual misconduct allegations against Republican Senate candidate Roy Moore have raised the very real possibility that Democrat Doug Jones could win next month's special election, which would produce a rarity in Alabama politics — a split Senate delegation.
How rare? According to research by University of Minnesota political scientist Eric Ostermeier, no other state has had fewer years with both a Republican and Democrat serving at the same since America started picking senators through direct election following passage of the 17th Amendment in 1913.
Alabama has had either two Democrats or two Republicans in the Senate in all but just eight years out of the last 103, tied with Kansas for the fewest. At the other end of the spectrum, three states — Delaware, Illinois and Iowa — have had split Senate delegations more than half of the time.
Overall, states have had splits an average of 33.7 percent of the time, according to Ostermeier's research.
Alabama's position on that spectrum is no mystery. For decades, it was part of the "Solid South," when Democrats won almost every election, a remnant of the Civil War and its aftermath. Then in the late 20th century, Alabama and the rest of the South swung toward the GOP. Alabama swung faster.
"Its transition has been cleaner, I guess, than some of the states," said Ostermeier, a research associate at the University of Minnesota's Center for the Study of Politics and Governance and founder of the Smart Politics website.
Arkansas, Louisiana and Mississippi are right behind, having had split delegations for 10 years. That has been the case for 12 years in Tennessee and 16 years for Georgia.
Jess Brown, a professor emeritus at Athens State University, said Alabama's status owes more to that regional quirk than anything else.
"It's a bit of a hokey statistic," he said.
Francis White was one of the first senators in the country selected directly by the people, winning a special election in May 1914. Sen. John Bankhead, who previously had been appointed by the state Legislature, won his first election in 1918.
Both were Democrats, and the party held both seats year after year until Republican Jeremiah Denton won election in 1980 during Ronald Reagan's landslide victory in the presidential election. Sen. Richard Shelby (R-Tuscaloosa), ended the Republican-Democrat split six years later when he beat Denton as a Democrat.
Shelby created a new partisan split in 1994 when he switched parties, but that lasted only until Republican Jeff Sessions won election in 1996.
"For all practical purposes, its only happened one term," Brown said.
The South started voting Republican in presidential contests in the 1970s and 1980s, and support of the GOP gradually started filtering down to lower offices. That process moved at different paces in different states. South Carolina, for instance, had a Senate delegation split for decades because Strom Thurmond flipped to the GOP so early — 1964 — while Democrat Ernest "Fritz" Hollings continued winning elections as a Democrat.
"We started (voting Republican) later than other states. … Once it came here, it came here quicker than other states," Brown said.
An election victory by Jones would break the GOP's eight-election winning streak in Senate elections — a record for the party in Alabama. It is one of 18 states where Republican winning streaks are the longest those states ever have had.
A Jones win would be unusual in a different way, going against a recent partisan trend. Other than true swing states, it has become increasingly common for states to have either two Republicans or two Democrats in the Senate.
After the 2016 elections, the number of states with split Senate delegations dropped from 15 to 13. That is the lowest number since 1958, according to Ostermeier. Split delegations reached a high-water mark in 1979 and 1980, when 27 states each had a Republican and Democratic senator.
From 1970 through 1994, an average of 22.8 states had split Senate delegations. That average dropped to 16.4 for the period of 1995 through 2017.
"There used to be a lot more going back and forth," Ostermeier said.
Brown said the trends point to increasing partisan polarization in the electorate.
"They've simply hardened in the last generation," he said. "And I think they've hardened everywhere."
Whether they've hardened enough to block Jones in a bright red state remains to be seen.
Brendan Kirby is senior political reporter at LifeZette.com and a Yellowhammer contributor. He also is the author of "Wicked Mobile." Follow him on Twitter.