UAB's genetic counseling team helps families cope with unexpected news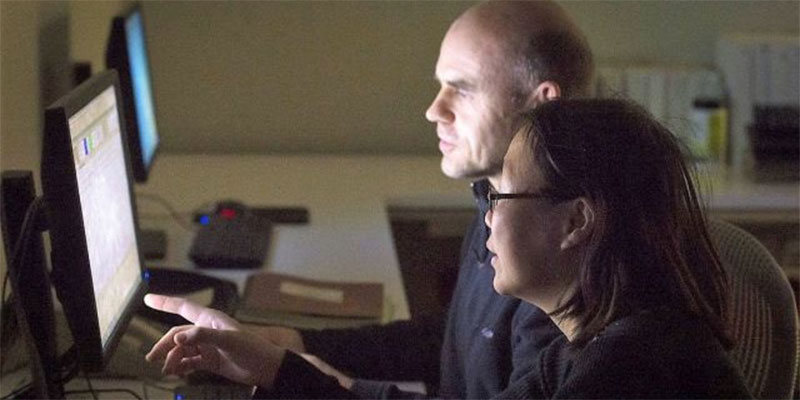 Many doctors treat patients under the belief "You are your genes," meaning that every person is a product of his or her own unique heredity.
The statement is true to some degree, said Dr. Anna Hurst, a medical geneticist and pediatrician in the Department of Genetics at the University of Alabama at Birmingham (UAB). That is because hereditary factors predispose every person to myriad characteristics including hair, eye and skin color, as well as height, physical conditions and diseases.
Recently, there has been a huge increase in awareness about genetic predisposition following actress Angelina Jolie's announcement that she carries a faulty copy of the BRCA1 gene, indicating that she has a strong hereditary tendency toward breast and/or ovarian cancers. Jolie elected to undergo preventative surgery to ensure she would not develop the cancer that killed her mother.
Most cases are not so clear cut, said Dr. Anna Hurst, a medical geneticist and pediatrician at UAB Hospital. In her role, Hurst trains pediatrics and genetics residents at Children's of Alabama in Birmingham. She and a genetic counselor often see patients together, screening family history forms and meeting as a team to discuss their findings with the patients and medical providers.
"I've always been fascinated by the subject of genetics and how it affects people's lives. It's a complicated science topic, with implications for an entire family," said Hurst, who trained in pediatrics at Wake Forest Baptist Medical Center and studied medical genetics at UAB. She earned a master's degree in genetic counseling at the University of South Carolina and an M.D. at the Medical University of South Carolina.
A tough discussion
Hurst works in UAB's Genetics Clinic, which assists with gathering patient information. She performs patients' physical exams and prepares parents for the possible results.
"Up to 15 to 20 percent of the time, there can be an inconclusive result," Hurst said. "There can also be unexpected familial news, and you must prepare the patient and family for the psychosocial results. It is definitely difficult to discuss potential genetic conditions. But, by offering these results, we empower people about how they can use the results to better their health care.
"We treat the patient first, not their genotype, or genetic information," Hurst said. "With patients who are in our Neonatal Intensive Care Unit or in prenatal, it's really difficult to discuss. The defect can be part of a larger picture. We try to be supportive throughout that time."
Working with families, Hurst said that it's the counseling team's role to determine whether there is a genetic reason behind the occurrence of a health condition, or whether the difference occurred spontaneously. Many conditions happen unexpectedly.
"Many conditions are sporadic and aren't preventable," she said.
On the cutting edge
The counseling team – comprising a consulting physician, a genetic counselor and other staff – directs families and patients to support groups as needed. UAB sees patients from throughout the Southeast. Hurst noted that insurance companies cover most genetic counseling and some lab testing.
The UAB Genetics Clinic accepts referrals and sees patients at the UAB Kirklin Clinic and Children's of Alabama. Prenatal genetic counseling appointments can be scheduled through the Women & Infants, and Children's Center. The department also participates in ongoing research opportunities such as the Alabama Genomic Health Initiative. The AGHI allows Alabama residents to take part in a biobank – a type of biorepository that stores human biological samples – for use in research. UAB performs initial genotyping, checking 59 actionable genes.
Hurst works on the Pediatric Genomic Sequencing Project funded by HudsonAlpha Institute for Biotechnology and Children's of Alabama, seeking to identify genetic diagnoses for children with intellectual disabilities and developmental delays. The goal is to see whether earlier diagnoses help in treating individuals.
"UAB really is on the cutting edge for genetic testing," Hurst said. "Genomic medicine has real, practical implications for individuals and patients. UAB has an Undiagnosed Diseases Program for individuals with severe chronic medical conditions who are undiagnosed. We try to find opportunities for people to get genetic testing. We are very fortunate to have programs for neonatal and pediatric patients and adults."
(By Donna Cope, Courtesy of the Alabama News Center)